2018 was glorious. The fishing was pretty bad to start out with, but that's how the last few years have been.
A couple of trips to Strawberry were uneventful, save a few cookie cutter cutthroat within the slot. Currant Creek Reservoir treated me about the same, but with less fish.
I didn't even bother with photos until a severe skunking at Fish Lake on ice with the Aarons. Both Aarons caught several smallish splake and rainbows, but I could do nothing to coax more than a bite that I missed. One day I'll do well at that lake. Until then, I guess I'll just appreciate the view.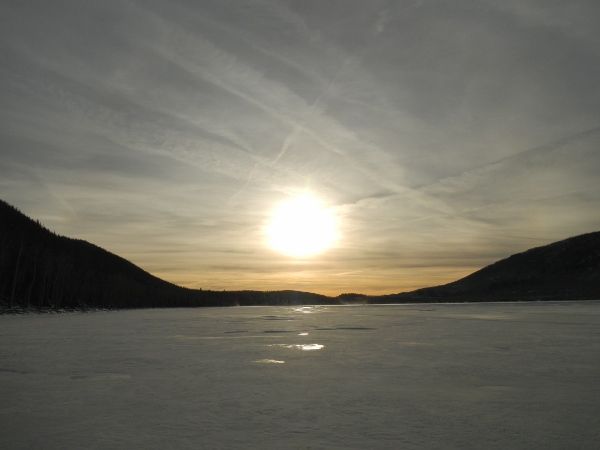 Nice "clouds".
That's as exciting as the fishing was for the first couple of months. Pretty weak.
To break up the monotony, my family and I embarked on a fun desert day trip, down to Kodachrome Basin State Park. What an awesome place that was!
The drive to get there was also pretty good, having an opportunity to show them Red Canyon on the scenic Hwy 12.
Kodachrome was awesome and would be perfect for an overnight adventure sometime. A day trip was just right for us to take the longest loop in the park and see some of the more notable features.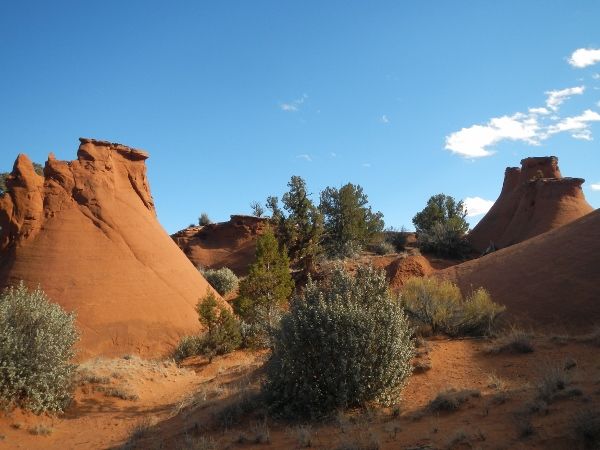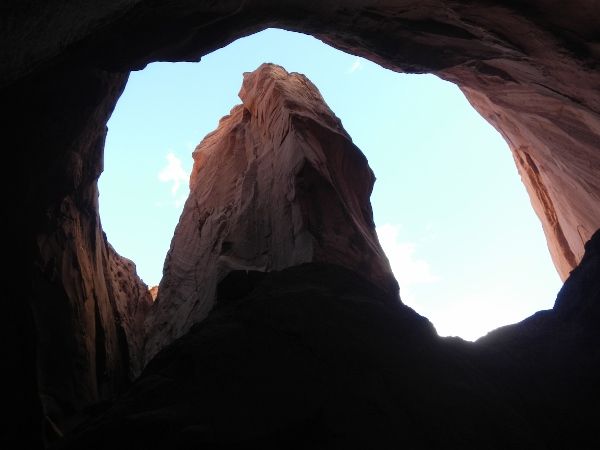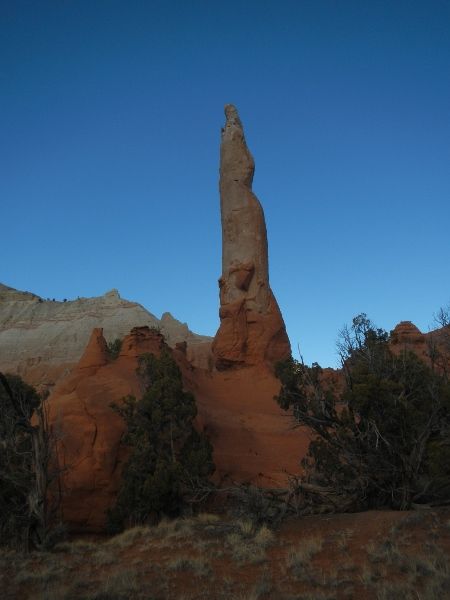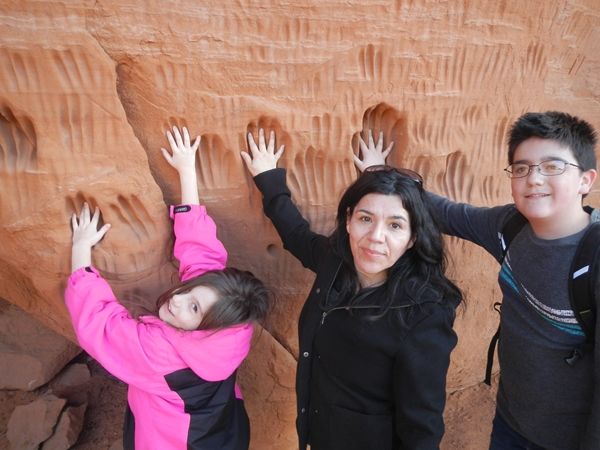 Next fishing trip was Joe's Valley Reservoir, where Holdsworth and I thought we'd find open water to float near the inlet. We were wrong.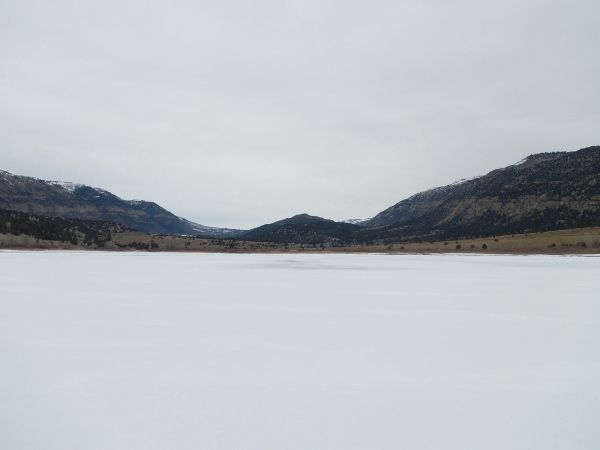 There was some open water near the dam, so we fished that after getting skunked on the ice for a couple of hours.
Each of us caught a splake, then hit the canyon below. The stream was fishy enough and it's always a pleasure to visit.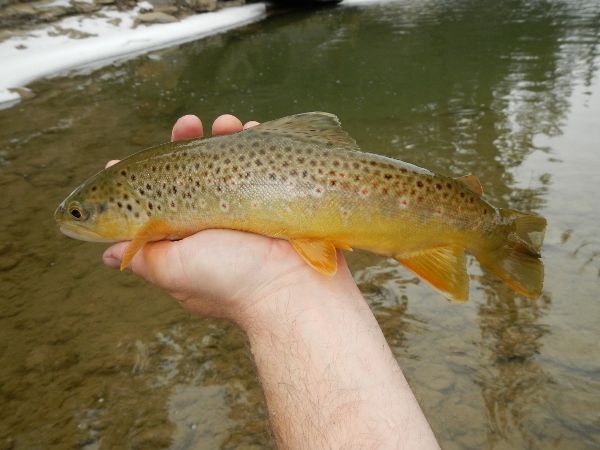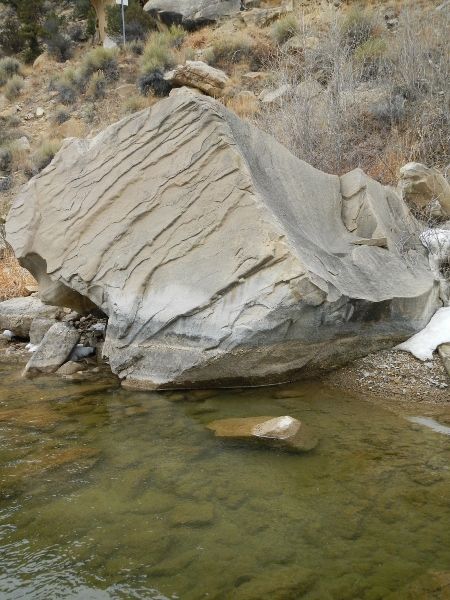 Big Sandwash was our next target, where we took our first float of the year.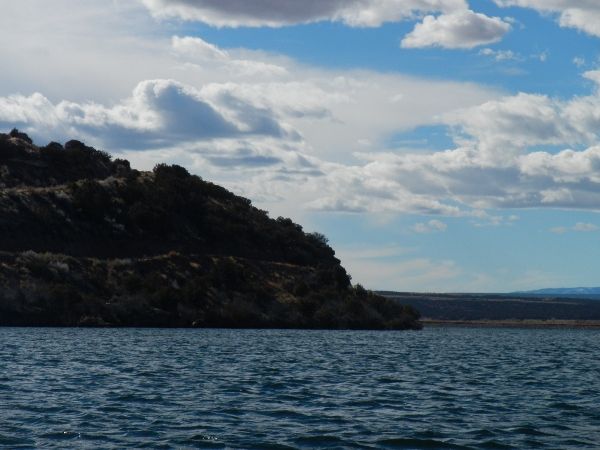 Aaron caught a couple of medium sized rainbows and I got another fat skunking.
Thank goodness for a river when the lakes won't give! I hooked several large browns on the river, but each one broke off! Talk about bad luck!
Next trip was a family adventure to Moab. The weather was forecast to be crappy, but we went anyway and enjoyed our time, regardless.
Moab looks every bit as amazing in any weather. It was actually nice to see it in a different light.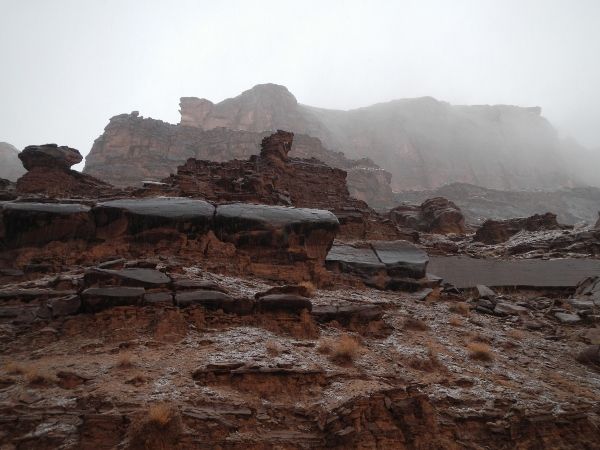 Corona Arch, just before some selfish jerk vandalized it to score brownie points with his wife.
Near our campsite:
We were happy to go into town in the morning, where we got a hot breakfast and some great coffee at Wicked Brew on the south end.
We'll be back again, for sure!
The first decent fishing action of the year came to us at Forsyth Reservoir, which was a plan B after getting skunked elsewhere on ice.
Open water gave us space to cast and the fishing was actually great for 15-18" tigers and splake.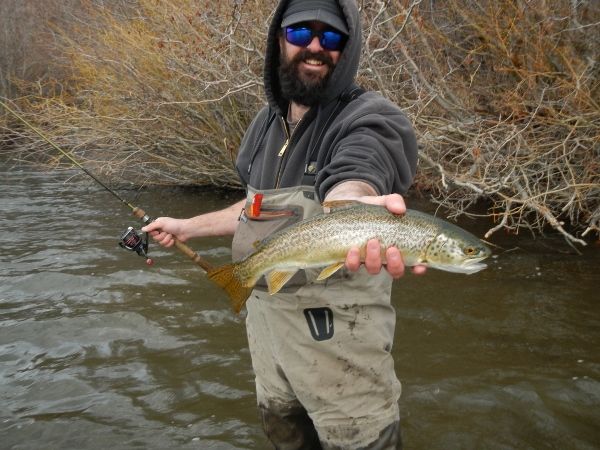 The fishing was good enough that we returned the next week with my family. The highlight was definitely watching my daughter catch her very first fish with no assistance from cast to landing.
Way to go, Critter!
Next trip was with Holdsworth to another area with a cluster of lakes to fish. We tackled almost all of them and had a good time, though a couple didn't give up any fish.
This little lake has been forgotten by the DWR for many years, but I've since reminded them that it looks like a viable fishery. I put in my 2 cents of what I think should go there. We shall see if that comes to fruition. Either way, I'm glad it's on their radar again and hardly anyone knows about it.
Just my kind of place.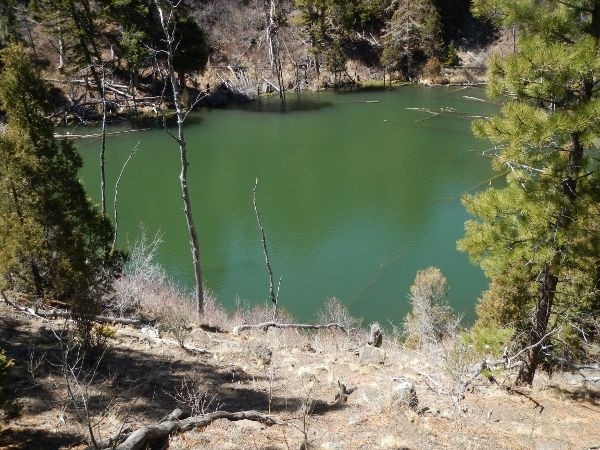 It's a great area.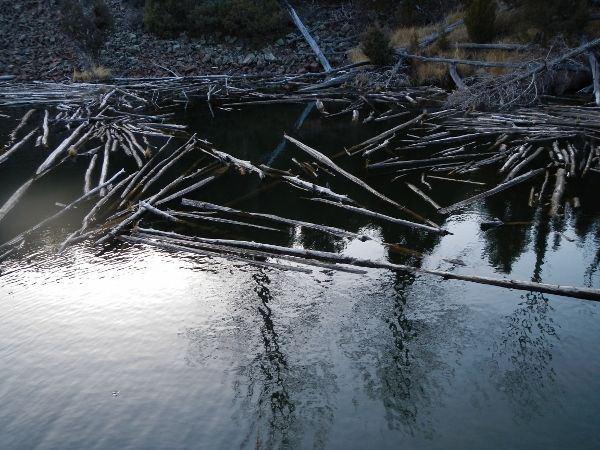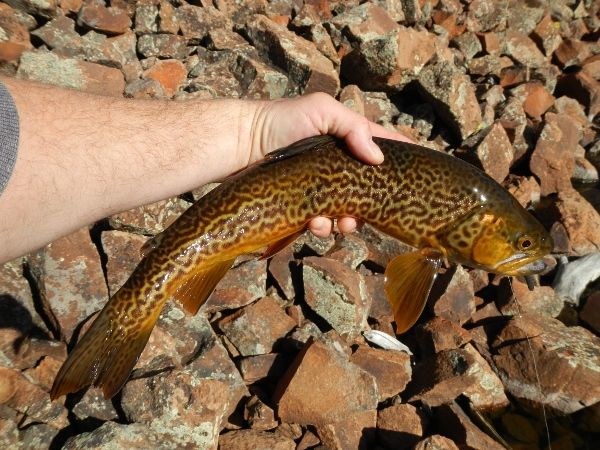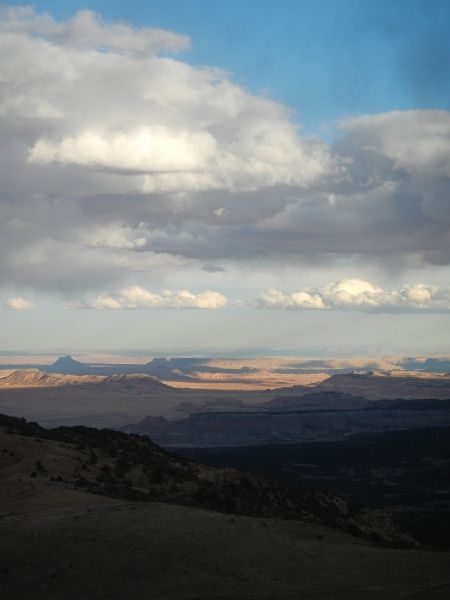 Something of note, my talented friend and artist, Travis Sylvester had taken on another one of my photos to reproduce in colored pencil. In my opinion, he is unmatched when it comes to making trout look wet. Simply the best.
Original photo: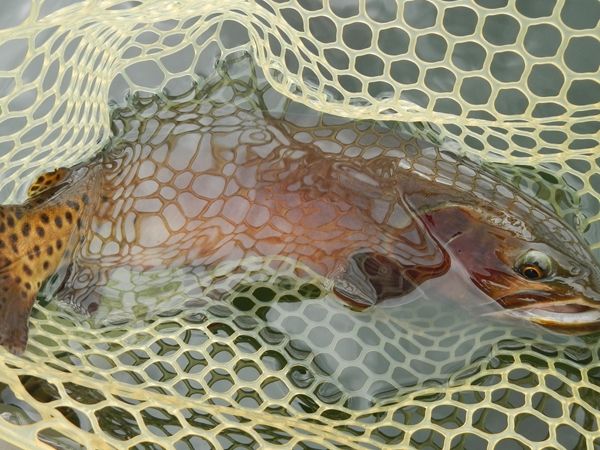 His rendering, which he generously gave me a gallery canvas of: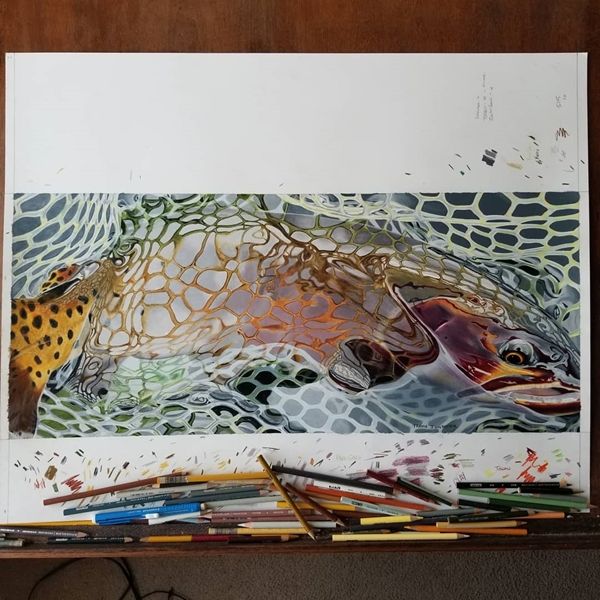 Not to discredit the work of a few other very talented artists in the same field, but nobody does wet trout like Travis. Pay him a visit at
Travzart.com
.
Great work from him, as always. I'm incredibly grateful that he took on another one of my photos.
Soon enough, I was able to access the high country again and fish some of my preferred spots. After a march through the snow, I was met with open water and active fish.
First cast provided a gorgeous Bonneville cutthroat (yes, it's a Bonnie, trust me):
Awhile later, my biggest brookie of 2018 was sitting on my lap, at 4lbs, 10oz and 21". Boom!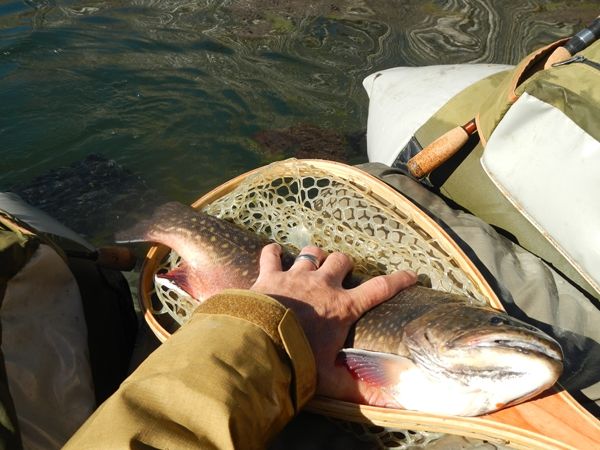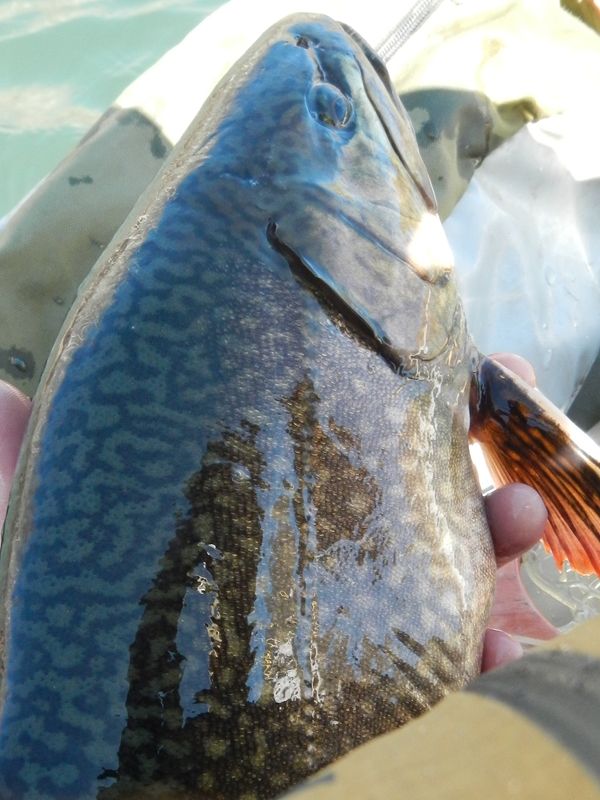 Quite the handful.
Another trip led us to a new place I'd wanted to fish for many years. We took Holdsworth's Tacoma on a OHV trail and managed to get all the way to the meadow, where a couple of small lakes awaited us.
It turned out to be a really fun day, catching a lot of fish on the fly rod, plus some surprisingly nice tiger trout from a mere puddle.
The tigers were incredibly vibrant in color and vermiculation.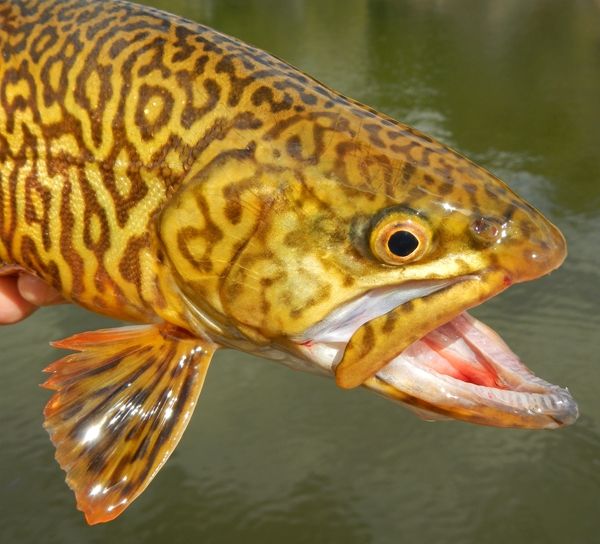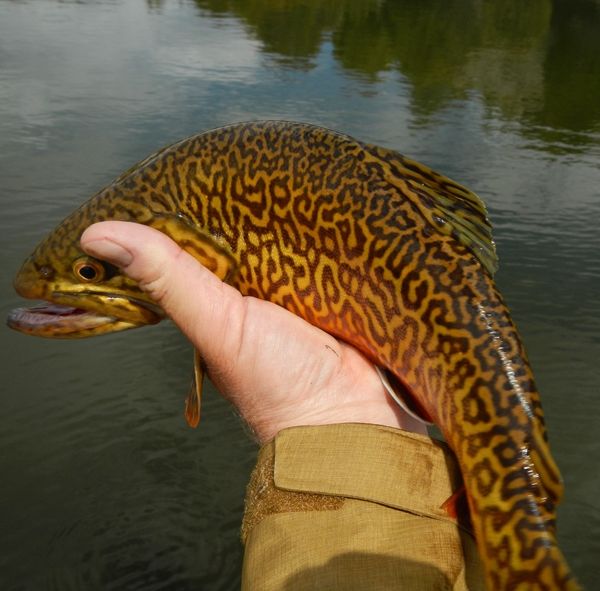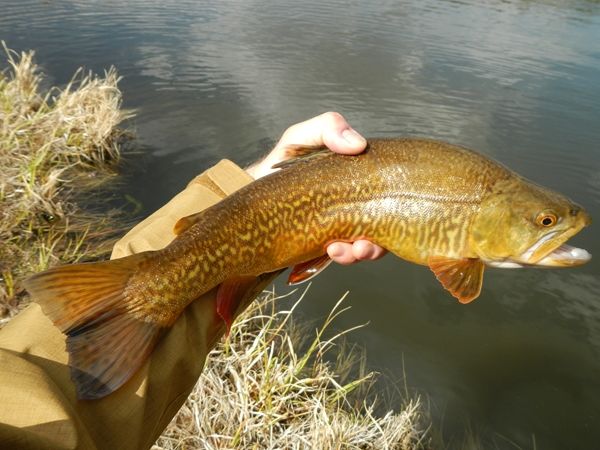 Our next trip kept us slightly closer to home with a visit to Currant Creek Reservoir, where Aaron caught some nice looking fish.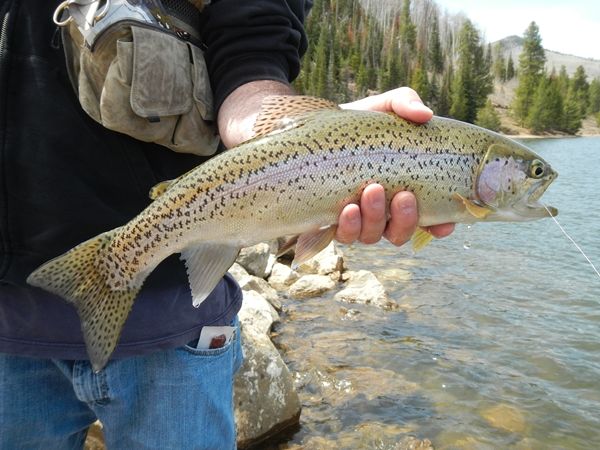 My best that day was a decent cutthroat, but nothing very big.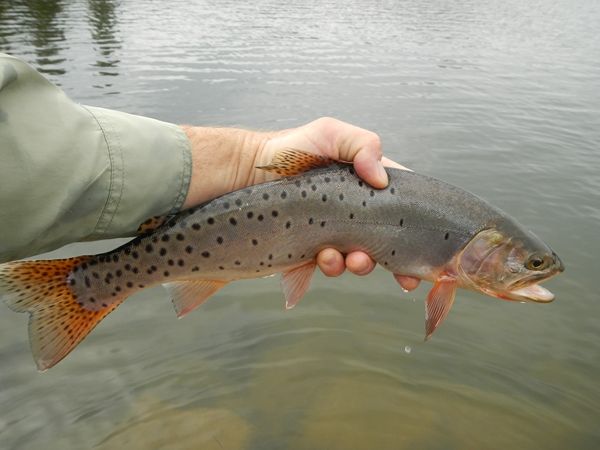 A trip south provided a healthy brookie at a small lake, then some put-and-take action at a lake I'd never gone to.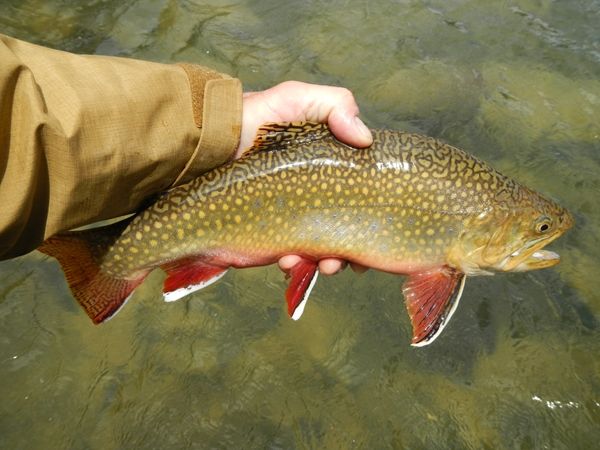 Our next trip was an overnighter to a productive lake with big fish. We didn't get the big fish, but we had a good time and caught a few.
Gorgeous place though.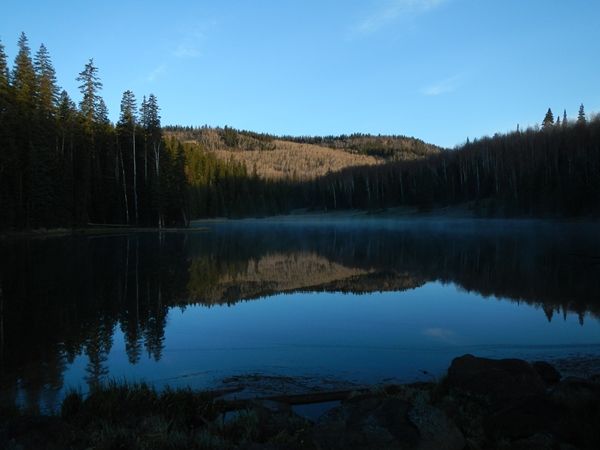 Day 2 was spent investigating an entire basin of new waters for us. We caught fish almost everywhere and some were pretty nice, considering all factors for these small lakes.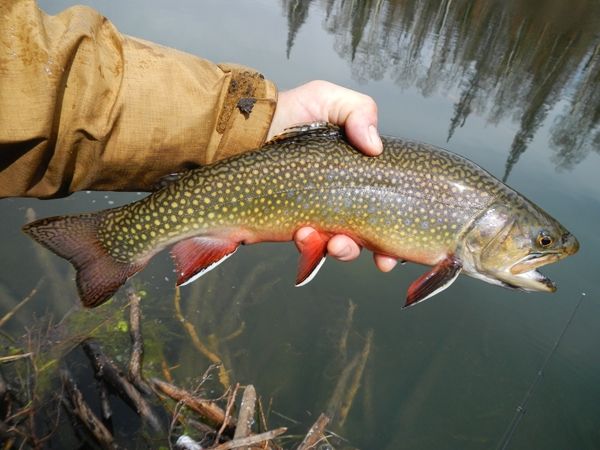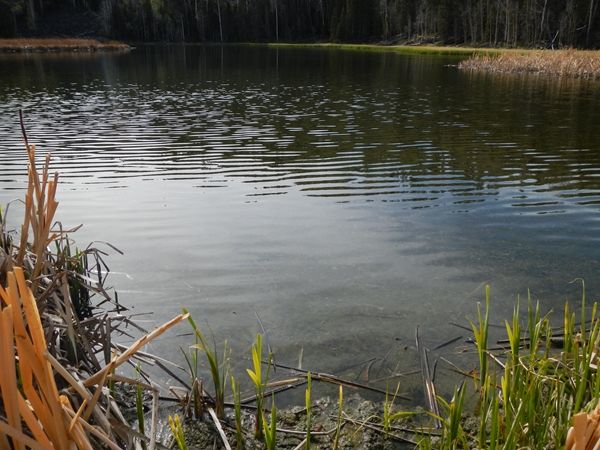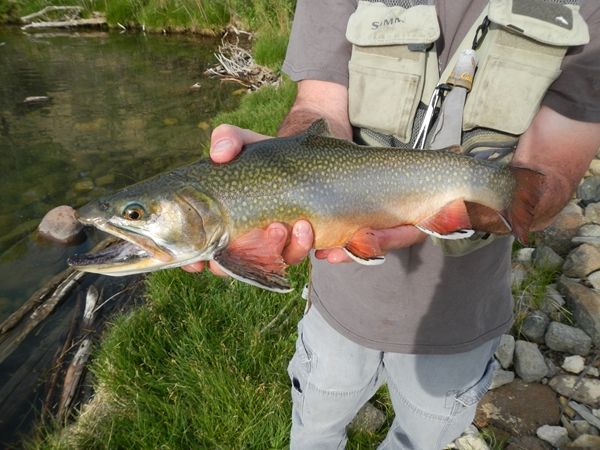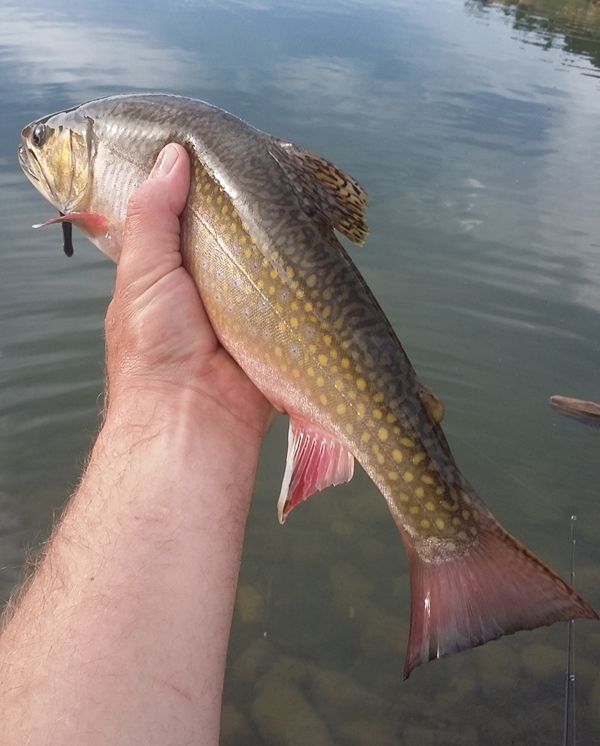 It was amazing, fishing a total of 9 different lakes on that trip, 8 of them on Day 2! Crossing 7 waters off our ever-shrinking list of lakes for that area was excellent.
Memorial Weekend arrived and took a trip to a favorite lake with my friend Keoni. We spent the day catching all sizes of beautiful Bonneville cutthroat and a few nice brookies as well.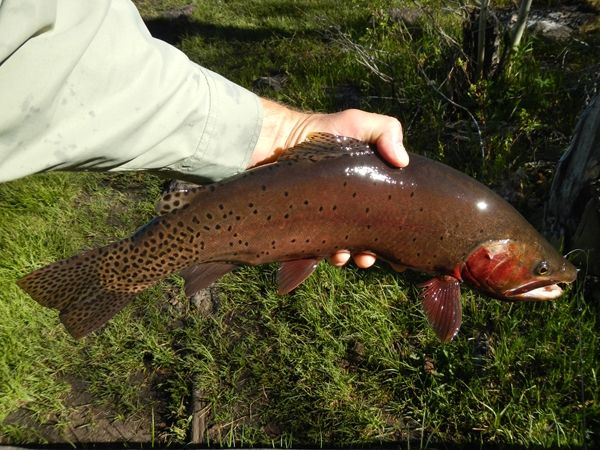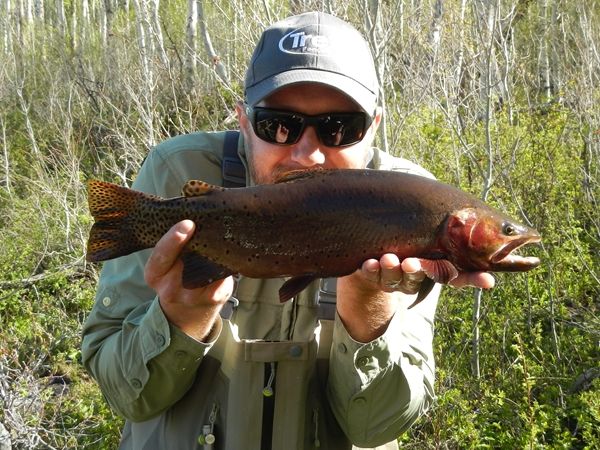 Thanks to Keoni on the camera.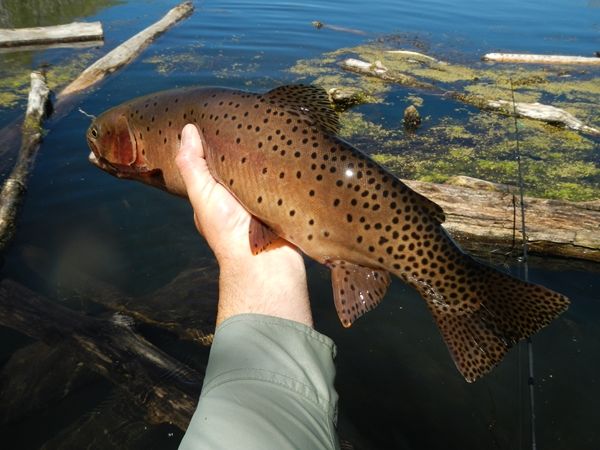 Even got a brookie on the fly: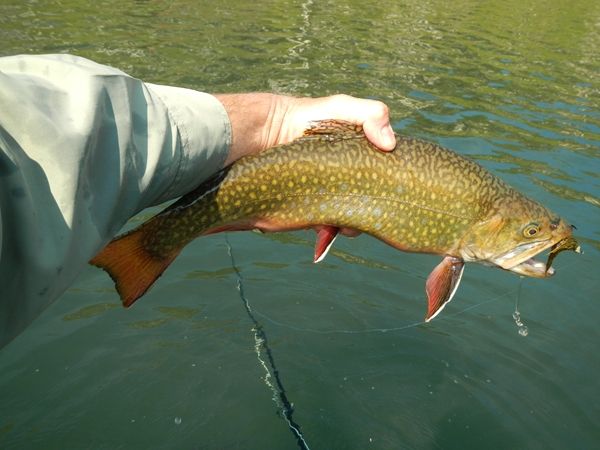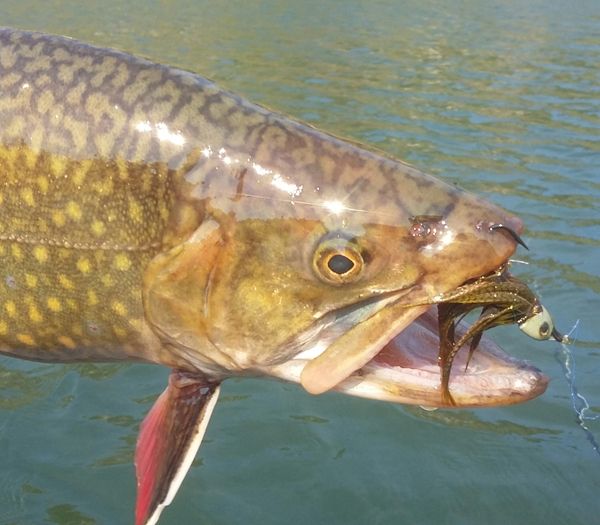 Others were present, but hard to trick.
2018's fire season was really bad, pretty much everywhere in the west. we were no exception. I'm just grateful that most of our precious waters were spared, though some will not recover for quite awhile.
Keoni's summer cabin was actually a victim to the resulting flooding from one fire and the whole place was left with about a foot of mud. The river is basically destroyed for a few years. Very sad.
My first trip of June was one I'll always remember. A new personal best trout was caught, among a few other really nice fish. Top 3 fishing trip, for sure!
My first cast from shore was on my fly rod. I sent out a decent cast into some deeper water I could reach and it got hit within a few strips of sinking it. I saw a large flash as a good fish rolled, set the hook, and the line failed after a head shake.
After that, I put on new leader and another high quality "Sculpinator" I bought from Fly Fish Food, then set off on my tube to hunt more.
Normally more of a jig angler at this lake, the quick luck on the fly rod kept me focused on that for the time being.
I recall sending out a longer cast toward shore and stripping back a bit of line before I saw a jolt and lifted my rod to set the hook into something heavy.
Whatever it was didn't appreciate my hook in its lip and really let me know. I could already tell it was larger than anything I'd ever hooked on the fly rod. My forearm quickly grew tired as I fought the fish for several minutes.
As I fought it closer and closer, run after run, it occurred to me that I didn't have a net and that my leader was longer than my rod. Not wanting to risk hanging up the knot in the guides, I had to get creative, but eventually leaned way back and got the fish close enough to scissor-lock it in my legs.
My new PB trout, weighing 7lbs, 10oz @ 27" was finally landed!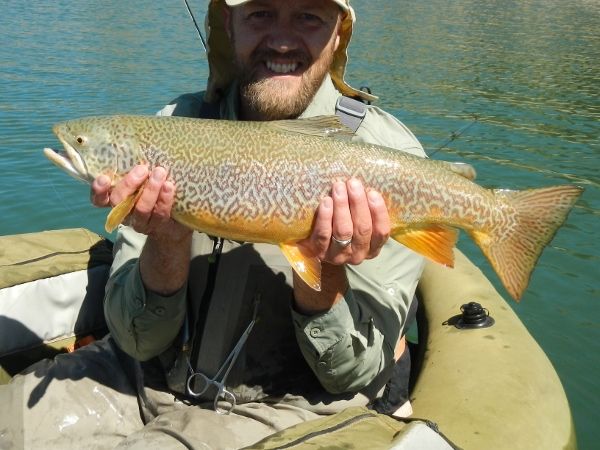 Thank to Aaron for the camera work on those.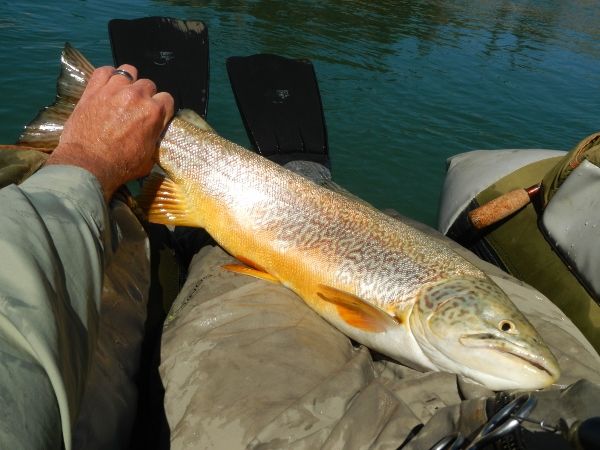 What a beast! I couldn't have been happier and on the fly rod taboot!
As if the day couldn't get any better, I kept catching nice fish, including a couple over 6lbs on jigs. Even broke off a couple of other nice fish on the fly.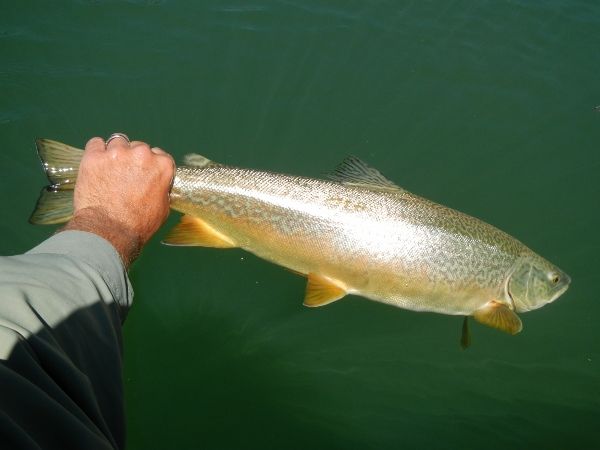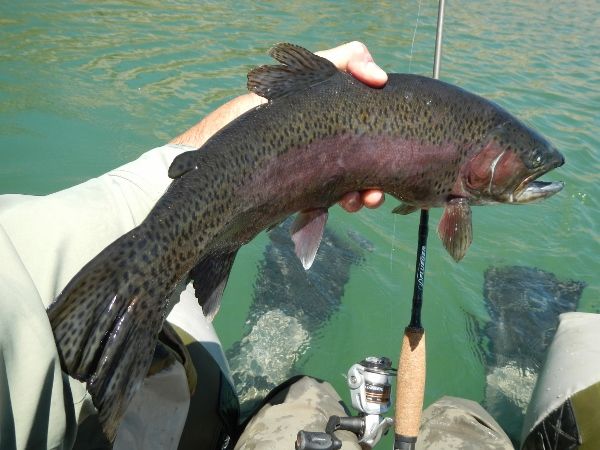 Some videos from that day:
What a day! The only downside was that Aaron somehow got skunked that day, having to watch me rake in slabs the whole time. That's rough.
Next up was another family campout. We went to a lake with big fish and got skunked, but still had a good time in beautiful country. A couple of fish were caught at another lake near our campsite, but they were small tigers.
We mostly just enjoyed the scenery all around.
Gorgeous land.
Next trip was with Holdsworth to try our luck in a lake that should have had some incredible Colorado River cutthroat, but the few fish we saw actually appeared to be sick and dying. Hopefully a few pulled through, but it didn't look good.
Aaron accidentally foul-hooked one decent looking fish, but it hardly fought and didn't swim off very strongly. It actually stayed close to us, swimming very slowly around us for awhile.
We left to find other fish, somewhat nearby. The lake we hiked to was very weedy and shallow, but I was able to find one good spot to dangle a jig around some undercut shoreline.
Cross another lake off the list for that mountain! That's a tough one to fish,but there are some decent brookies in it.
The next trip was another long drive, complete with crappy roads and several new lakes crossed off the list. We brought along yet another Aaron that I'm friends with and got busy catching small brookies and big grayling, which would proved to be a theme for the coming months of summer.
The grayling were quite nice.
We also mashed our way down the road to a shallow grassy lake with cutthroat in it.
Somehow Holdsworth found a couple of nice grayling in that one too.
He's always finding species that aren't supposed to be present in the lakes we visit in that area. Crazy. Nice fish though!
It was a good day with three new lakes and new personal best grayling, by length.
The next week, my family and I hiked up to Twin Lakes Reservoir at Brighton Ski Resort. We were hoping to catch some cutthroat, but my wife was the only one to get any bites that were missed. The minnow fishing was great though and I caught a few pounds' worth by using some Ritz crackers in the trap.
The next week was a trip to a lake that Holdsworth and I have had good luck with in the past. We'd hoped to find nice brookies, but the lake wasn't doing very well. The fish we caught were small and skinny.
We chose to get out of there and spend some time at a different lake, somewhat nearby. This one is always a fun detour, and the fish were actually of better size than I'm used to seeing there.
Gorgeous little hole! The fishing was a needed refreshment from the sick lake we'd abandoned earlier.
Our next trip was another hike-in natural lake that holds decent brookies. It's a tough one to find, but we checked a different route this time and actually had a trail, most of the way. That was nice.
Sadly, this lake wasn't treating us very well. I managed to catch a few fish, but they were mostly uninterested in feeding. Tough fishing. Not much in the way of size either.
Regardless of the slow action, it's a beautiful place to spend a rainy day.
I love a long drive south.
Next up was another family camping trip to an area I've always wanted them to see. A few hours in the Rodeo and a bouncy ride for the last bit lead us through some really cool country at 11,000ft.
At long last, we arrived at our home for the night. Not too shabby.
After setting up camp, I had to float for the remaining daylight.
Very cool place to fish.
First catch was a really dark brookie, then its buddy.
A small tiger also met my hand as the light started to fade.
Just as I was coming to shore to beach my tube, I caught another tiger, this time about 16" and healthy. I may have wanted to keep that one, but it flopped out of my hand and broke my line in the process. No campfire fish for this trip, but that's alright.
In the morning, I floated for a couple of hours and did some nearby wandering to check some other water.
A decent brookie came from the float and some surprise grayling came from the side trip.
I only got a photo of that last grayling, but I actually caught two more that were likely my new personal bests, being thicker than the ones from an earlier trip and of similar length. Quite the nice surprise!
Once I'd returned to camp, we ate some breakfast, packed up our gear, and did some exploring together, rods in hand.
That lake didn't give us any action at all, but I felt as though I was missing something. I didn't believe it was dead, but couldn't dial in on what to offer. We enjoyed an incredible vista close by though.
Ah, I will fish that meadow someday. True story. Relic native Colorado River cutthroat trout are found there.
After that, we made our way back down that bumpy road, stopping for another lake along the way, where I made a scramble to inspect the situation.
I caught small brookies and saw some other fish that I wasn't able to hook.
My next trip was another camping trip, this time with Holdsworth. We went to the same area, well equipped to get into the fish.
We fished hard that first day, but only caught small brookies. In the morning, both of us got sick and had to leave early. Very nasty, not fun. We suspected the cold brew coffee I brought along. Though unopened, the seal came off very easily, leaving me to think that it was spoiled.
Bleh! Could've done without that.
Developing a bit of an obsession, I went back on my own the next week, taking a few detours throughout the day.
It was a pleasant day and I ended up hiking to some new water after visiting some others.
Good stuff. I will have a busy 2019 in that area, I'm sure.
On the way home, I stopped at a small stream I've driven by a bunch, but never stopped to fish. A few pretty little cutthroat came to hand.
The next week was another solo trip, this time to the land of giant tiger trout. I didn't break anymore personal records, but I still had fun and caught some decent fish.
This guy was close to 6lbs.
Check out that split-jaw:
Got a video of that one.
I also pulled in another fatty, a bit later:
Video of that one:
This big female fought hard on the fly rod.
The rest of that day was spent exploring some new water, around the hills nearby.
Some wild cutthroat and rainbows were caught in the small stream:
That was a really fun day.
Can't ask for a better solo day trip than that!
Next trip was an uneventful day on Strawberry Reservoir. Just one skinny cutthroat came to hand. Nice day though.
The next week, Holdsworth didn't have to work, so we embarked on another long trip south, catching some nice grayling in the process.
It was a nice trip to some new water. We wished we could have stayed another day to explore the surrounding area more.
We spent the next week at a preferred water, catching nice cutthroat and a couple of brookies.
Nice looking fish.
After that, we stopped to explore a big beaver pond and a small stream.
The stream held some little wild rainbows, but we didn't find anything in the beaver pond.
The next trip was another solo trip to tiger town, plus some other waters in another area.
This went well.
Here's a beefy hunchback:
Got a video of that one:
Another big one:
The other fishing was slightly less productive, but still enjoyable and I fished two new lakes and a beaver pond in the process.
Lots of fun.
Our next trip was to a pretty lake at 10,500ft. Before we could do that though, we had to check a little puddle that's been on my radar.
Nothing there but some salamanders. Oh well. The main attraction was as beautiful as ever though.
Slow day though. I caught one fish and Aaron got the skunko.
Our next trip was another long drive with a crappy road and some fat brookies.
Aaron struck first with a dandy male:
Then it was my turn to hook a nice male:
Video of that release:
The next month involved very little fishing. I can't find any photos from the last 2 weeks of September and the first 2 weeks of October. If I fished, it wasn't very good because I kept no record of it.
The next trip I found was a last-ditch attempt to get to some lakes before their season closed for the year. Holdsworth did a fantastic job of grinding up the nasty road.
He'd recently gotten some new tires for his Tacoma (KO2's) and was excited to give them a real test. Test the tires, we did! We made it to the lakes, despite snow and mud.
There was still some hiking required and we got busy, stopping briefly to target some visible splake.
We hiked up to a new lake for us and were rewarded with some splendid scenery and some small brookies. There were some bigger fish in the lake, but they evaded us, mostly.
I love a clean water source though.
Soon enough, we were back down the hill catching splake again.
I found a decent tiger trout too.
Mostly splake though. Pretty fun.
It was good to bid farewell to the mountain until the springtime.
The next trip was actually a cleanup day at my friend Keoni's cabin, where he had a huge turnout with lots of help to remove the mud. Many hands made for quick work and it was nice to lend a hand, though I was a bit late and only helped for a couple of hours.
After the cleanup, I made a quick stop at Stawberry and pitched jigs for about an hour. One good cutthroat was on the line for a good battle, but in the end, it won and broke my line. That was definitely over the 22" slot, but I'll never know for sure.
No matter, since the next fish I hooked was even bigger and this one didn't get away.
A solid 25", this one weighed 5lbs, even. Sweet! Not bad for an hour of casting.
Our next trip was back to tiger land, where some ice had formed and we did our best to catch some big guys.
After all was said and done, I could only catch one fish and that was a blind rainbow trout. Not a bad size, in fact, I believe it's the same big rainbow I posted from the day I caught the real hogs.
Here's a video of that:
On the way home, we found ALL of the turkeys in the neighborhood.
There was well over 100 birds that crossed the road. Why'd the turkey cross the road? Well it was almost Thanksgiving, so maybe that's part of the answer...
With that early ice bug nagging me, my next trip was to the land of big brookies and cutthroat. The fishing was slow and the brookies weren't playing, but I at least ended up with a fat cutthroat and a couple of smaller fish.
Nice fish anyway.
Here's a video of the catch. I'd first thought it was much bigger, by the fight. It fought pretty hard for a fish that was only 6ft below me.
I stayed a bit too long, holding out for a big brookie. I barely had enough light to get out of there.
Aaron and I needed another float before everything got locked up with ice, so we took off to Starvation Reservoir and fished around the bridge for the day. It was dismally slow, but I eventually caught my only fish for the day, a small ratty looking rainbow.
The fading light sure looked nice though, from my perspective.
The next week required that I stay close to home, so I fished the Provo River for the first time of 2018.
Again, slow fishing in a usually productive stretch, but it was nice to spend a little time in the canyon and wrap my hands around a couple of browns for a change.
And the very last trip for the year was on my birthday, December 23. Aaron and I went to Strawberry and fished through some early ice, close to the main marina.
I struck first with a slotbuster at 22.5".
Nice! Already set for the day, I wasn't too concerned with how the rest would play out, although I wanted Aaron to get into some nice ones too.
I caught a few more before Aaron got one,but his was pretty nice, also a slot buster.
I caught a couple more fish, but then I got the best one of the day, just before we decided to leave. This was also a slot buster, but really thick and heavy at 24". I rarely estimate weight, but I believe it was over 5lbs.
Here's the video of the catch:
Way too fun! Already having kept a slotbuster, I let it go to get even bigger. What a way to end the fishing for the year, and on my birthday, no less!
It was an amazing year and I can't wait to see what 2019 brings me. I have a feeling it could be one for the books...
As always, thank you for taking the time to at least buzz through the pics in this long report. There's quite a bit here that hadn't been previously written about on this blog, so it's good to get all caught up.
Onto the next year!
Happy Fishing, Humans.
(Keoni Kawe - photo)