L
ast week, my hopes were to catch some of the great action people had been reporting from Strawberry Reservoir. My previous attempts to get out there this fall had been thwarted, so it was good to finally make it.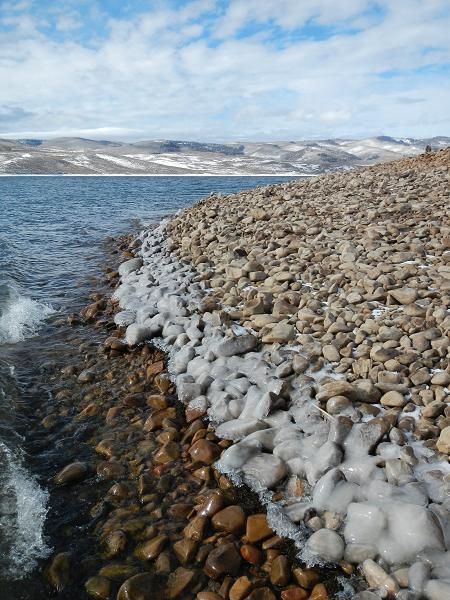 Finding fish was difficult, even marching a couple of miles' worth of shoreline. A few bites were missed and a total of two fish were caught, both cutts under the slot.
Here's a 20 inch Berry cutt:
And a smaller one: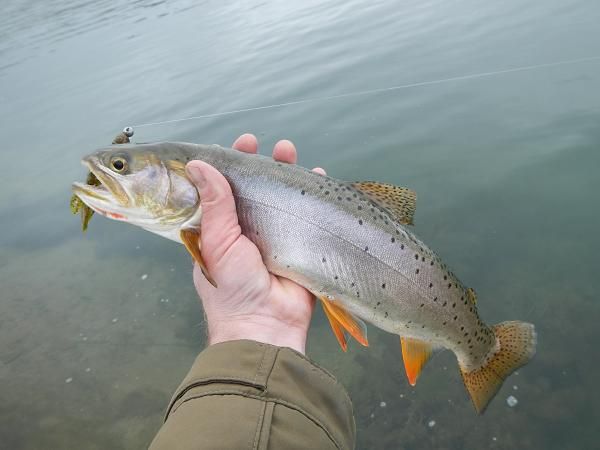 It was a cold, windy day and I fished several areas of the lake before calling it quits. Wading way out to hip-high water at the Ladders, I hooked up twice and both got off. They pay tube is covered for the season at the Ladders, so there was no fee. That's always nice.
On my way home, I stopped and fish Daniel Creek in a few spots. The browns were stacked in spooky little pools where culverts spill.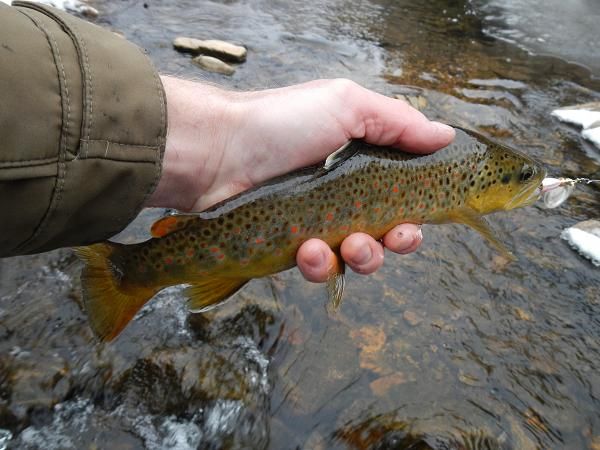 That was fun. Getting out was much needed.
__________________________________
This week, I saw some photos of ice on a lake I like to catch nice tigers at. The report indicated that the ice wasn't very thick and hadn't been drilled yet. That was 5 days ago.
By my thoughts, that ice would be ready for me by Saturday and off I went.
After a short hike, it was great to see a lot of ice over most of the lake. There were telling signs that the days had been warmer lately. The first two inches of ice had a lot of air in them and the bottom 1-2" was clear.
Certain spots on the edges looked pretty thin and I was able to break it with a hard stomp. 3-4 inches is usually good to go, but this ice was acting suspect. The sun had just broken over the hillside and it was singing like crazy, popping and cracking all over the place. That's normal, but I could see new cracks forming everywhere.
I got out over a couple of shallow spots to test the thickness and it sent cracks webbing out from the holes each time. Freaked me out a little.
Ultimately, I didn't have much faith in the ice and did some rock climbing to get to my favorite spot on the lake, where a jagged cliff plunges into deeper water.
Off that point, the edges were good and I carefully stepped out about 8 feet from the rocks and drilled three holes before getting nervous (still cracking around the holes). The ice was thick enough to hold itself together, but I still stayed back by the shore.
It caused me to miss a couple of soft bites on a bright orange Shrimpo tipped with a meal worm. That and I really don't like my Ugly Stik for the ice.
My good rod had a Cut'r Bug with a shiner dangling from the hook shank. It took awhile, but I got a bite and set it to a really solid fish on the other end.
The fight took quite awhile as I had to just wait while it took drag several times. It wasn't set very loose, but only using 4lb test, it was just tight enough to ensure that it wouldn't snap on a run.
Right away I knew it was big and started rolling video:
Big Tiger Trout - Early Ice
Measurements were taken. 24.5" long and 4lbs, 14oz.
Nice fish. Not my best, but it was just what I needed. The rest of the day didn't matter after that.
Nice spread:
The fishing remained slow and bites were rare. My next catch was a smaller male of about 17" with great colors.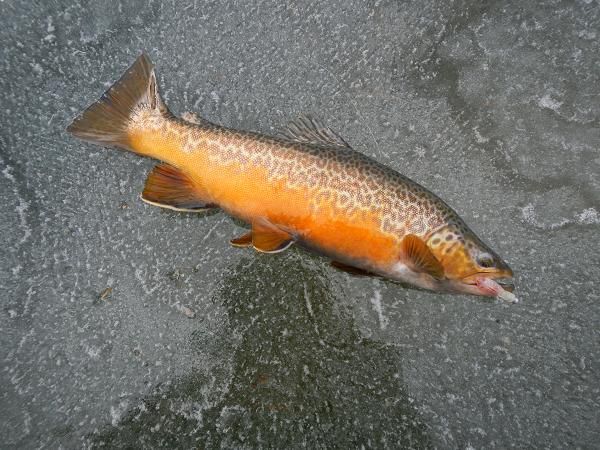 Still a nice fish, but nothing like the first one.
The next one was even darker and over 20":
Gorgeous fish. That was it for total catches though. Only a few bites and three to the deck. The last two were on consecutive drops.
It was a beautiful day with temps above freezing, not too much wind, and it mostly sunny.
When I left, I took a long detour up the hill for an overview and to avoid rock climbing down the cliff.
It was rough, hauling all that ice gear and two fish, but the vista was well worth it. What a nice day! The fishing wasn't great but the fish were and I was pleased to make the trip.
Happy Fishing, Humans.