Hello, fish people! 2017 has had a sluggish start, just like '16 and '15 did, but the onset of Spring has brought some better fortune with the warmer weather.
Like usual, the ice fishing season wasn't very good. There are still places to go and drill holes, but I'm not interested in that at all. Bring on the high country!
The first trip of this year was just a local quickie at Deer Creek Reservoir with Holdsworth, where we both caught and released a couple of long, skinny browns. Nothing special, but it was still good to cast in January.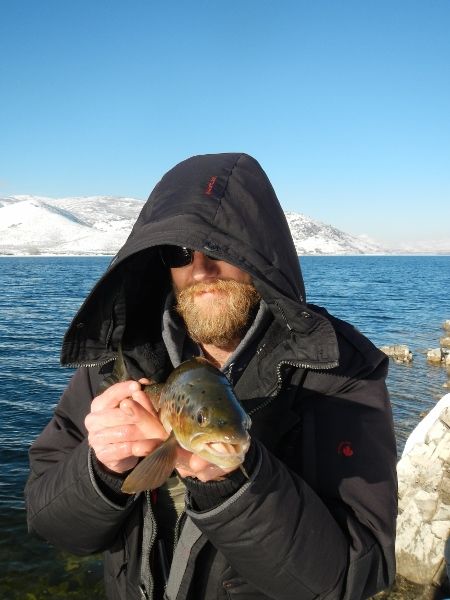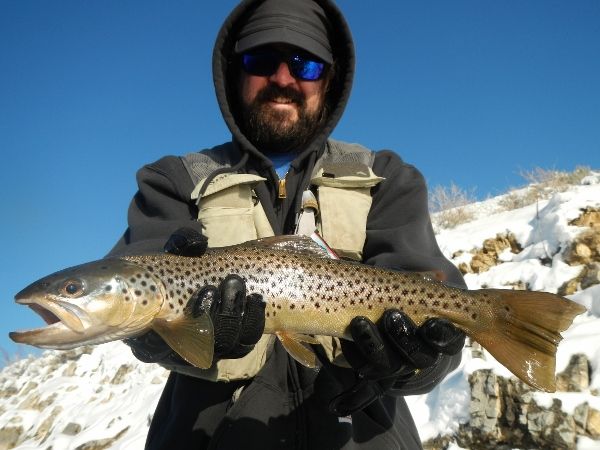 An ice fishing trip to Otter Creek Reservoir was really slow, yielding only one small rainbow from the lake and a mid-sized bow from the river.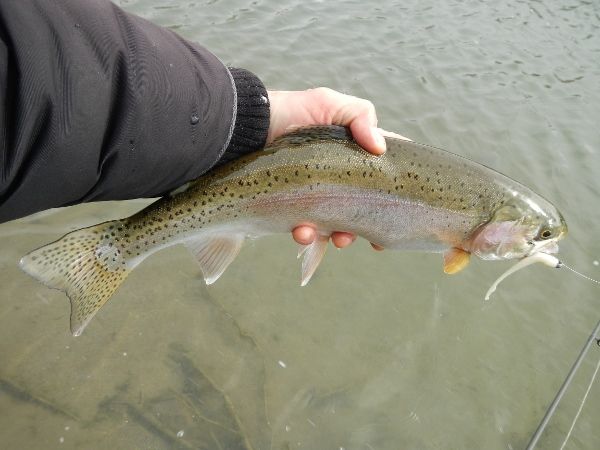 We mostly just stared at the stormy skies around us that day. Aaron got skunked.
We tried our luck at Starvation Reservoir the next week and still got skunked, reverting to the river for some bendo. The river was pretty slow, but a few good fish were caught.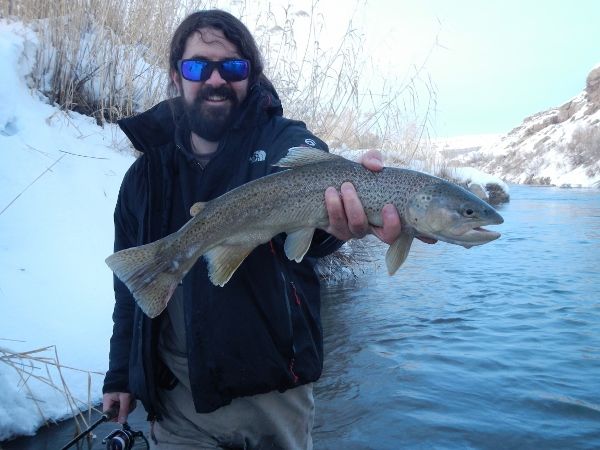 Our next trip was pretty fun, considering the very slow fishing we'd endured thus far. A lonely warm spring lake at the far western margin of Utah had been on my hit list for a long time and a moderately long drive through the Great Salt Lake Desert delivered us to Blue Lake.
We donned our waders and pumped up our tubes for our first float of the year. Ambient temps were in the 40's, but the water was in the 60's. Floating open water in February was reward enough and we even caught a few fish as well!
Here's Aaron with a big tilapia. These were illegally introduced to the lake and a mandatory catch and kill regulation is the result of that.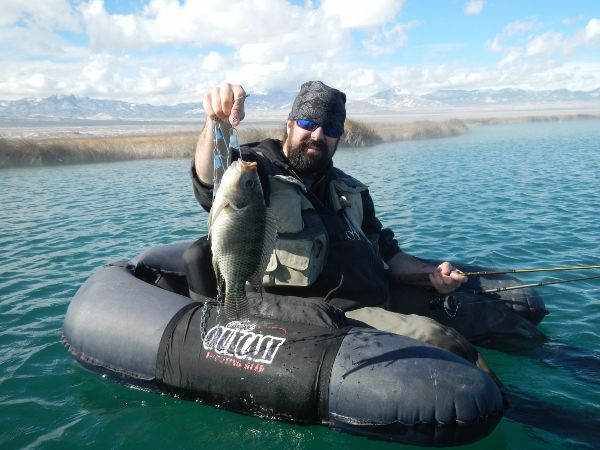 Pretty big.
I did alright for largemouth bass, this one being the largest:
It was a good trip! Floating a warm lake, catching bass, and wearing a hoodie in February is just fine in my book. Neat place!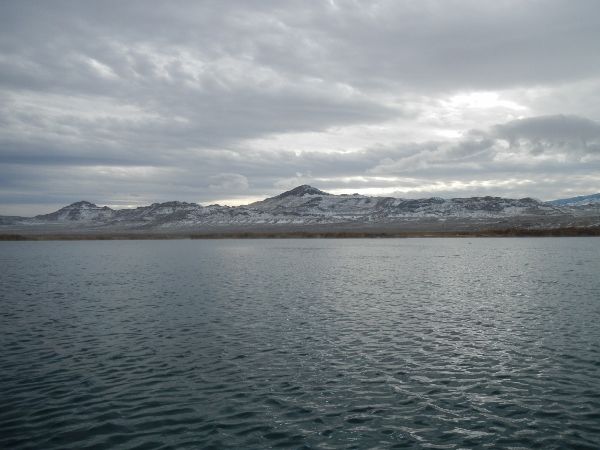 I'll surely be back someday.
Having taken our first float of the year, doing anything else the following week would have been an insult, so off we went to some more open water. Minersville Reservoir hosted us on a windy day, but the ice was gone and we made the best of it.
Okay, Aaron made the best of it.
Over 22 inches. Nice.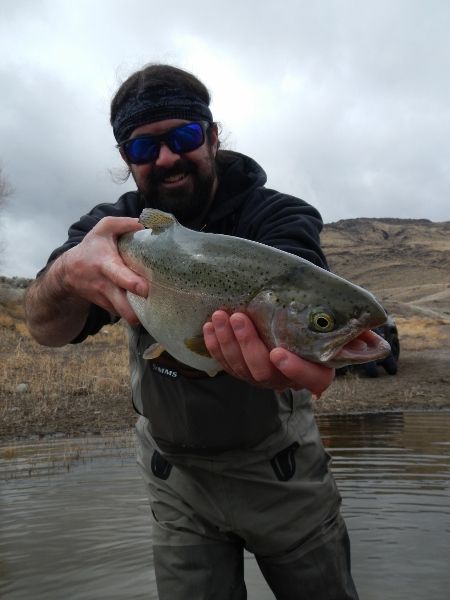 My own experience wasn't great, but after all was said and done, I caught one fish for the day.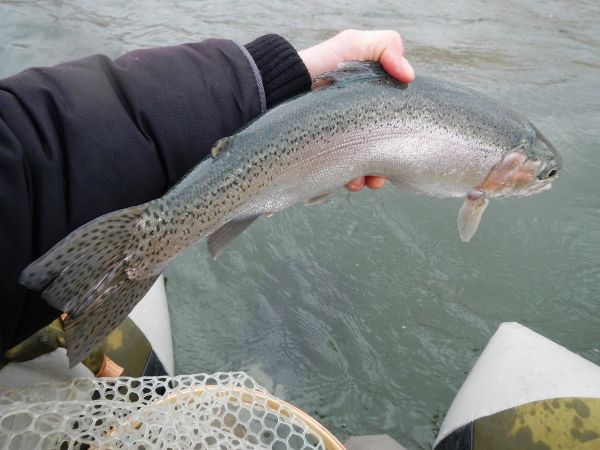 We floated all over the place, but that one was all I could talk into playing. Much of my time was spent fighting the wind or stretching out cramps on the shoreline. Ouch!
Refusing to ice fish any more for the year, we chose to fish some moving water the following week. A local creek in our area provided us a quick afternoon trip and an excuse to put our waders on.
Size wasn't part of the motivation, just scenery and a chance to get out.
Though there are some decent fish in the stream, most of the fish are small, colorful brown trout.
Mission accomplished! It's such a beautiful place to be. Cold clear pocket water flowing over granite boulders does a great job of rinsing the spirit.
Gorgeous!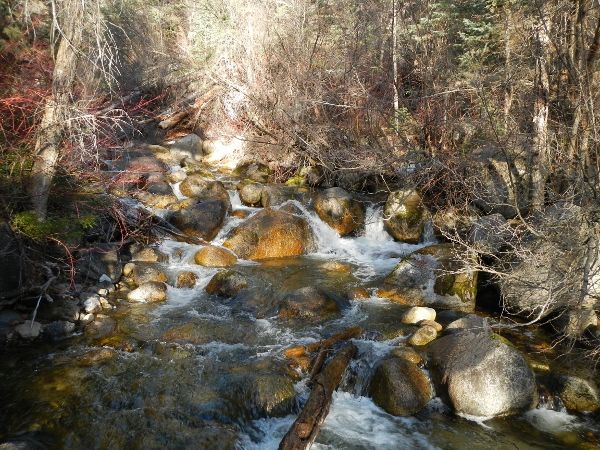 Love that place!
Speaking of loving places, the weather warmed up quite a bit in March and my family and I took a weekend to go and visit the Goblins again. We are trying to wear that place out! Is there such a thing as "too much Goblin Valley"? I think not.
This time around, we scouted out some potential future campsites and almost stayed in one of them. With my boy's new telescope coming along with us, tight canyon walls on all sides was off the menu. Next time, awesome campsite, next time.
We also did some real desert off-roading, driving straight up the sandy bed of a wash to go and find some sand dunes.
We thought about camping there, but it was quite breezy and too much sand flying around discouraged that.
Those adventures led us through new parts of the San Rafael Swell and inspired future trips, for sure.
Once we'd established that our best skywatching opportunities would likely be had from one of our normal spots, we fought the stubborn wind and eventually got our camp setup.
Time for a hike! I hope these kids understand how lucky they are to get out and see so much of the incredible land we live in. They certainly seem to enjoy it, once those long drives are finished.
Though our site was situated in a small wash with some rock formations, the surrounding land was relatively featureless. The desert is full of things to look at though, upon closer inspection.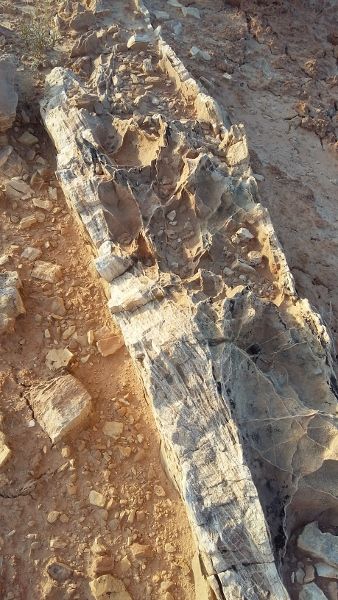 Crazy stuff. Looking at something like this, I can't help but question how these anomalies with contrasting patterns are formed.
Back at camp, we were a little bit irritated to see that we had neighbors in that small area. It's not really a multi-family site, but whatever. They turned out to be alright. I'm sure they were disappointed to see someone already occupying "their" spot when they rolled in.
I guess privacy wasn't as important to them as getting their camp setup before dark. Meh.
Our stargazing was pretty fun though, despite a thin veil of clouds that blocked some of our view. Venus was impressive and my boy spent a few hours on the eyepiece.
In the morning, we went to the park and did our "GV Standard" hike to the eastern shelf that overlooks the main valleys.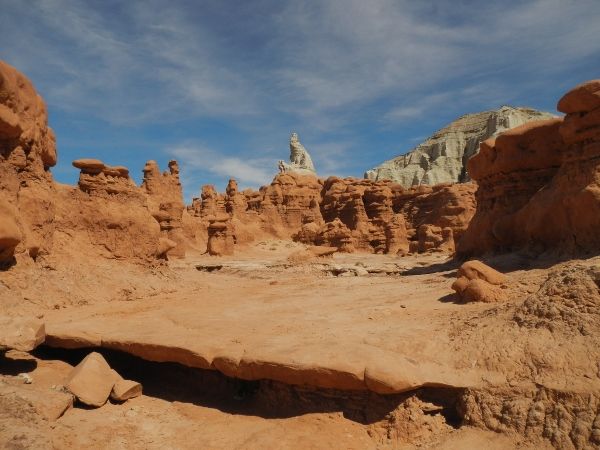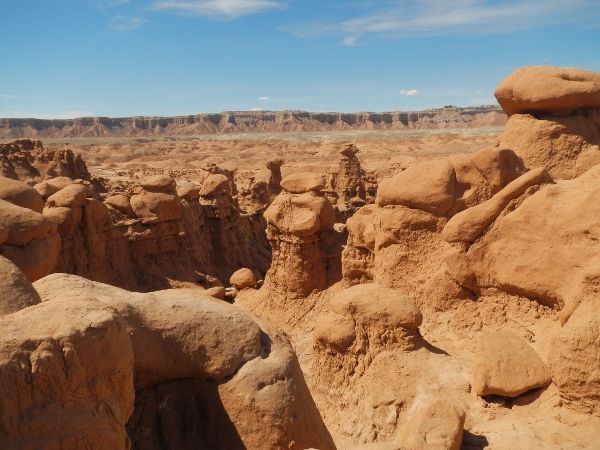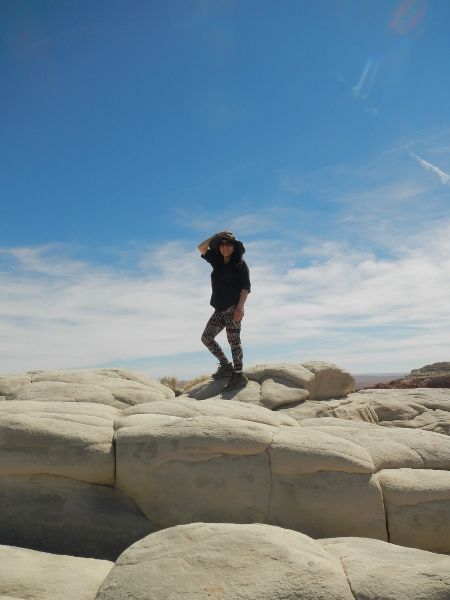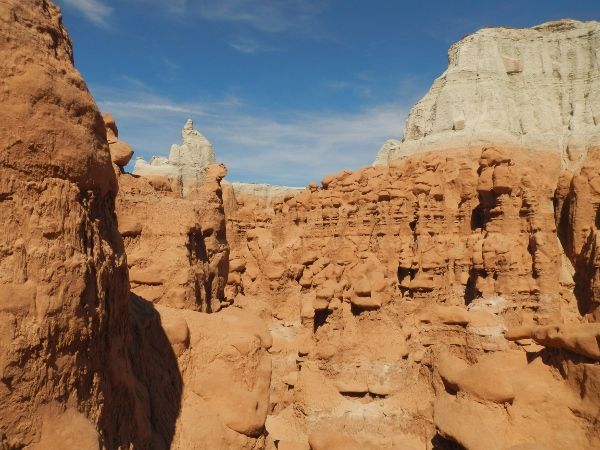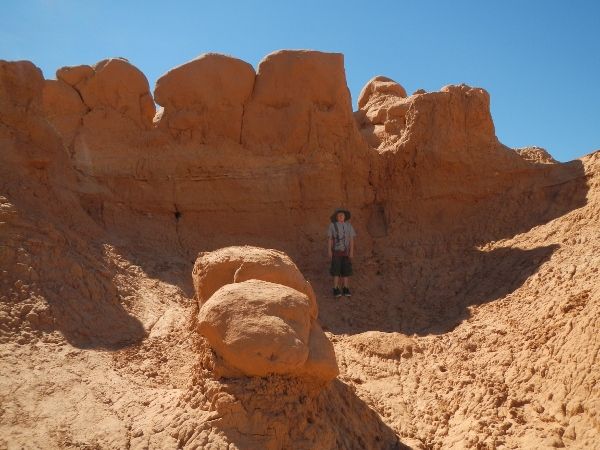 Always enjoyable. It was a great way to spend the last two days of winter and welcome in the spring!
The southern Utah bug embedded itself deeply into my mind, which carried over to the following weekend, when I took a solo trip to explore a couple of waters I'd never fished.
First stop was a small pond that has been stocked with brook trout for a couple of years and I was curious to see how they were doing. My first dip into a twiggy section of shoreline provided a quick swipe from a small brookie that wiggled its way to freedom before a proper introduction could be made.
A quick hike to the other side and a more forgiving shoreline provided a couple of better hosts for a quick meet n' greet. This was the largest I could wrangle.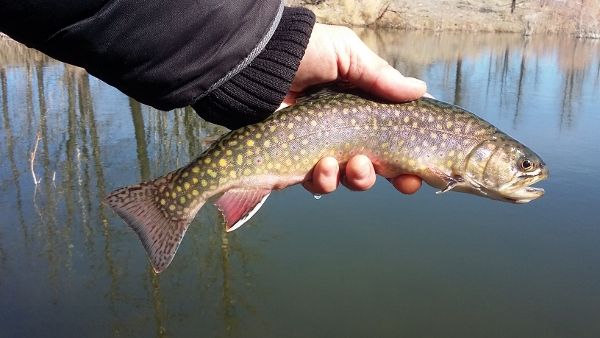 With that curiosity satisfied, I proceeded onward to what I believed was my main destination.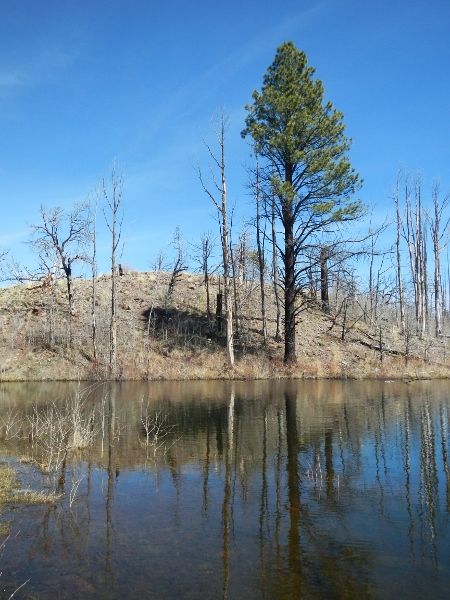 After floating around the lake for over an hour with no signs of life, I began to wonder if my info about the lake was accurate or not. Seeing I had LTE coverage, I reached out to a knowledgeable local guide and established that I had, in fact, been floating the wrong lake. Thanks to Mike at the
Quiet Flyfisher
for setting me straight, and no thanks to Google for having it wrong on the map!
Once I righted my wrong and got on the lake I was looking for, I still didn't get into fish right away. It took about an hour until I made my way to the opposite side, where a group of logs harbored a concentration of solid brookies.
That last one went 19 inches. Not bad for a lake I'd never fished!
The fishing wasn't super fast-paced, but once I found a willing mouth, things fell into place quite well and I ended up with steady fishing for the rest of my stay.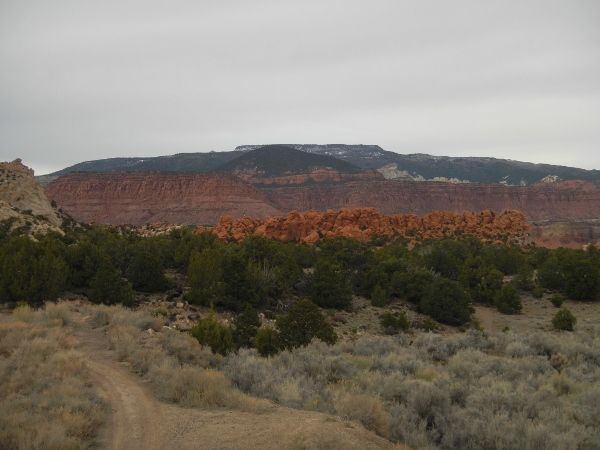 So finally, a good day on the water was had! Fishing aside, any day with a view like this is a winner in my book.
As was the case the week before, the southern Utah bug maintained its grip on my brain, causing me to visit another area that had recently opened up. Originally planning to carpool with Aaron, my plans changed at the last moment and whether or not I could fish that day was up in the air.
Aaron took the news well and carried on without me. I ended up meeting him down there after tending to matters at home.
The drive was pretty sketchy with really bad mud and 4" of new snow on the road, leading up the mountain. Had I not seen Aaron's tracks in front of me, I may have turned around to fish other waters.
After some sloppy climbs and a healthy layer of mud came to rest on my truck, I made it to where Aaron had parked. We met up and discussed his fishing up to that point. He stopped at a lower pond where he caught a mix of smaller trout and had just started prepping for the next spot, where we both floated.
Within moments of our arrival to the shoreline, a large fish rolled on the surface and we made haste to get floating. Aaron missed a strike before I even shoved off and claimed it was a bigger fish with red on its belly.
Once I was afloat, a feeling came over me, prompting me to grab my fly rod to start with. Casting a brown "zuddler", it only took two casts and I was hooked up with a nice cutthroat.
Having only caught tiny cutts from that particular pond in the past, holding that one was quite the thrill. That was all the love I could get on the fly rod though and I traded over to jigging gear. It worked.
More cutthroat around that size came to hand, but Aaron stuck a bruiser after awhile.
Nice fish! A big colorful male cutthroat is easy on the eyes.
I found a "special" one:
Once we'd worn out our welcome at that lake, we hopped over to another nearby lake that provided slow fishing for a couple of hours. Though I caught three fish, all different species, they were small and didn't provide the same excitement as the last lake.
Hoping for a change of pace and better size, we drove to another spot, then took a little hike to investigate a small pond with some tiger trout of unknown size. With tigers stocked up to three years ago. our hopes were high that some well-fed fish would fill our hands.
Our wishes were granted.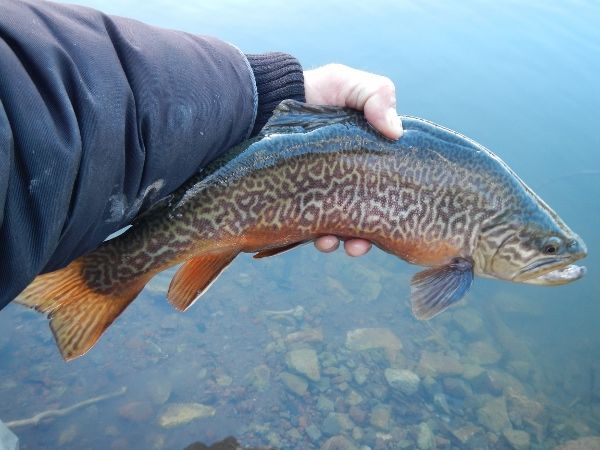 The first catch wasn't huge, but it showed evidence of a healthy diet and it fought way bigger than its size, which was great to feel on the line. Wow, what a fight! Colorful too.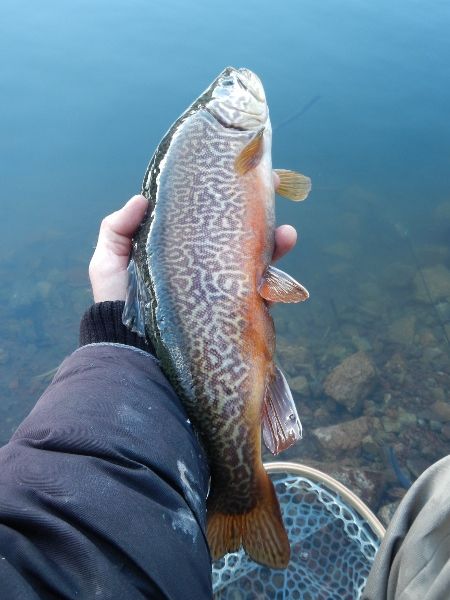 Even the younger fish had shoulders.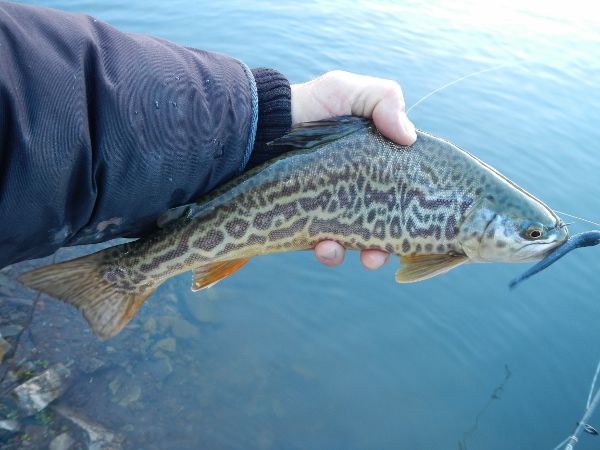 A good sized female made an appearance.
Those fish were quite happy to taste my hooks and they fought a viscous battle every time. It was just what I needed!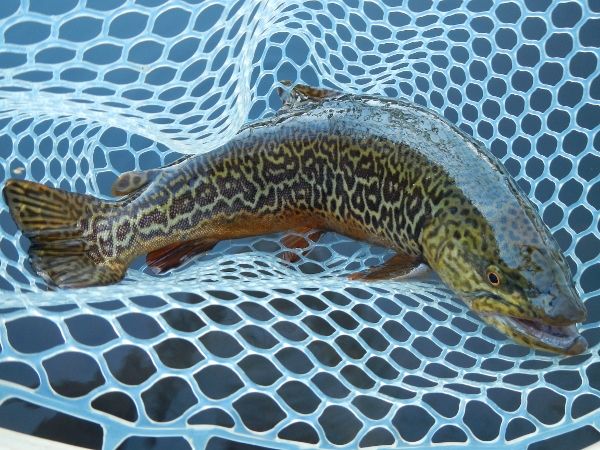 Gorgeous tigers.
We stayed too long and had to mud-ski our trucks down the sloppy road in the dark, but getting a taste of the higher country was well worth the trouble (and the extra tank of gas). Good times!
Needing to stay within half-tank range this past weekend, Aaron and I pointed ourselves east and visited a few water bodies out there.
Our first stop was a place I've fished a limited number of times, quite a few years ago. Aaron had never been, and several changes had been made at that lake since my last visit, specifically the addition of tiger trout to the stocking regimen.
We hoped to float, but when we arrived, the wind was blowing too hard to allow that, so we ended up walking around the entire lake, looking for concentrations of fish.
After all was said and done, we never found any concentrations of fish, but I did catch one fat rainbow, with another longer one slipping away at my feet.
After our long walk and most of the way across the dam again, Aaron finally hooked one, which was a hunch-backed rainbow.
It's no fun to work all day without catching anything, so I'm glad one finally cooperated with him.
Seeing the condition of the fish we did catch made us wish the wind would go away so we could get out and cover more water. If the rainbows were that stocky, the tigers surely had some meat to them. The wind wasn't going anywhere though, so we left and took a detour to check on Currant Creek Reservoir.
Still totally capped with ice! The elevation difference between the two lakes is only around 400ft, but Currant Creek is tucked away in the hills a bit farther and the air tends to be colder. The lingering ice sheet was thin enough to hurl a big rock through, so it won't be long until CC is open for business.
Left with few options for the remainder of the day, we stopped at the Ladders of Strawberry Reservoir on our way home. There was a very large area of open water and the inflow was raging. The strong current made it difficult to present to the fish, but I was able to catch a couple of 21 inch cutthroat before we called it a night.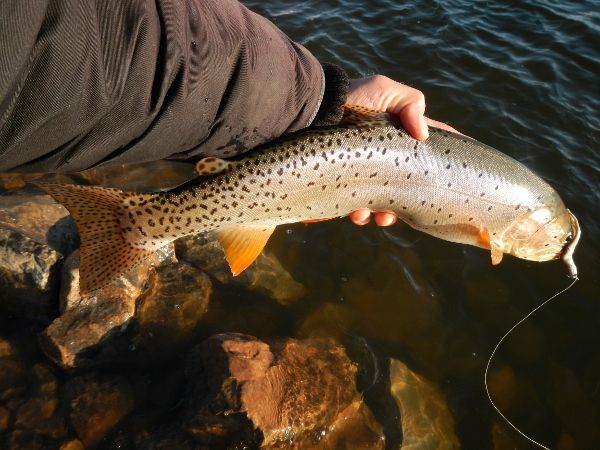 Perhaps the last couple of weeks had already spoiled me and I just needed a tough day with few fish. No matter, the high country is slowly beginning to open up and incredible fishing is not far away. The future is bright!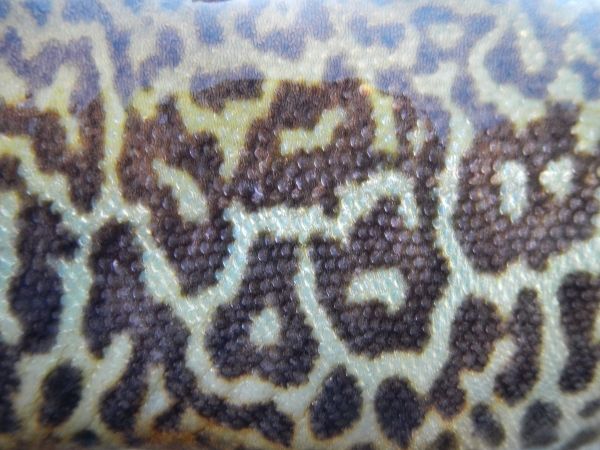 Happy Fishing, Humans.