Hey everybody, it's been awhile since I posted. I've certainly been fishing quite a bit, but I must admit; I've gotten my butt kicked so far in 2016. The ice season has not treated me well at all, only yielding a total of 5 trout in​ the 4 weeks​ I went.​
Holdsworth and I both got skunked at a fickle tiger trout lake for our last trip of '15. The next week, we each only pulled in one fish at Currant Creek Reservoir, where I usually do a lot better.
​My small rainbow:
​
​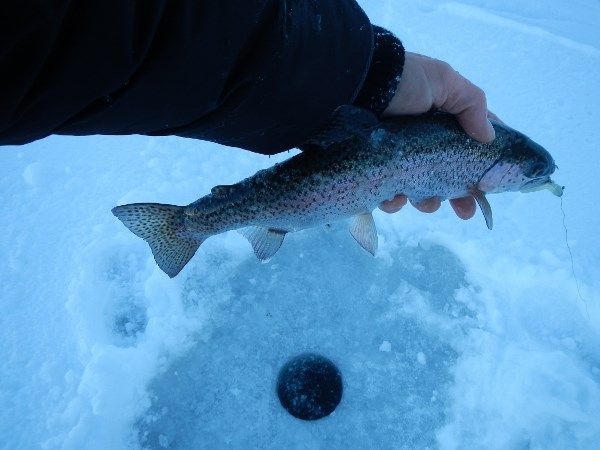 ​Aaron's tiger trout:
​
Starvation Reservoir hosted us the next week and we got yet another severe skunking after hours of tireless drilling and moving. Nothing worked for anyone else near us either. Nothing. Zilch. Zippo. Ugh.
Both of my kids had their birthdays the following weekend and that prevented me from doing much fishing. I did cast fruitlessly for about an hour and a half at Deer Creek Reservoir, one of those evenings, but that was a total waste of time. It was good to be with my family though and the kids loved their birthdays. No loss there.
The next week was sure​ ​to treat Holdsworth and I better, as we met up with my buddy J and went to the famous Fish Lake. I've never done "well" at Fish Lake, especially on ice, but having someone with experience along, our hopes were high.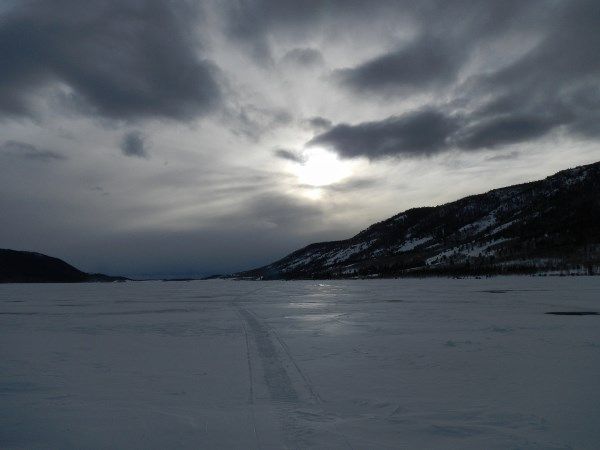 After fishing all day, it was clear that ​I just don't have great mojo at Fish Lake. I ended up with three small trout on the day. Holdsworth did a little bit better, but not by very much. J ended up with a 22" lake trout and quite a few medium sized rainbows and splake before we gave up and hit the weedline for fast action perch, just to get a tug on the line.
​Here's J's mack:
​
As the daylight faded, J and I pulled in quite a lot of tiny perch, but it was little consolation for the slow trend of late. In a total of three trips to FL on ice, I've caught a total of 5 trout. That's just wrong.
This is a lake that people do really well at too. I've been told that my luck at Fish Lake is the worst of any other human. I have to submit that it may very well be​ true​. Not to worry though; I intend to break my curse this year, on a float tube.
At least I still have my lunch breaks. They seem to be the only times when I can catch ​worthwhile fish. So far this year, I've hooked into a couple of ​nice channel cats, ​several pike, quite a few largemouth bass, two crappie, a couple of sunfish, and some bluegill.
​This slob is my biggest catfish yet, at over 7lbs.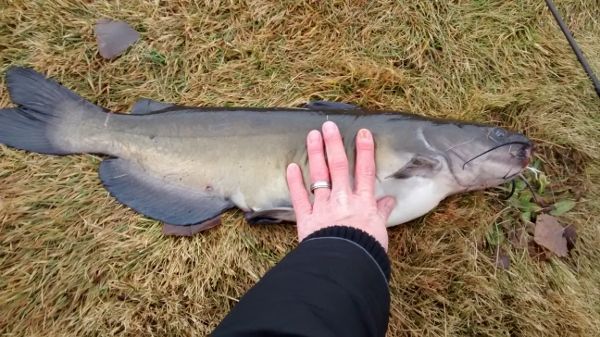 ​
There have been some other noteworthy catches on lunch, but we'll get to those in a bit...
With the slow fishing and crummy weather lingering, I was starting to feel the need for a break. On January 30th, a heavy snow storm rolled in and my family and I bugged out for a chance to stretch our legs in our go-to desert destination, Goblin Valley State Park.
The drive was treacherous up and over Soldier Pass (Hwy 6), but we prevailed and it was a great contrast to leave the snow-covered world for what could seem like another planet.
These clumps of Entrada sandstone hold a very special place in our hearts and surely anyone else who has visited. We go at least a couple of times per year. The kids are even willing to put up with the 3.5hr drive so they can climb and play.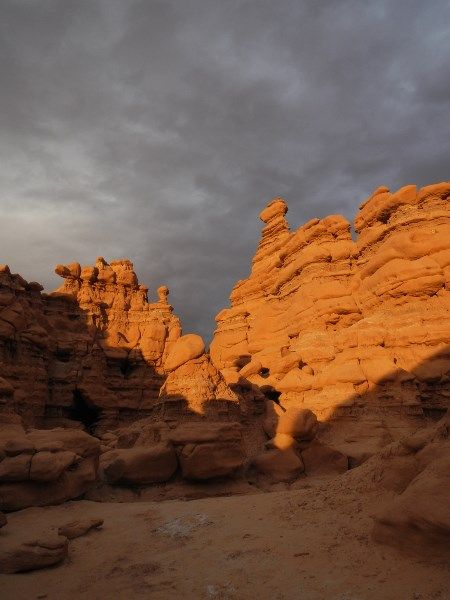 The weather wasn't perfect, but it wasn't snowing or raining. Mid 40's were comfortable enough and we enjoyed a marvelous day trip. Being just a day trip, we kept it localized to the main valley and surrounding cliffs. It's what we'd consider the standard Goblin trip; play around in the hoodoos for a bit, stop by the cave, takes some photos by "The Wizard", then hike up to the top of the cliffs for a true visual feast.
Those that hike up to the greenish white Curtis formation, which is found directly above the Entrada, get to fully appreciate the vistas, with breath-taking beauty to be found in every direction.
From the southern tip of the eastern cliffs, we can see the back edge of Valley #2: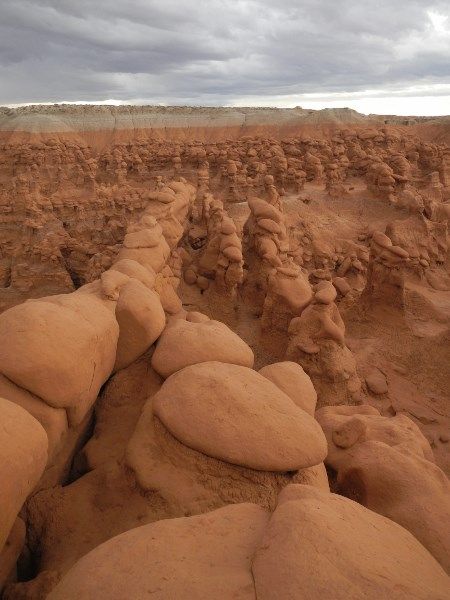 It's important to watch your step because there are only a few ways to get down safely. Quite the drop, otherwise: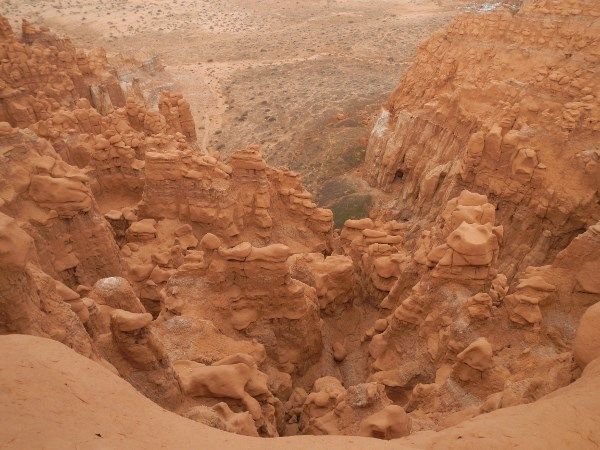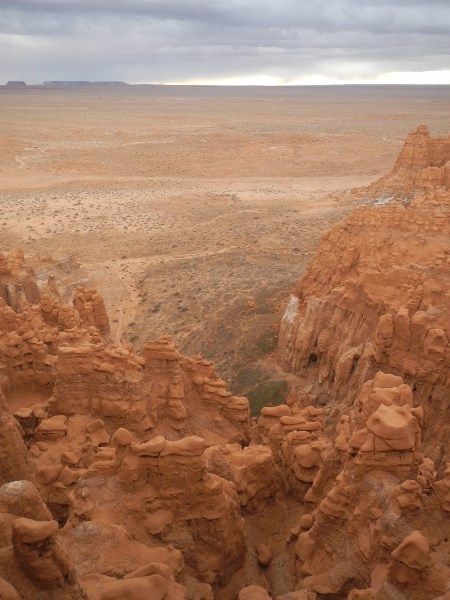 ​The kids were happy to kick their cases of cabin fever: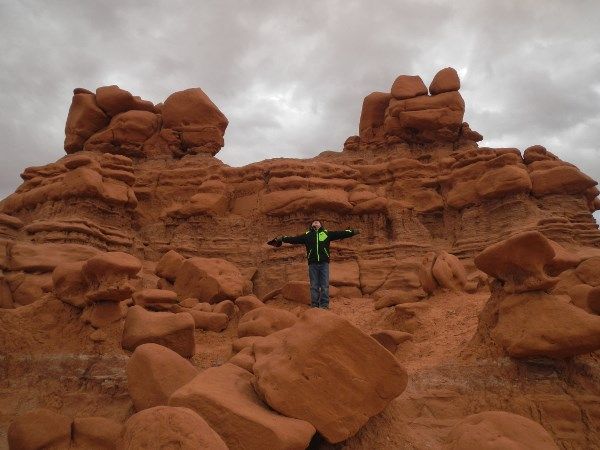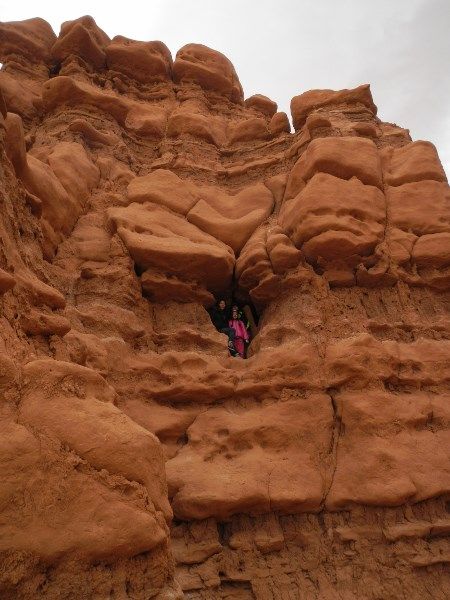 Of course, I definitely got the recharge I was looking for:
The cloud cover created some neat ambient lighting and interesting textures to observe: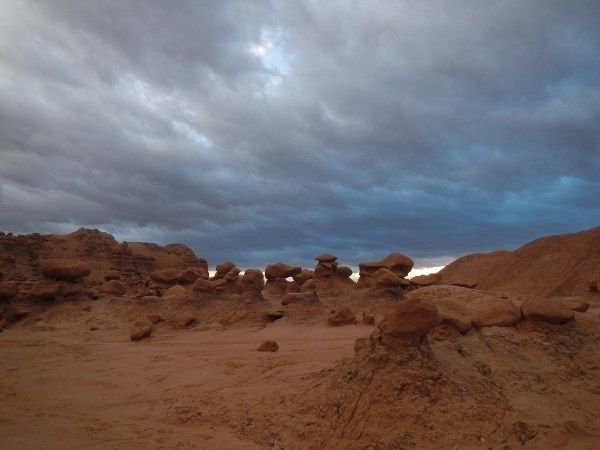 I was lucky to get this shot, which may be my new favorite for GV:
So we basically spent close to 8hrs driving to enjoy a short hike, but it was well worth it, like always. Like Jemaine from "Flight of the Conchords" says, "Two minutes in Heaven is better than one minute in Heaven, Baby".
See you next time, Goblin. Next time, we'll stay a bit longer and explore some "new" (to us) features.
Back to slow fishing, Holdsworth and I tried to get some action from Strawberry Reservoir the next week. Even with a power auger and a fish finder on loan, we couldn't seem to find any concentrations of fish at any depth. Anything found was quick to move on and only a couple of fish were caught, this being the best of them:
For a place like the Berry, a 21" cutthroat isn't much. Still, it beats nothing. Without having the finder to watch, I surely would have missed both of my catches.
The next trip we took was in hopes of finding open water at Minersville Reservoir, near the town of Beaver. Two weeks earlier in 2015, the lake was wide open. This time around, there were only extreme shallows showing any liquid. We bagged that plan and fished Corn Creek, which was only a short detour while driving back to the north.
This small stream used to have a reputation for good sized brown trout. I regret not fishing it back then because it's lost its luster, for the most part. Having never fished it, I was hoping to make it a lot farther up the canyon, but a locked gate kept us within the first mile or so at the bottom end.
It's a pretty creek with nice looking holes, but the fish were mostly somewhere else.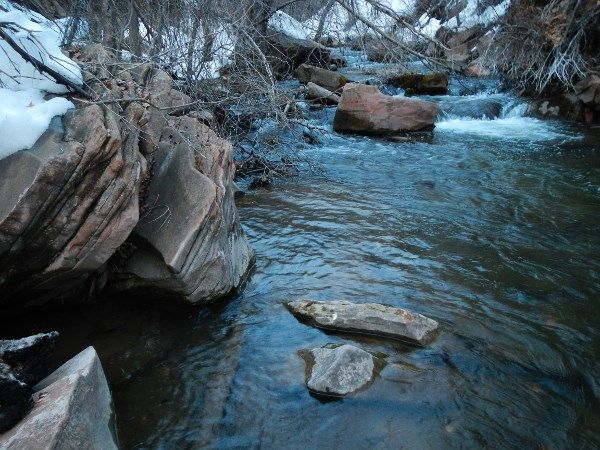 Only a few fish were caught between us, but the experience salvaged the use of a tank of gas and showed us a new place. It's a neat canyon.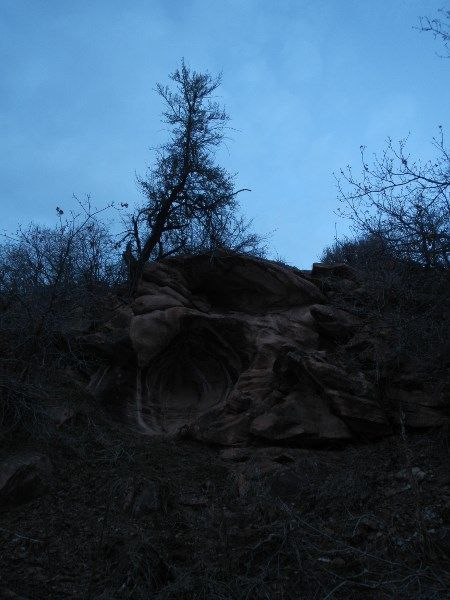 Yet another slow day of fishing in the books.
Needing another escape to warmer weather and red rocks, my family, Holdsworth, and I set off to camp at Sand Hollow State Park for our first time. Aaron and I were to get the tubes pumped up and hopefully get bent on some nice largemouth bass in the very fishy looking Navajo sandstone formations.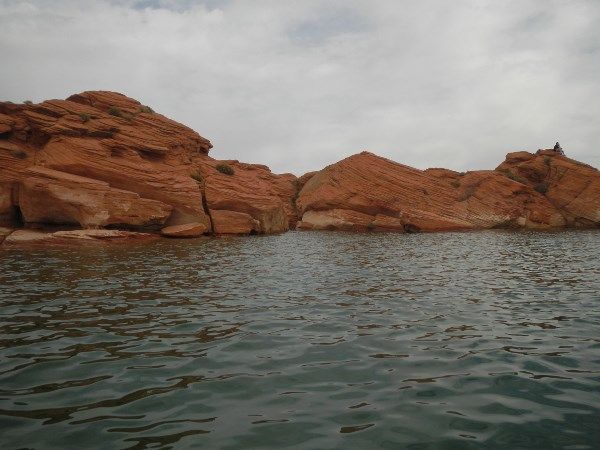 It actually rained quite a bit and the temps were a little too cool for the kids to swim, but they had fun splashing around with their feet while Aaron and I tried our best to trick some fish.
We started off by throwing dark Senkos on a weightless Texas rig, but the breeze and water chop made it tedious to watch our line. Eventually I switched to jigs. A YUM brand craw plastic with a brown back and orange belley was what I was able to catch a couple of fish on, paired with a 1/8oz Gamakatsu jig head.
This one struck first:
This one was the biggest on our trip, at 17.5":
The place is great for a float tube! So many incredible submerged shelves to hide under.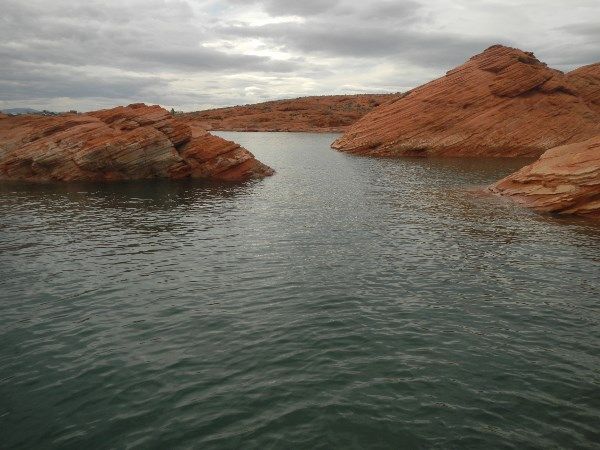 Only three came in for me on day 1, then a storm blew through and kicked us off the water. It felt great to float again though.
Day 2 was still a bit rainy, but Aaron and I took an hour or so to fish from shore. Fishing along the west dike proved useless, so we went back to the cool rocky area and did our best to find something that would bite. Eventually, I found a willing mouth to stick and got the only fish of day 2.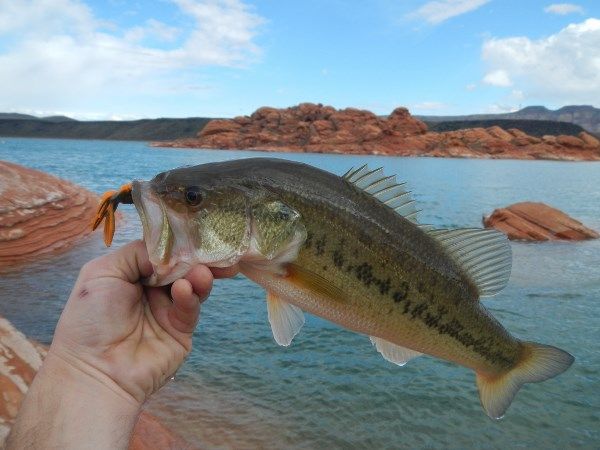 After that, we drove over to hike around on Sand Mountain, but another storm was imminent so we stood around for a bit and observed before heading off.
Sand Mountain:
Thanks, Sand Hollow, we'll surely be back.
The next adventure was another family trip to a place we like to visit from time to time. Joe's Valley Reservoir is a fun place to visit and typically yields good catch rates. Fish size is wide open with everything from small skinny fish to big round splake up to 12lbs. Tiger muskies were added some time ago and they're already topping out at well over 40".
Not only is the lake fun, but the tail water is also a beautiful side trip with the gorgeous water color and huge boulders throughout the stream bed. We decided to stop along the creek on our way up the canyon to visit our "picnic spot", as we call it.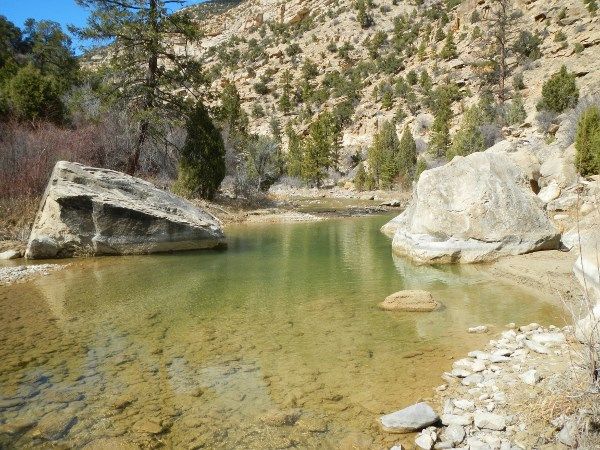 It's a very photogenic stream.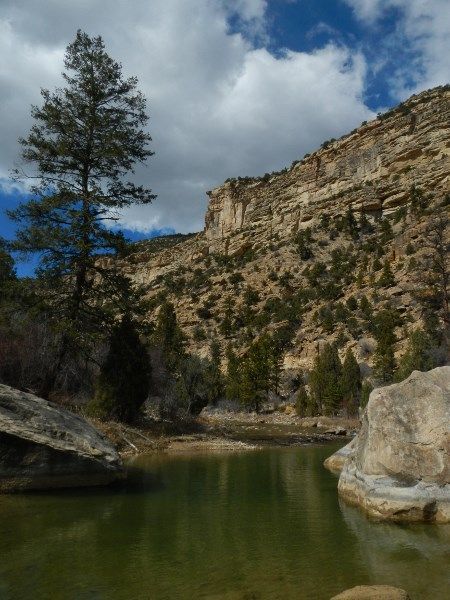 Normally, the fishing is fast paced for small brown trout, but on that day, I didn't have what they were looking for. I did see a legit 20" fish follow my gear for a moment though, which is nice to know exists in the stream.
Moving on, we were surprised to see the lake still frozen, minus a little bit of open water near the dam.
Sonia and I each caught a cutthroat. Her's was a little bit bigger than mine, stretching to just over 18".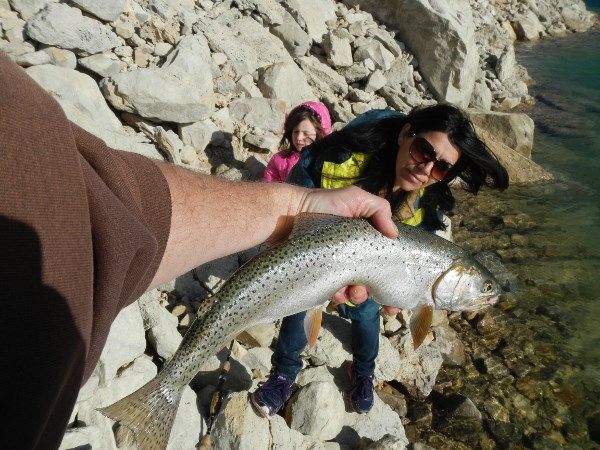 It was her first fish of the year and ended up being the fish of the day. I was glad to see that happen.
After we'd had our fill of slow fishing at Joe's, we decided to use the very last bit of daylight for a pleasure cruise through the San Rafael Swell. We love the desert in my family and the chance to see giant red monoliths, even for just a few minutes, is always accepted.
The Buckhorn Wash area hosted us that evening. We watched the day's light fade away, framed by sandstone silhouettes.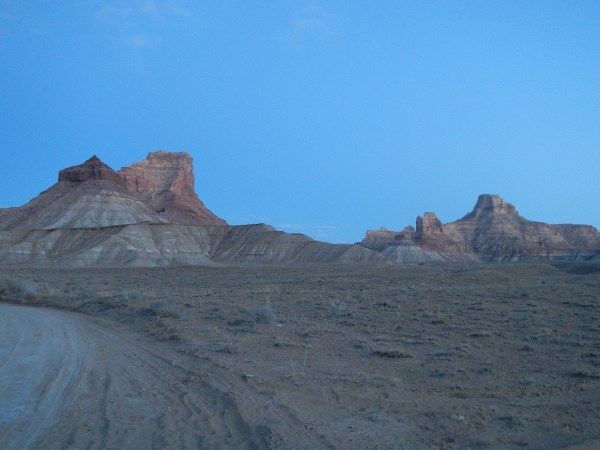 The drive home was a little bit crazy, having to pull over quickly to attend to my boy. Apparently, something James had eaten earlier wasn't going to settle for digestion and instead, decided to come and join us in the cab.
All over the back seat! Ugh. It's never fun to deal with that kind of episode, especially when you've still got over two hours left on the drive. Poor kid soaked his clothes and had to finish the ride wrapped in jackets. That was a tough one to clean.
Regardless of the last couple of hours, it was still a fun family adventure spent admiring Nature's beauty.
Our next trip was a good one we'd been planning for awhile. Arrangements were made for Grandma to watch the kids so Sonia and I could go and stay at a sweet cabin my buddy had rented. My cousin from Phoenix and his wife were on the guest list, as well as Holdsworth and a few others.
The cabin was incredible and quite close to Panguitch Lake, one I had never fished. The lake, however, was still frozen, except for a small area of open water near the dam and some very shallow water on the west side of the lake. It really wasn't a fishing trip, but those of us that like to fish made sure to get out and test the water.
For my first trip to Panguitch Lake, I was quite satisfied with the quality of rainbows we were catching. They were thick and strong, giving aerial displays while fighting us.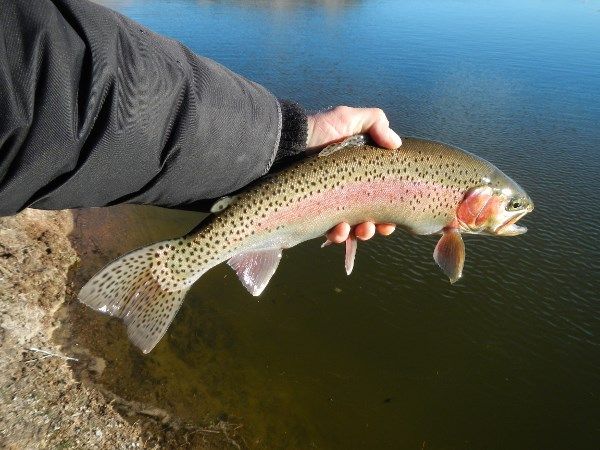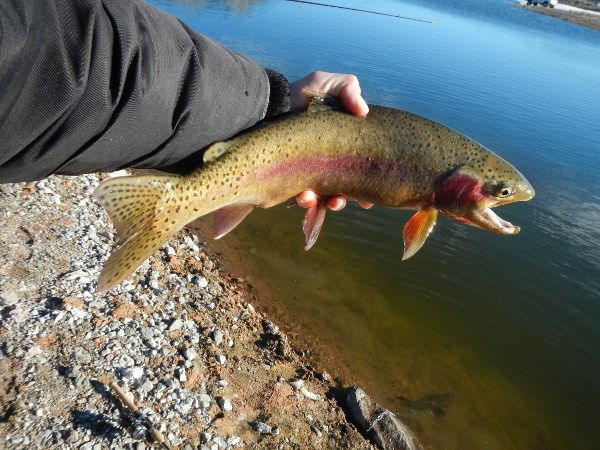 We actually did pretty well, catching quite a few fish in a short amount of time. It was great to experience "fast fishing" again, since the year had been so slow, leading up to that trip. Holdsworth caught some good ones.
Gulp leeches were the flavor of the day and we took a few back to the cabin, where I prepared them for everyone. They were well received and I was happy that I'd brought all the stuff I like to use when filleting/frying trout. When all was said and done, I was lucky to get a few bites for myself! Having previous experience as a line cook at a seafood restaurant, I'm pretty comfortable cooking fish.
Day 2's fishing involved everyone from the cabin, not just the Aarons and myself. It was nice to have everyone around, since Sonia and I were packed up to leave after that. Those that didn't fish enjoyed the beautiful sunny day we were having, plus the company couldn't be beat.
The fast fishing from the previous day didn't necessarily carry over, and it took a little while to start getting bites. Once it happened, it was back on for some stout rainbows again. I even scored on my fly rod.
My cousin hadn't caught a fish yet and I felt pretty bad for him, especially after a big tease I got to watch when a nice fish threw the hook right at our feet. Eventually it worked out though and he got one to hang on.
Holdsworth got some really nice ones that day.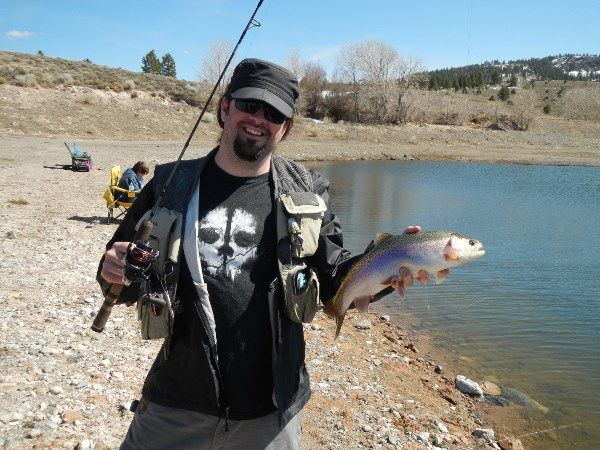 As did I: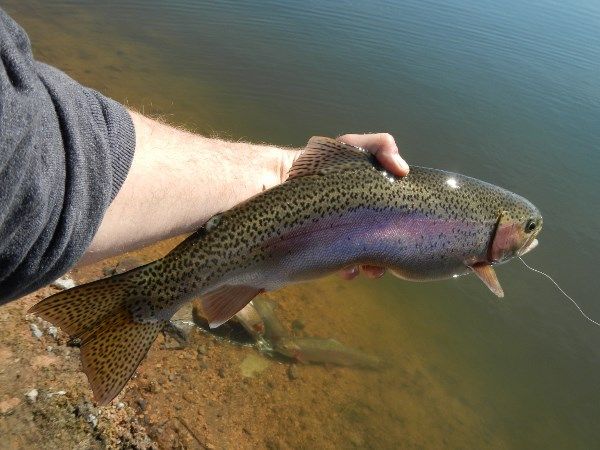 Here we have cousin Aaron and our friend Preston, who was so kind to invite us all.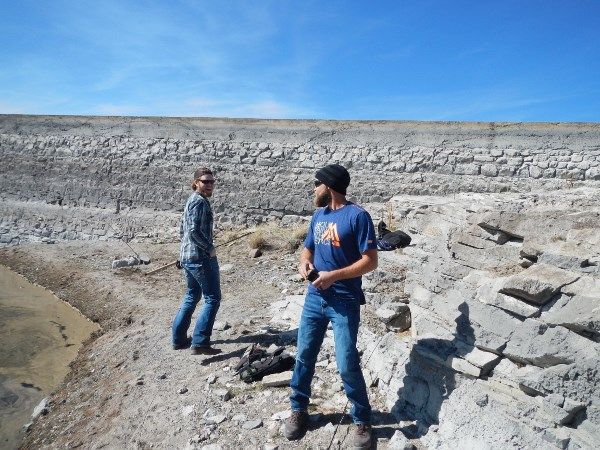 Our good friend Chris:
My wife Sonia and Aaron's wife, Melinda (and they get along really well, which I love):
It was a crazy fun time with crazy fun people. I'm so glad we were able to get down there and as a bonus, the fishing was great! Finally!
Even with the slow start, this year has already provided me a few personal bests, which coincidentally have all come on my lunch breaks rather than dedicated trips.
So far this year, I've caught my best catfish, beat my personal best fish four times with three carp over 9lbs and just last week, I caught my biggest fish ever with a 33" northern pike weighing 10lbs, 2oz! First fish over 10 that I've been able to land.
Believe it or not, it was caught on the Provo River, right by Utah Lake. I had a guy take some photos of me holding it, but I guess he couldn't figure out how to use my camera, despite my instructions. Nothing on the good camera. I'm glad I snapped a couple of cell phone pics, even if the quality is low.
So there we have it folks! Poor fishing to start the year and now we're just starting to see a silver lining with promise to only get better. Bring it on! I've got some really cool trips in the making for this year, so stay tuned for updates.
Hopefully the fishing gets better and I have reason to post more often. Thank you, as always, for taking the time to visit.
Happy Fishing, Humans.