Over the past few weeks, I've kept my line wet, though trip reports have taken a bit of a back burner.
Three weeks ago, my family and I went to Currant Creek Reservoir, hoping to nail some nice fish like we have before.
The day was filled with small stocked rainbows and many frustrating break-offs with much nicer tiger trout. It was enough to convince me that I'm not a fan of a certain brand of fluorocarbon hybrid line.
My standard 4lb mono rarely leaves me dissatisfied, but I thought I'd take a chance since so many people are sold on the newer stuff.
Regardless, my wife (using good old mono) was able to land the biggest fish of the day, which was a big plus for her. It's been awhile since she has caught any fish, let alone quite a few of them.
Last week, my buddy J offered to drive for another trip, so we set our sights on Strawberry. Our first stop was to check on the reservoir near the dam, just to see if it was worth spending any time there before hitting the river.
Instantly, I was hooked up with a pretty good cutthroat.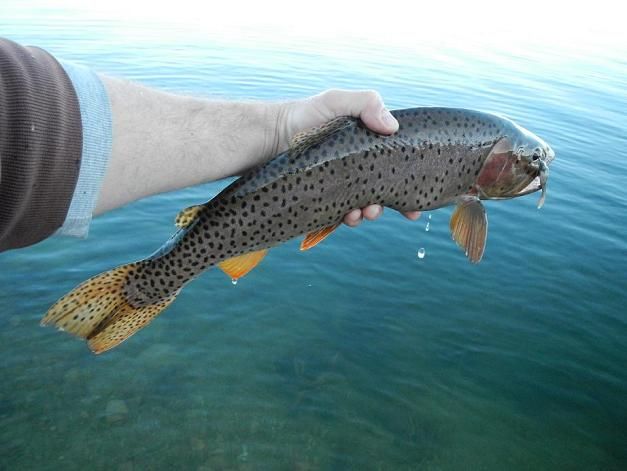 It was released without measurement, but I doubt it would have broken the slot.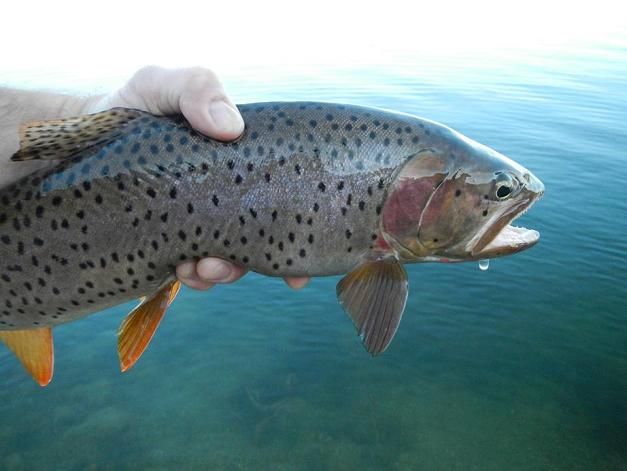 From then on, it was about 10:1, rainbows to cutts. The bows were just below the surface and the cutts were between 10-20 feet. Gulp minnows, black marabou jigs, and Blue Fox spinners were all getting bites with some frequency.

After several hours of slaying rainbows and a few cutts, we decided it was time for the river. Armed with his fly rod, J was happy to get a few to hand and I used jigs to catch a couple of browns and my first brookie of the year.
It was hard to leave the river, knowing about the really nice fish that I spooked in a couple of prime holes. The decision was made to check the lake one more time before calling it a day, which we did.
The success rate was a bit slower, but we both ended up with nice rainbows and a few more cutthroat.
Here's my 20". J caught one at 19".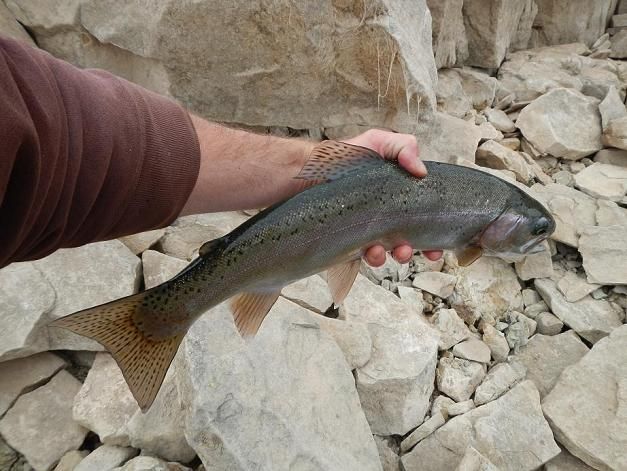 It really was a good day.
Earlier this week, I had some business in the Salt Lake Valley that happened to be right down the road from the Jordan River, the outlet of Utah Lake and major inlet for the Big Salty.
After my formalities had concluded, I stopped in for a few casts and within three casts, had a big sucker on the line, literally.
This week, pre-set plans for both days of the weekend meant that any fishing would have to be carried out locally. Checking out my lesser-known spot on Deer Creek Reservoir seemed to fit the bill, so I embarked on the 1.6 mile walk to the "side pocket", as I call it.
Signs of life were limited to the aquatic insects and a marmot on the rocks, but I thought I'd try my luck anyway. Being connected to the reservoir, fish are free to find their way in.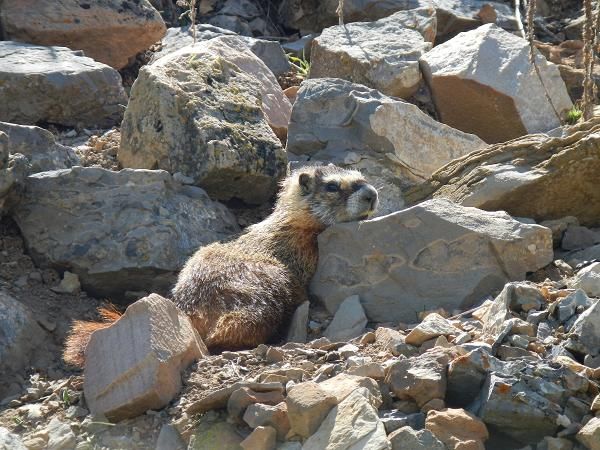 After quite a bit of fruitless casting, I finally got some action. In fact, I caught four small rainbows quite quickly, using a marabou jig and a rainbow Blue Fox.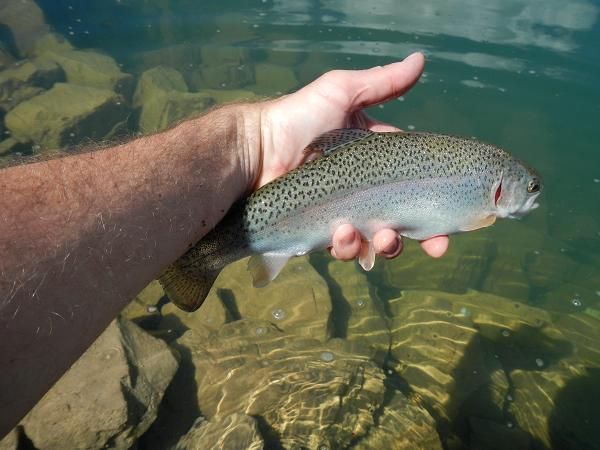 Eventually, I wondered if I would have any luck on the main body of the lake, so I went to check it out. My plan was to hopefully catch some perch or some bass, but they weren't anywhere I was throwing.
My impression was that it would be a long day and that I might just have to accept a skunk from the main lake, but then a large cloud blocked out the direct sunlight and my next cast yielded a good brown!
Previously, I had only caught browns from Deer Creek once and that was on my birthday back in December. Two came in that day, one right after the other.
Well, following that same pattern, my next cast brought in yet another fine Deer Creek brown.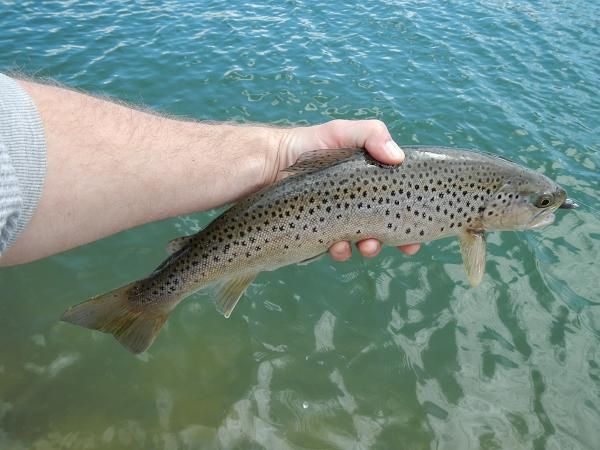 The clouds moved away for a bit and the sun was shining brightly again. That also meant the bite vanished.
While casting away, I noticed the latest and greatest watersports craze, "Flyboarding".
It actually looks pretty cool. They can supposedly launch people as high as 40 feet. Neat-O.
Eventually the clouds came back and what else? More browns! A couple of hard tugging bad boys shook off before I met them, but there were still a few that made it in. It may not have been expected, but it was certainly welcome!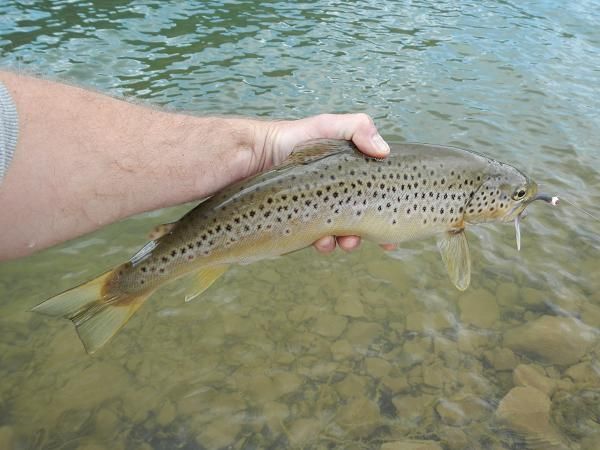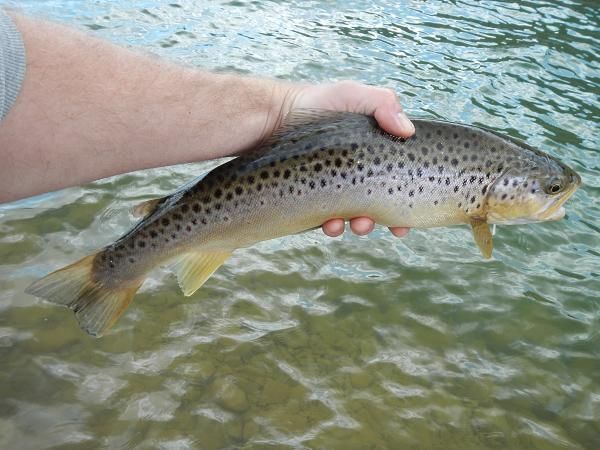 The day went from a big question mark to a big exclamation point and all that needed to happen was for some clouds to move in. Crazy how that works sometimes. There may not have been a lot of fish, but my time spent was rewarded with a valuable lesson in the workings of the enigmatic Deer Creek browns.
I'll have to test this method again in the future and see what happens. For now, I'll just bid a big thanks to Deer Creek for what I would call an excellent day on the water, especially in the short time I had.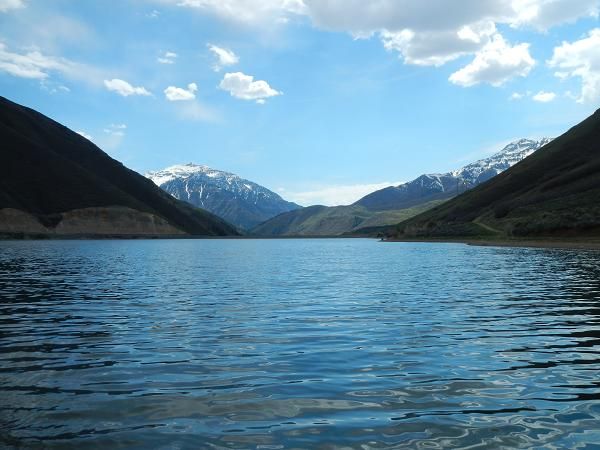 Happy Fishing, Humans.