Okay folks, "epic" is a played-out word and I don't use it lightly. This was truly epic.
My buddy J accepted my invitation earlier in the week and we left his house in Spanish Fork at about 5:30 on Sunday morning. We didn't make really good time getting to the trail head, but I was confident that we would still do well, as the early bird syndrome doesn't seem to matter this time of year on that particular hillside.
Despite our somewhat late arrival, we were the only ones in the area. Along the path, I smirked and told J that he was about to see my "happy place". His excitement grew, as he had no idea what fun lay ahead of us.
As I walked to a point on the lake, I threw out a Gulp minnow for a few minutes while J tried to trick some of the cutts into biting near a small shallow pool, which only one did. My Gulp wasn't bringing any takers or followers with it, despite fish rising in the same areas where I was tossing.
*Please let them bite, please let them bite, please let them bite.*
Meanwhile, J decided to make his way around to another area. There's also a small pool that collects there, prior to flowing into the lake, and it was also stacked with smaller cutts.
While he was over there, I had started moving back toward that area and crossing a beaver dam. He mentioned that he could see some pretty nice fish under the log jam and it wasn't long before he was hollering about a good sized brookie that just ate his jig.
Not a bad brookie at all!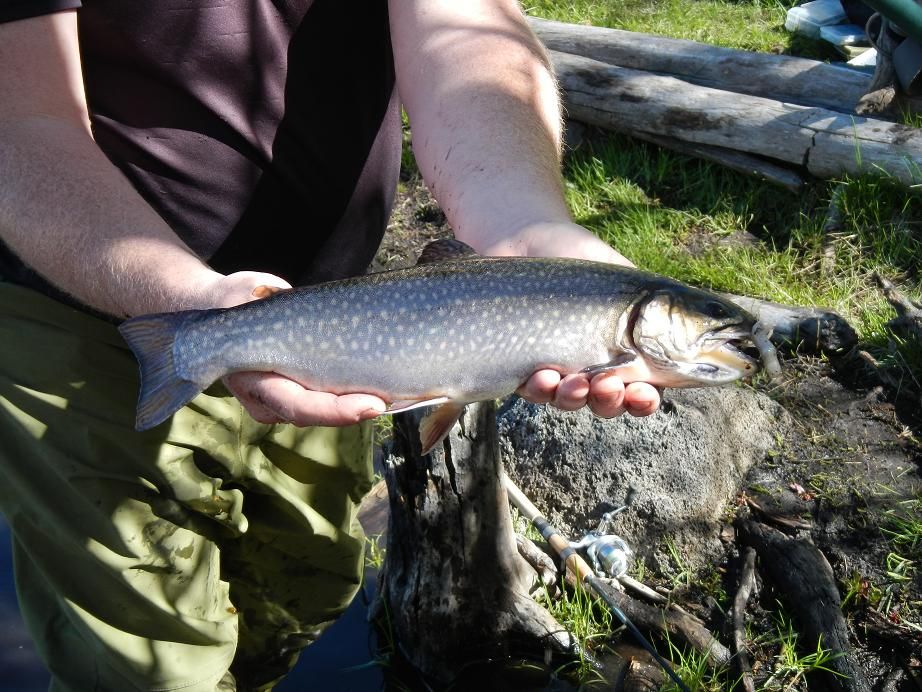 This convinced me to abandon the Gulp and try something a bit more jiggy. While I was tying on a black marabou, J got a hit from a really big brookie that wrapped itself around a log or two, breaking off after giving him a good look at what would have been the biggest brookie of the day.
Now it was my turn to have a crack at them. Black marabou, vertically jigged next to a log. Swipe, miss.
*Expletive*
Wait a moment, try again.
Another swing and a miss.
*Repeat expletive*
Wait a moment, breathe, try again.
BOOM! My biggest brookie to date!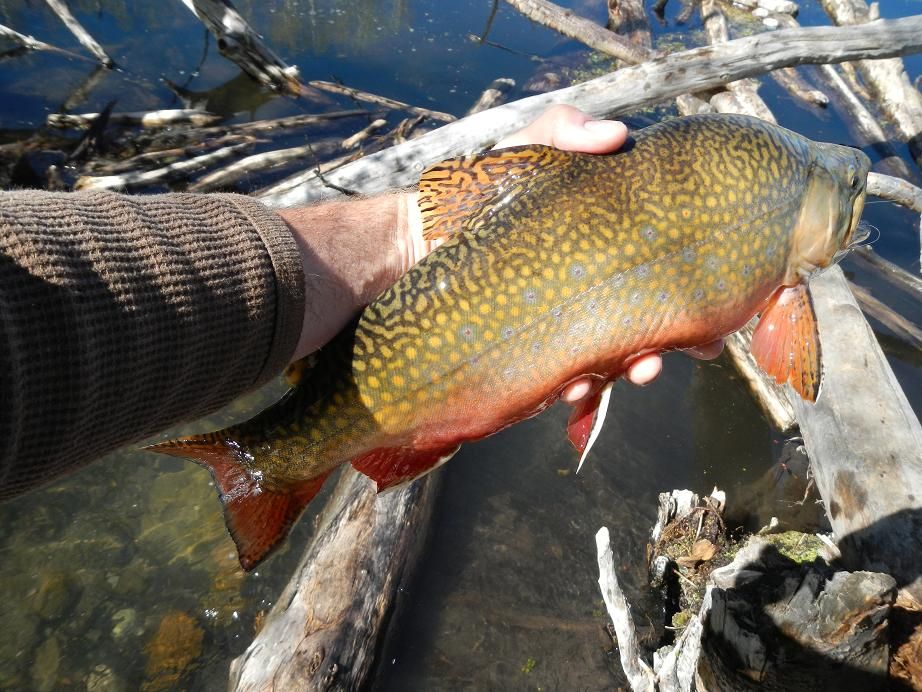 What a tank and what a fight! That thing refused to come in and I was ducking my rod tip into the water to stay under the logs while it finished freaking out.
Aw yeah. It's business time. He went 3lbs, 10oz.
Soon after, another one bites the jig.
J found some more brookie action too and caught a good sized male.
After that, the fish got wise to our antics and stopped playing. We thought that examining other parts of the lake would be a good idea, so off we went. We circled the entire lake (pretty hard with all the brush on the steep side) and didn't hook a thing. It was actually pretty demoralizing. Sticking it out where we were originally catching seemed like the best plan after the hour or so it had been.
Getting back to "the spot", the fish were holding to that same little area. The clouds had blocked the sun at that point and nothing seemed to bother them, not even stepping on logs that would shift all sorts of flotsam around. After a little while, both of us were standing either on a log (that bounced in the water) or a rock right next to it, fishing that same window between the logs and catching fish very quickly.
The cutthroat also seemed to suddenly awaken, which had only been taunting us until that point, churning about at our feet in plain view.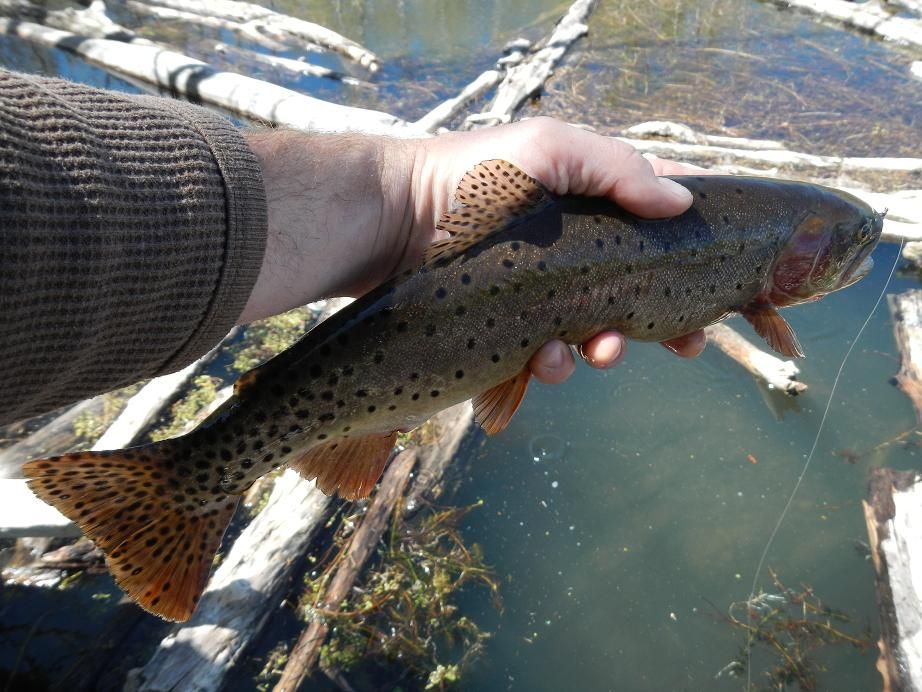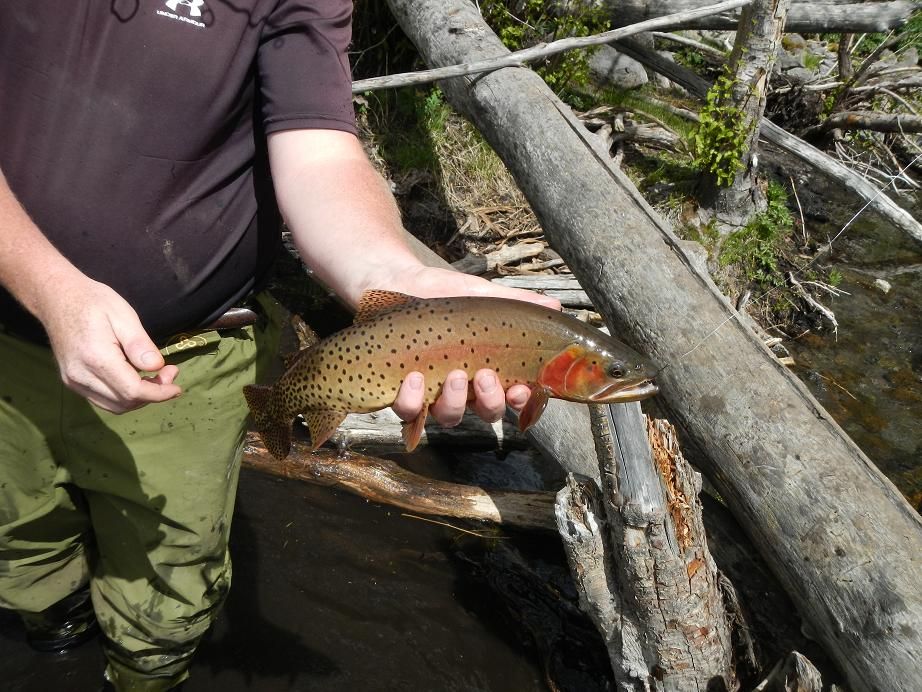 Dude was on a roll. While he was busy catching, I got stubborn with my fly rod and was determined to pick up some fish on some nymphs. I actually got a few smaller cutts on a nymph that I was drifting with my spinning rod, but every time I hooked up with the fly rod, I got a couple of seconds into the fight and they'd come undone, giving my fly back.
Eventually I gave in and also started tipping.
BOOM! Another fat brookie.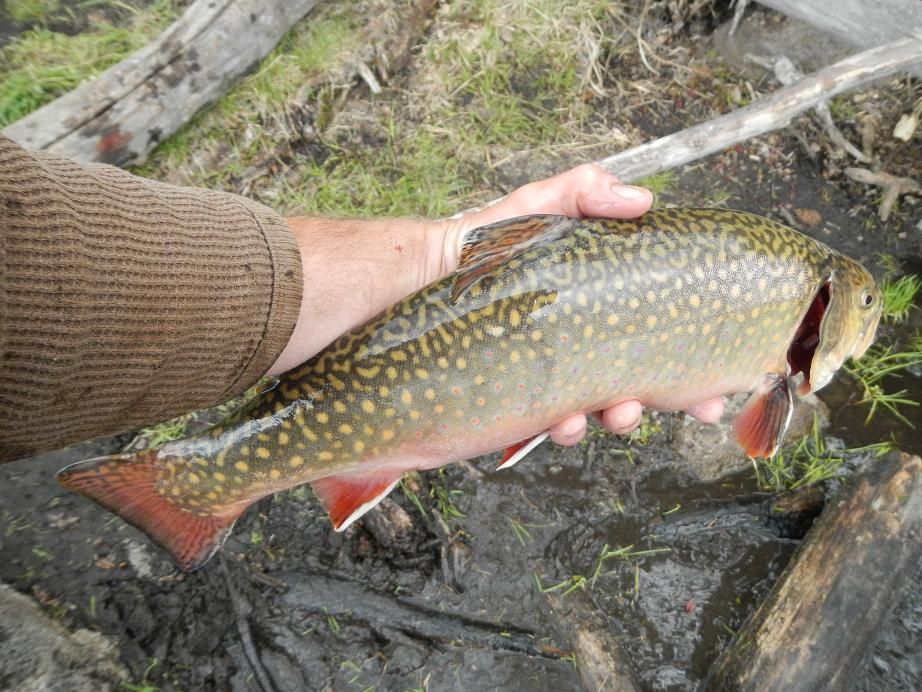 3lbs even.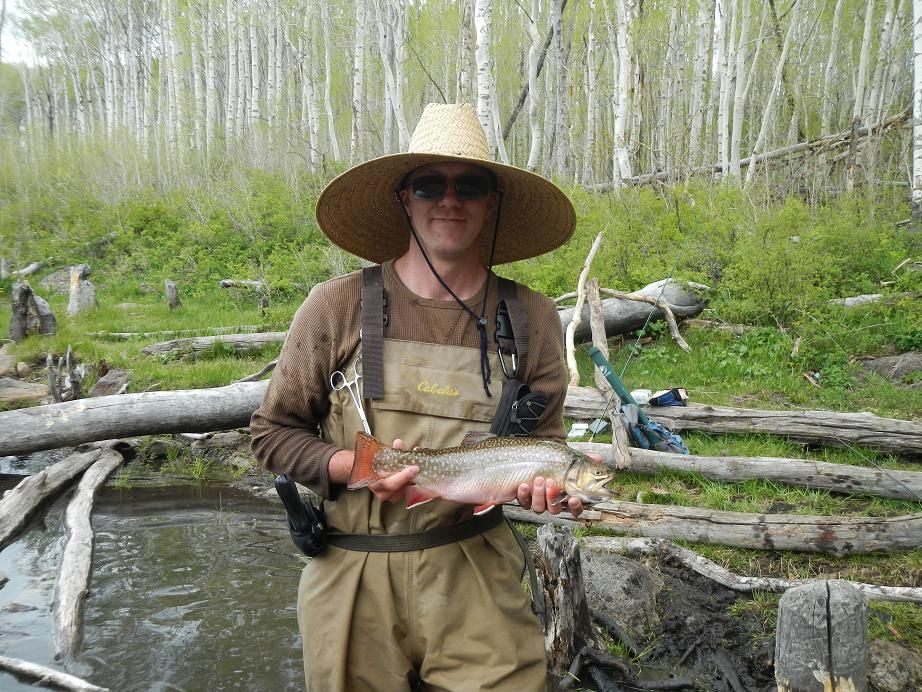 Nice and wide.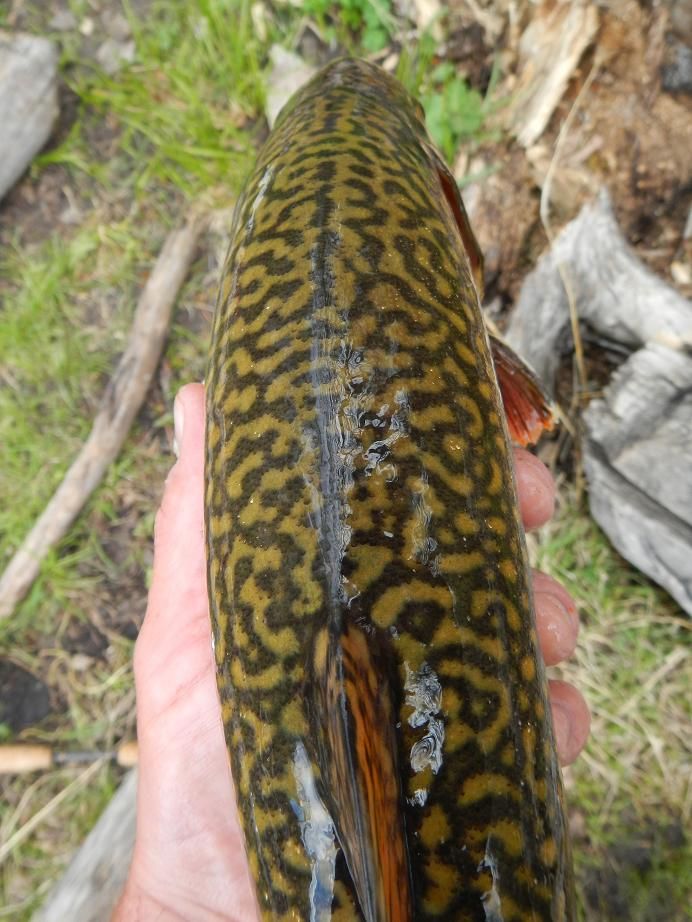 J wasn't done either.
We got into some pretty nice cutts, which was rewarding after getting blatantly snubbed earlier.
It was then that J finally nabbed the biggest cutt we'd been watching. Holy crap, what a gorgeous cutthroat!
I saw which one he'd hooked and started rolling.
Wow.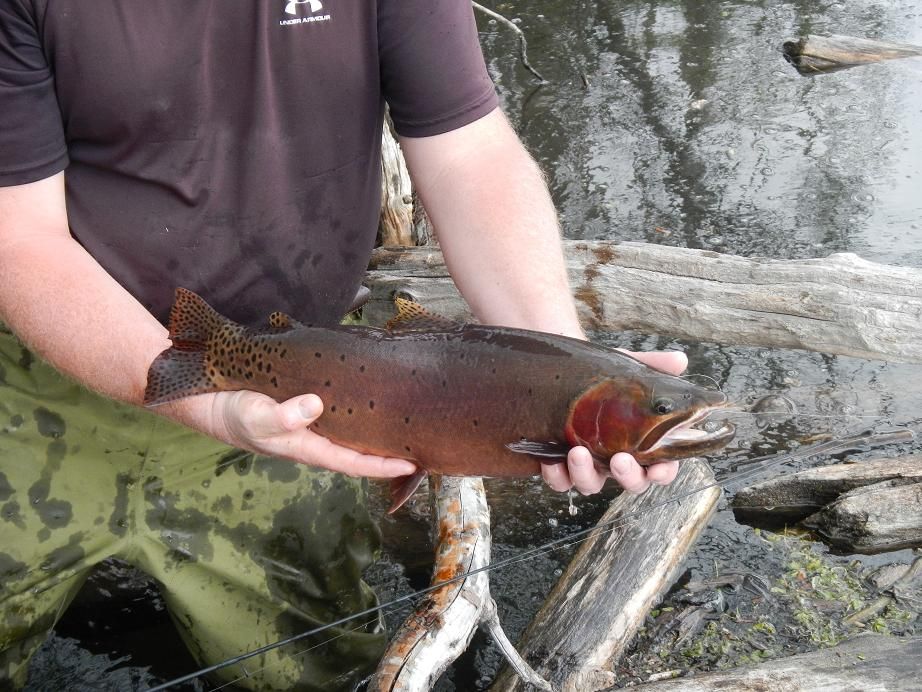 The good ones just kept rolling in too.
He also hooked another beastly brook trout that I watched escape after tugging for 10 seconds or more. What a shame! It was considerably larger than the ones we had already caught.
A good consolation prize, he did hook up with another nice one though.
We were just plain spoiled by the fish gods on Sunday.
Oh yeah. About an hour after the really big cutt was released, I got my turn to catch it!
Talk about WIN/WIN!
It's such a pleasant hike to a peaceful lake in beautiful country. What could be better than catching big fish in such a venue?
Truly spoiled.
Happy Fishing, Humans.