As usual, throughout the work week, I'm always using my lunch breaks to handle vitally important business. By that, of course, I mean fishing.
The browns are showing up again, although my camera's battery has been dying at inopportune moments and I've only been able to get a few pics.
I've decided to call the irrigation box "the Lunch Box". Pretty clever, huh?
Here's a medium sized brown and a tiny sunfish from there:
Just downstream from there is where all the spawning took place, just a couple of weeks ago. Unfortunately, I didn't get any video of the action when the big guys were in there, but I spooked some really nice ones.
Here's a small one from that same stretch: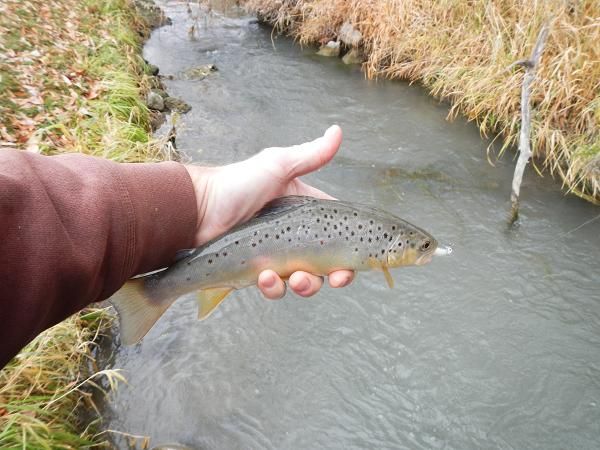 .......................................................................................
THIS WEEK:
Lately, curiosity has been chewing at me about a couple of lakes I usually visit a few times per year. The water levels had been reported very low since mid-summer, putting a lot of fish at risk in lakes that are usually pretty shallow anyway.
This week's destination needed to incorporate some investigation into those matters, as well as checking into some other nearby spots that I've meant to fish for awhile.
After a snowy morning drive, I arrived at my first stop to behold the lowest water levels I've personally seen there. Nervous about finding life, I ran across the road to check a small pond where one inlet pours in.
It's a place where I knew something would be if there were any fish left in the system, so I watched carefully for a moment without seeing anything move in the shallow remnants of the pond. Even more nervous, I tossed my Blue Fox near the weed line to see if anything was hiding under the mossy canopy.
Gratefully, I watched as a tiny fish zipped out to give chase and turn at the last moment. It was a promising sign, so back to the main lake I went.
Within 5 minutes, I had a solid hit and gladly reeled in the first of many smaller trout that looked like this, give or take a couple of inches in length and girth:
Though they were all smaller planters, they looked healthy and most of them had a pretty round belly. It was a fun couple of hours in that spot, and then I thought I'd continue my hunt for the big fish at the dam.
Here's a nice belly: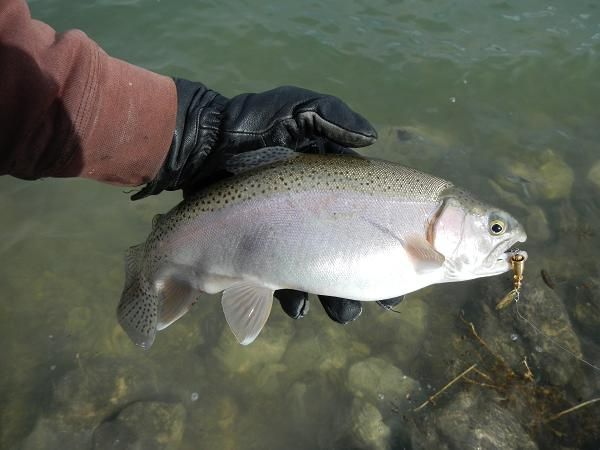 Again, it was mostly healthy planter sized rainbows. As fun as it was, I wondered if any of the bigger fish made it through the summer.
Fishing a few hundred feet of shoreline over the course of four hours wasn't nearly enough to make a serious assessment, but the lack of larger fish where I'm used to finding them was concerning. Hopefully I find some in a few weeks, on ice.
My biggest catch there was about 15" long and stout. It's not the size that I was hoping for, but welcome, regardless.
The wind was blowing snow right into my face at that point, so I decided to check an area where some water flowed under the highway. Many times, I've wondered if there was anything to fish for in there and many times, it wasn't convenient to check.
As usual, my roadside curiosity was rewarded and where I thought I might pull in a brown or a rainbow, a decent largemouth bass wiggled its way off my hook before I could bring it to hand. That was quite the surprise!
As neat as that was, it motivated me to keep trying. Before long, a smaller LMB was on, then a couple of decent perch!
What a find! If fishing like that exists in December, with hardly any water in the system, I can't wait for spring and summer.
My next stop was to be another curiosity bug, laid to rest. Gunnison Reservoir has never had much of an online following and the only info I've ever read about it was that it's shallow and not worth fishing.
Seeing the high water mark vs the actual water level, I could tell that a much deeper reservoir is possible, but being part of the Sevier River system, it really has no chance of maintaining a good pool. Everyone downstream sees to that.
The deepest trench I could find at the dam was probably about 5 feet. Right at the outflow gate, it seemed to get dramatically deeper in a small area. Must be the "drain". I fished there for a short while until I lost the only jig I had brought along.
No fish were caught or seen, although I saw a sizeable swirl close to a floating mass of tumbleweeds. Probably a carp, but I'll never know.
Below the dam, the canyon looked really neat, so I embarked on foot in hopes of finding some water worth fishing. That didn't happen, but it was neat to see the red rocks. I'd like to hike around in there someday.
With the remaining sunlight, my intention was to check on Palisade Reservoir, from where I'd heard reports of a lifeless puddle.
Having a solid history of nice fish for such a small lake, my hopes were that it had survived the dramatic draw-down of this very dry year.
The water level really was low, down to the trenches, but I'd seen similar in years past that still yielded fish. Thinking that the trenches would be the most likely spots to find life, minnows, jigs, and spinners were offered repeatedly. They were never touched.
The sun was getting closer to the horizon and as I walked back to the truck, I snapped some pics of the lake and of some deer that seemed to harbor no fear of me.
The lack of action was disheartening, but I felt the need to see the inlet, where it was obvious that most of the water from Six Mile Creek had been diverted. It was flowing in fast and strong, which was tempting to fish, but I left for a chance to get one more bend in my rod for the day at my first lake.
Happy Fishing, Humans.