Hello everybody. The weather has allowed the north to remain in a half-winter state so far this year. It's very strange to think that lakes in the 9000's are still holding ice up here.
Meanwhile, I've stayed busy in the south, where it's mostly open water and access opens up more every week.
For starters, some water I'd never explored opened up in April and I was happy to poke around that hillside with Aaron.
We stopped for a bit at a lower lake, where Aaron picked up a good sized brookie.
Then we marched on for some scrappy tiger trout.
Most were just medium sized fish, but a few were in the upper teens in length.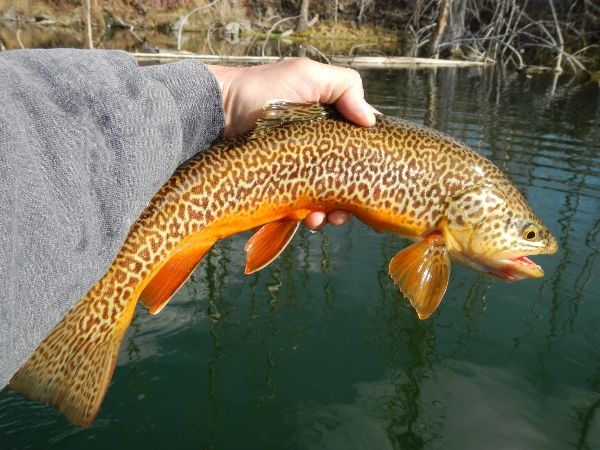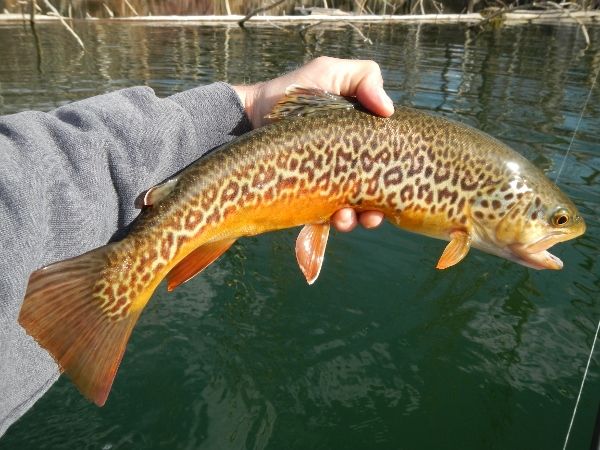 In one pond, I managed to float over the top of a really nice tiger over 20 inches, then I hooked another one about the same size that fought its way off the hook. Wish I could have those back.
Still, it was a fun trip and any time I get to fish "new" water, I'm happy.
After that trip, the next was a march through snow with both Aaron and my wife, who was happy to come along.
The fishing wasn't great though. I caught four fish all day while Aaron and my wife got the skunk. A couple of brookies came in and two cutthroat as well, one on the fly.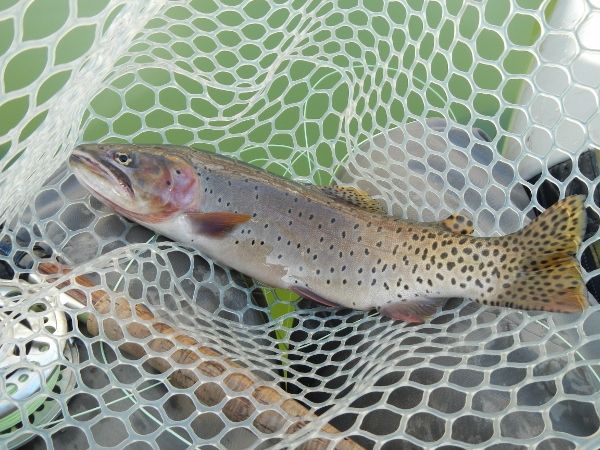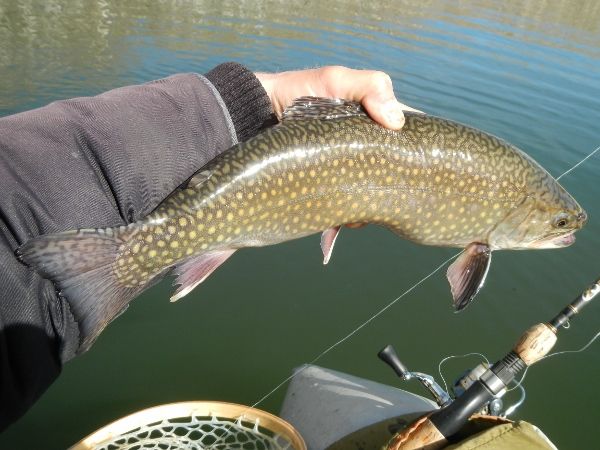 All in all, a fun day, although I never like it when my fishing partners get skunked. Such is fishing though.
The next weekend, I had a solo day to go and check out some water I hadn't visited in awhile. First stop was a small pond where I've historically had slow fishing, but some quality fish.
Upon arrival, I cringed to see the water in its chocolate runoff state. Having already made the trip, it seemed necessary to at least cast for a bit to see if anything could be coerced into biting.
Turns out, a nice cutthroat decided to play after all!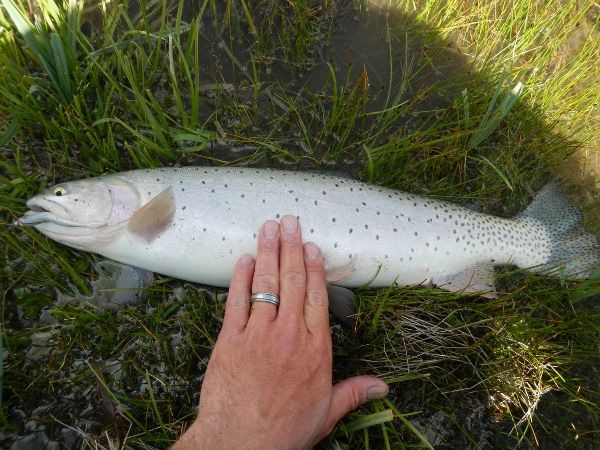 (That grass was wet - partially submerged)
More casting was answered with nothing, so I left to check some moving water, up another canyon. Much like my pond, the creek was swollen, brown, and really moving quickly.
I decided to stick it out like I did at the pond, but it wasn't long before I realized that I couldn't even wade in the raging current, nor could I present anything effectively. Call it a wash!
Literally.
So the one fish of the day was still pretty cool to end up with, considering the conditions.
The next trip was a long day trip to the south, with Aaron and our friend Serge coming along as well. Our target destination has a specific area where the fishing is much more productive than the rest of the lake and we were a little put off to find 5 tubes already in the spot when we arrived (they had camped).
Regardless, the folks that beat us to the water were quite friendly and welcomed us to join them for some slow fishing. That's a plus.
The fishing wasn't spectacular, but occasionally one would give us a bite. Serge had joined us in the past and wasn't always very focused on the fishing, but this time he was equipped with a brand new float tube and got to experience that for the first time.
He was actually the first one to catch a fish and continued to catch several more throughout the day, which we were all happy to see. His first brookie ever ended up being the fish of the day.
I also had slower fishing, but still got four on the day, this being the heaviest:
Quite the shape on that one. We hoped for bigger, but it was nice to get down and float a southern lake.
The next week, Aaron and I went to Currant Creek Reservoir to hopefully find some nice tiger trout. Starting near the inlet, the water was a bit too murky to keep fishing. The wind was blowing pretty hard as well, so floating was out the window.
We ended up at the dam and fished fruitlessly for quite some time. A small cutthroat came to hand eventually, but we kept casting away in all directions, hoping for a bruiser.
Finally, after thoughts of leaving invaded my mind, a firm take pulled my rod into a steep arch while I fought a pretty nice tiger in.
4lbs, 8oz @ 23.5" - That'll do.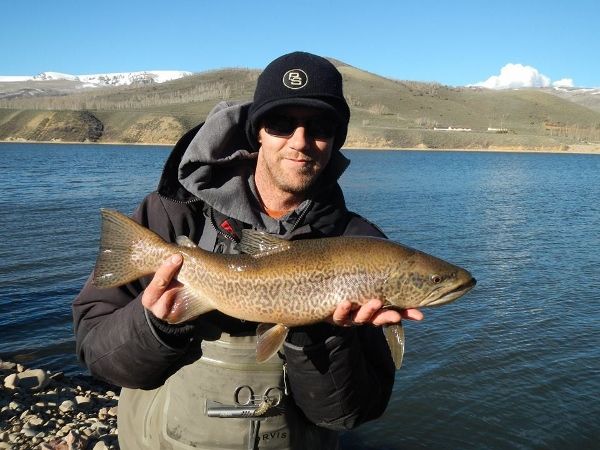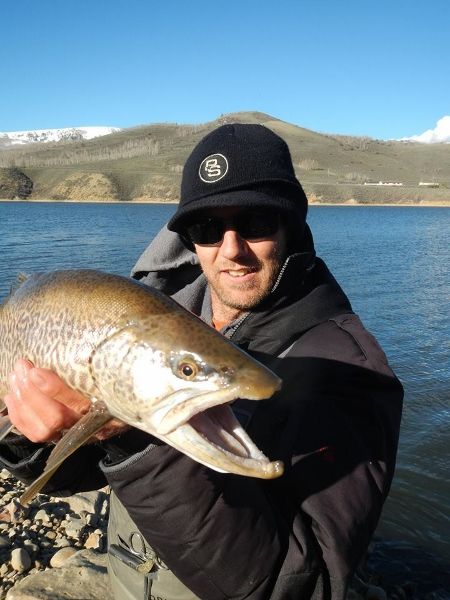 It was barfing minnows out of its mouth the whole time I handled it. Kinda funny. I wonder if it would've broken 5lbs had it kept its lunch...
Really needed that, especially after such a grueling day.
For my next trip, I met up with some web buddies from out of state for some southern Utah fishing. We got right to work and they ended up doing pretty well. The
Smokin Jigz
plastics they were throwing were doing a good job on the wary cutthroat and even a nice brookie.
Everyone caught fish and had a good time.
Purple.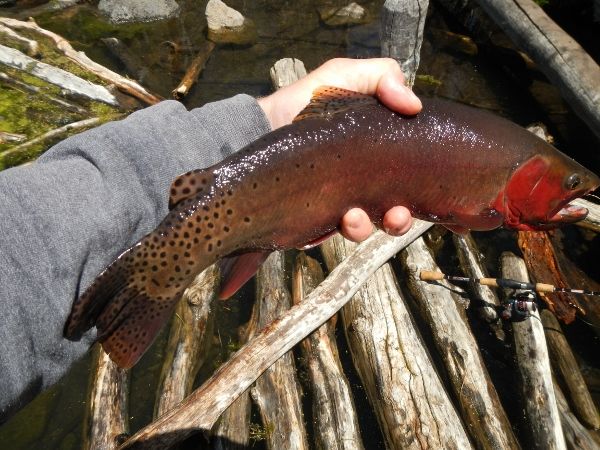 Fish of the day was a 22" cutthroat, though several larger fish escaped after a few head shakes.
Quality fish were met by all and it was a good day. It was especially nice to fish with a group of good guys that know what they're doing. We'd been talking about it for awhile.
The past week, my cousin from Phoenix (another Aaron) made plans to come home to Utah for a spell. He came up on Wednesday to meet Holdsworth for a couple of days of camping/fishing, then they met up with me on Saturday for more fishing.
Their camp out went especially well for Holdsworth, but we'll get to that in a bit. Our trip on Saturday was also pretty fun.
I'd been hunching on a little lake that I believed to be "under the radar" and a potential sleeper, so we hiked about three miles to go and check.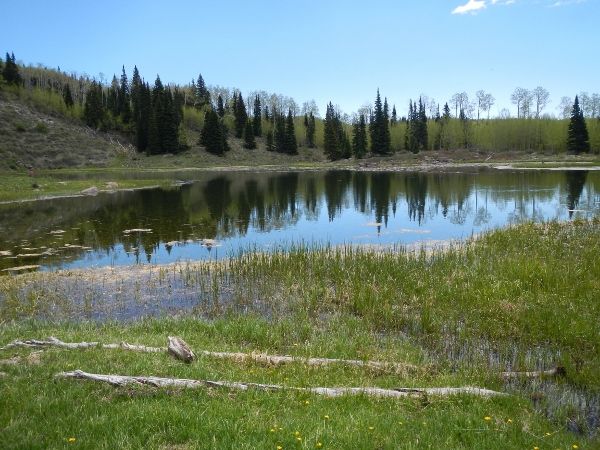 As we approached the small shallow lake, we noted many rise forms, hinting that the lake would be full of small fish in numbers.
That observation was correct.
Having just lugged all of our gear there, we decided to stay for about 45-60 minutes to enjoy the fast action, but ultimately knew we'd leave to fish some more exciting water, somewhat close by.
That, we did.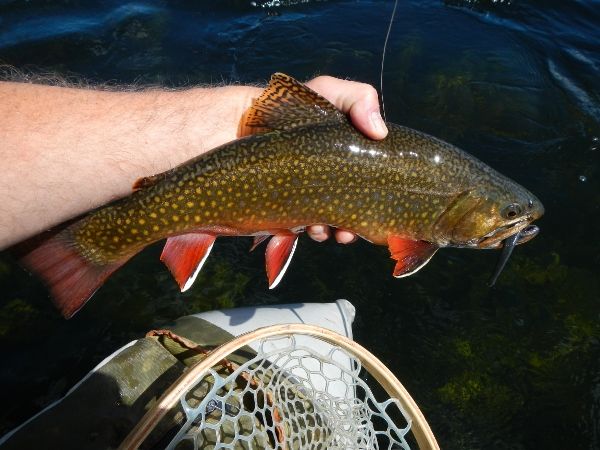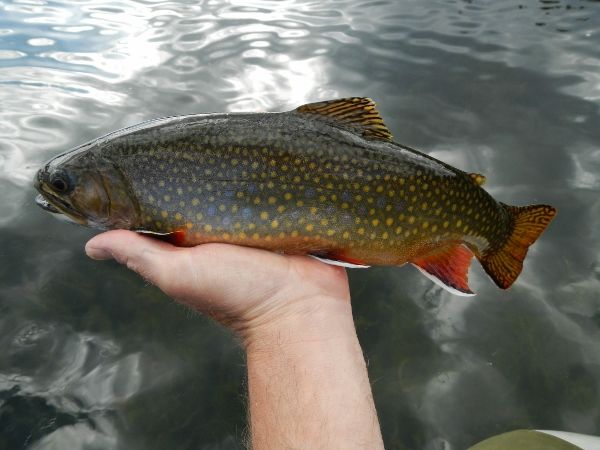 Holdsworth and I pulled in quite a few feisty brookies from our tubes, but the shore fishing wasn't as good for PHX. He ended up with a couple to hand, but most of the action was in the deeper water that we could reach.
Now let's go back to the Aarons' camping trip. Holdsworth met PHX down south, mid-week, and they setup shop at a tiger trout lake. The tiger fishing was slow, but they both got into a few good fish of almost 4lbs.
Holdsworth took the big fish honors though, as he found his jig in the mouth of a real beast tiger that took him for a thrill ride from shore. He was lucky to land it without help!
I learned of this by way of text message that afternoon, while at work, of all places. Having two more days of work in front of me after seeing the photo they sent me was pure torture.
The monster was 27.5" long and weighed 7.8lbs! Holy crap!
All I can say is CONGRATULATIONS, buddy! What a pig!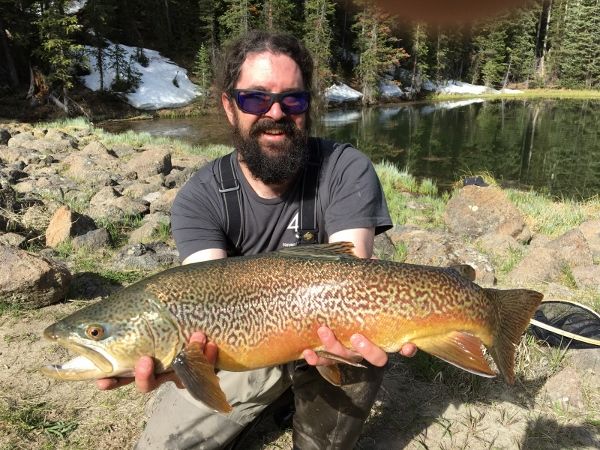 As more great water and access to it opens up, we should see some more excellent fish this year, however that one may be tough to beat. This late winter up north is crazy! It's June and a lake here in Utah County sitting at only 9000ft still had ice on it yesterday when the Aarons hiked to it.
The Uintas are still in Christmas Town in most places. It's warming up significantly now though. It shouldn't be but a couple of weeks until we can play in them thar hills. Looking forward to it!
Happy Fishing, Humans.