2013 held some fantastic fishing for me. It has truly been the best fishing year of my life and 2014 only promises to get better.
Let's take a look at some images of the highlights of this past year, in order.
The first fishing trip of the year was on ice at Starvation Reservoir. The fishing was slow, but I ended up with a couple of perch and a decent rainbow:
Next was a strange cutthroat sighting at the valley floor, just about a mile from Utah Lake:
In over 7 years fishing that lunch break spot, I had never seen a cutthroat, although I'd run into a total of three rainbows. It was mostly a brown trout/white bass spot.
Another trip led me to my first ice fishing experience at Currant Creek Reservoir, where I've historically done pretty well. This trip was no exception and I ended up catching a 24" tiger trout in shallow water next to the dam.
That was great fun. I got the whole capture on video too.
Next trip was to the Diamond Fork River, a local tributary to the Spanish Fork River.
A family ice fishing trip to Palisade Reservoir kept us entertained.
And then a family trip to Straight Canyon Creek, near Joe's Valley Reservoir: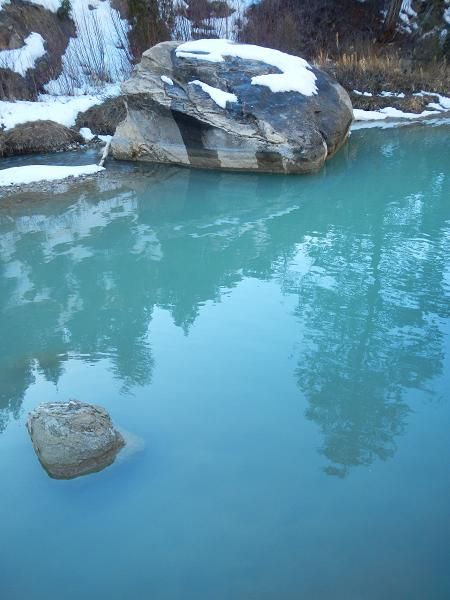 Something of note, I caught a brookie from a hole in the ice, just a couple hundred yards upstream from JVR in Lowry Water, a major tributary to the reservoir.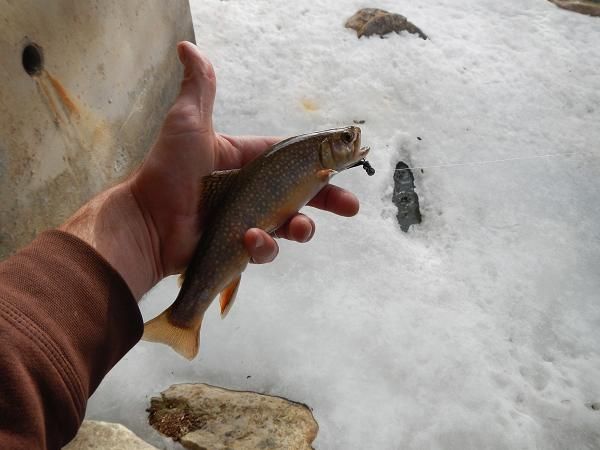 More lunch break action, this time with a small brown from under a giant irrigation grate. Had to laugh.
Then it was time for some ice-out cutts and tigers.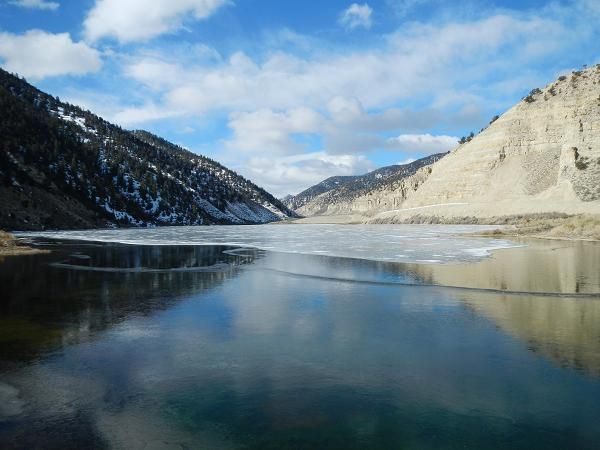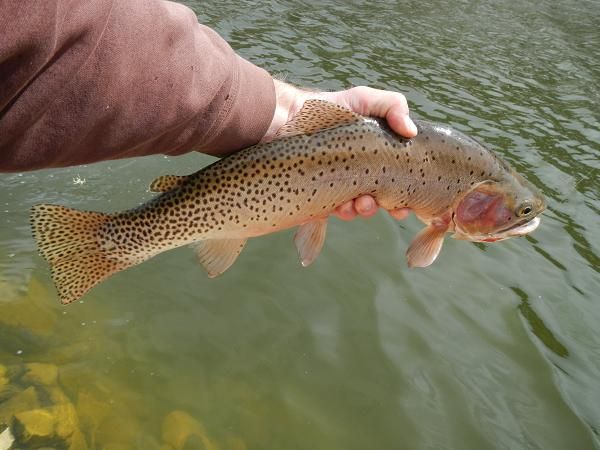 Back to Starvation for some ice-off action. The rainbows were big and strong.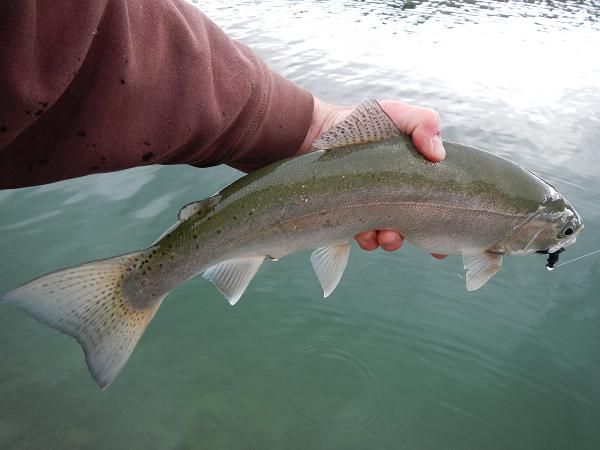 I also try to make it a point to fish the tail water below, whenever I can. There are usually a lot of willing mouths and good sized browns.
Driving through the Pinnacles of Strawberry River is always a spectacle: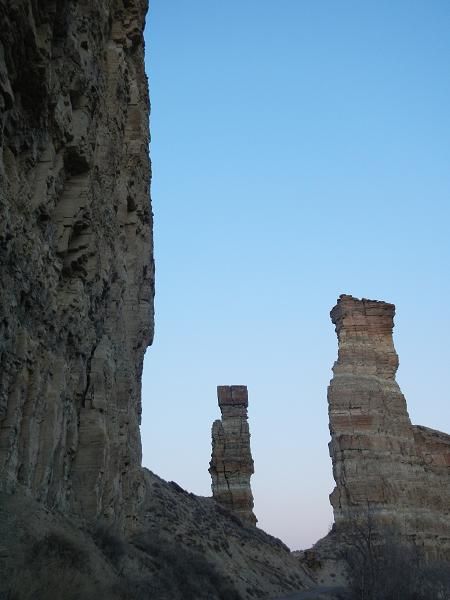 Then I went to check out a hunch. A puddle on a map that I've never heard anything about got investigated and some wild Bonneville Cutthroat were the reward.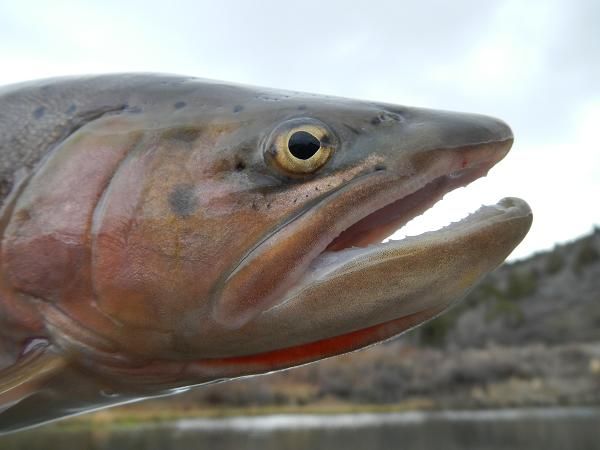 While hiking out of there, I fished my way through a network of little beaver ponds and had a blast with the tiny cutts that lived in them. Fishing beaver ponds is one of my favorite things to do.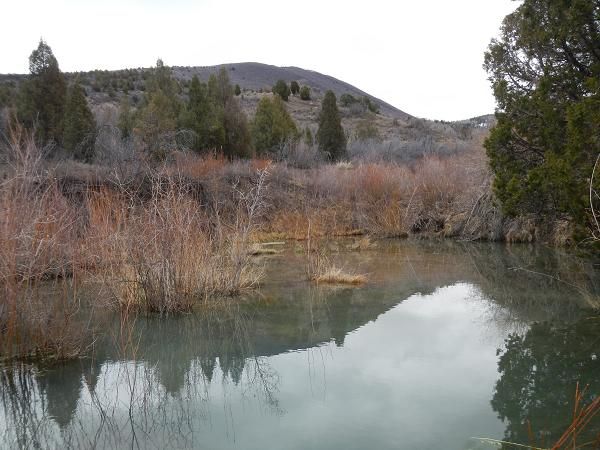 Downstream from the ponds, I couldn't help but pullover for a few swings at a small tributary to that system. There are some surprisingly big browns in there.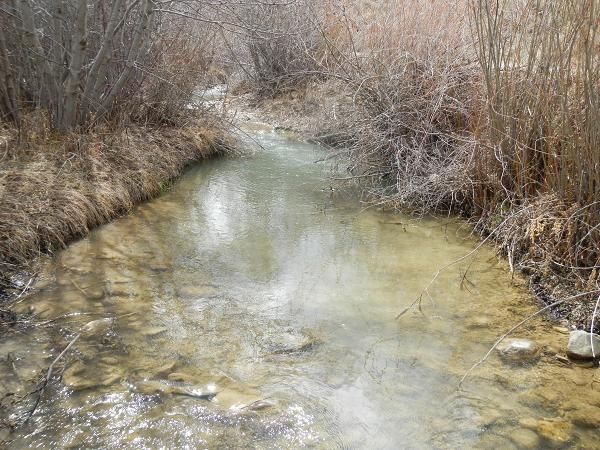 Next was a desert trip to the west with my family, where we were able to visit an old historic town, fish for gorgeous little wild rainbows in the desert, and play around on some sand dunes, all in the same day.
I finally investigated some small beaver ponds near a popular fishing spot of mine, but they were fishless. Pretty though.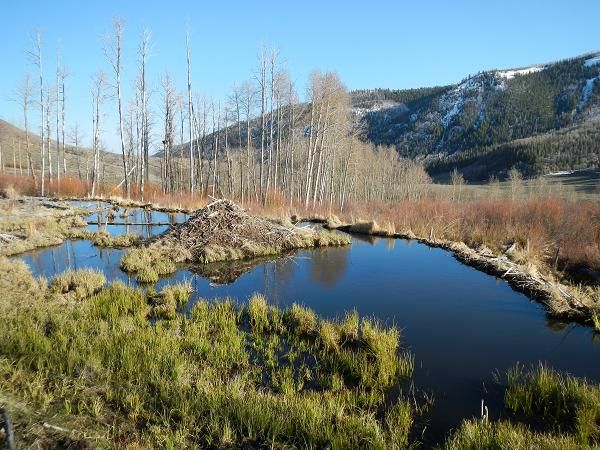 Strawberry Reservoir: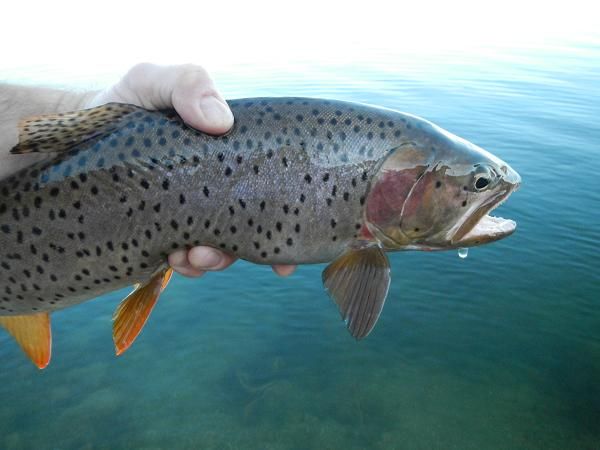 Jordan River quickie after an interview (that I totally nailed). It was a bit of a surprise to see a huge sucker on my black marabou. Really, it was surprising to see anything on it. I hardly ever fish that river.
Another local stream that I have mostly neglected, this year I actually put forth some effort and waded into some really good stretches. Some pretty nice fish were missed or broke me off. Beautiful creek on Memorial Weekend.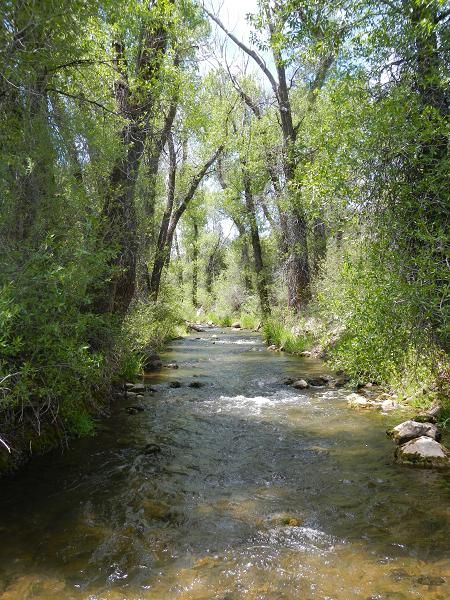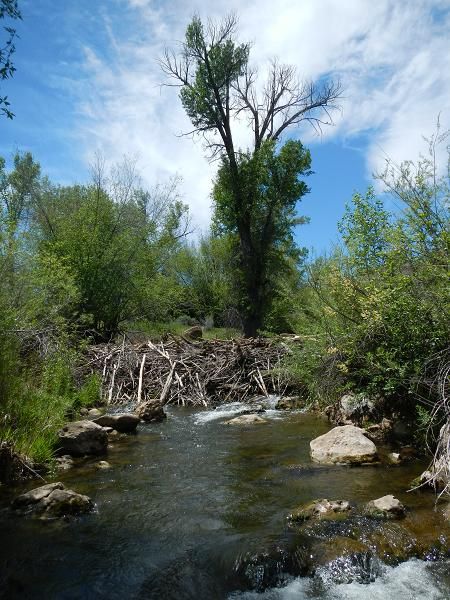 Seeing a tiny feeder creek, I just had to follow it for a bit.
The summit of Fairview/Huntington Canyon is always good for incredible vistas after a long day of fishing on the Manti.
2013 started strong and the good fishing continued into the summer. One of my favorite lakes gave me a dream day the prior year around the same time, where I experienced non-stop catching of big beautiful spawning cutthroat. A 2013 trip was made in hopes of finding the same.
2012 was the year of the cutthroat. 2013 would be the year of the brookie.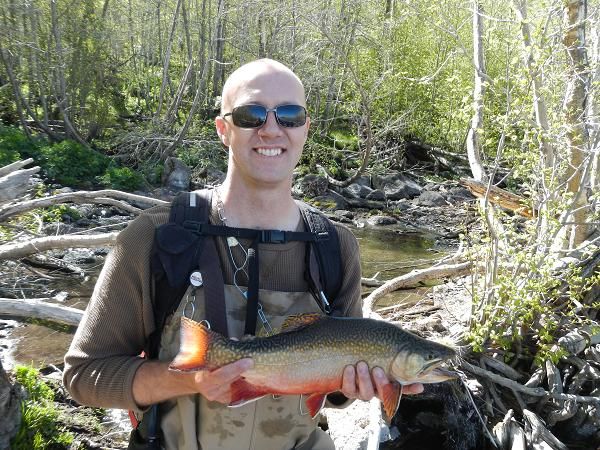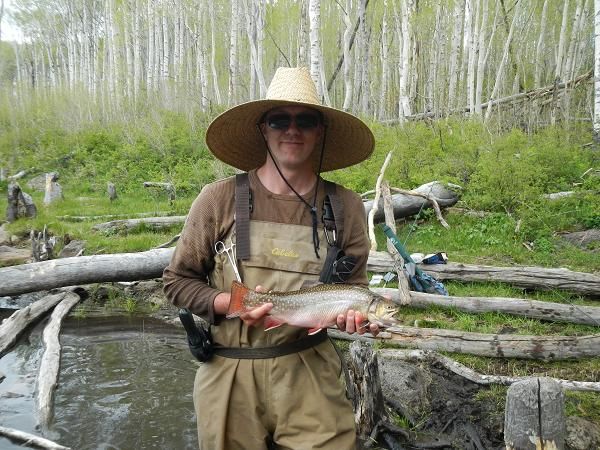 The cutts were still around as well. They were picky this time around, but a few were caught.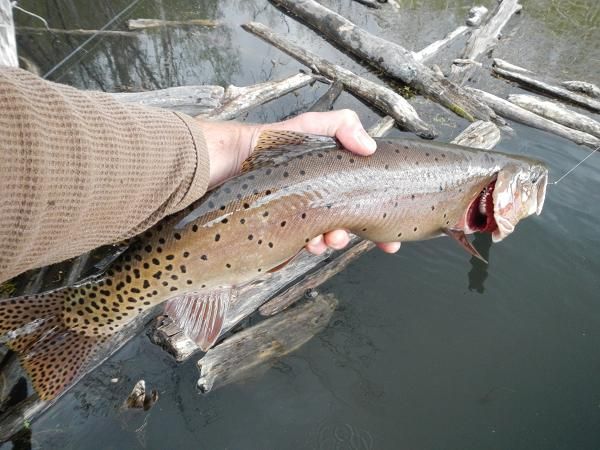 One, in particular, was beyond nice.
I was spoiled rotten! Already a favorite spot of mine, seeing how the brookies had responded to being stocked in recent times made me feel warm and fuzzy all over.
With my big fish bug mostly satisfied for the time being, my focus shifted to the highest mountain range in the state for the next few weeks. The Uintas are incredibly beautiful and the fishing is usually very good for smaller fish in most places.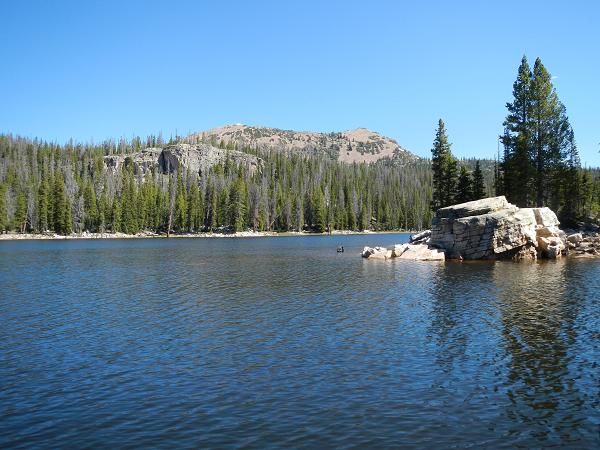 Didn't try these, but I liked how they looked.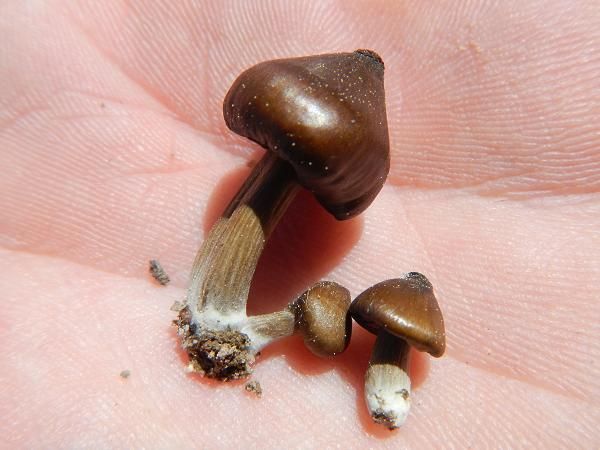 Caught my first fish on a dry (not behind a bubble):
Took an exploratory hike with my tube, hoping for nice fish.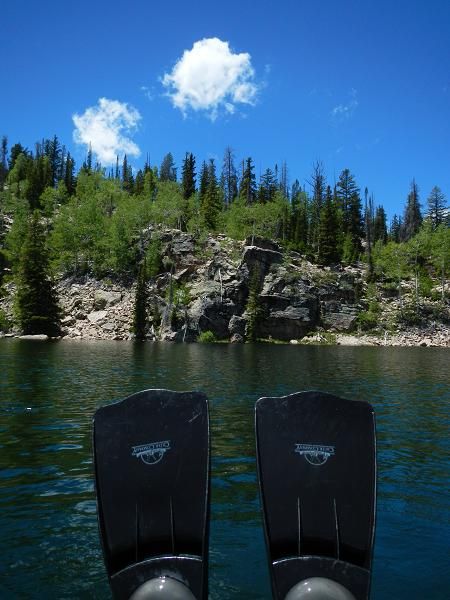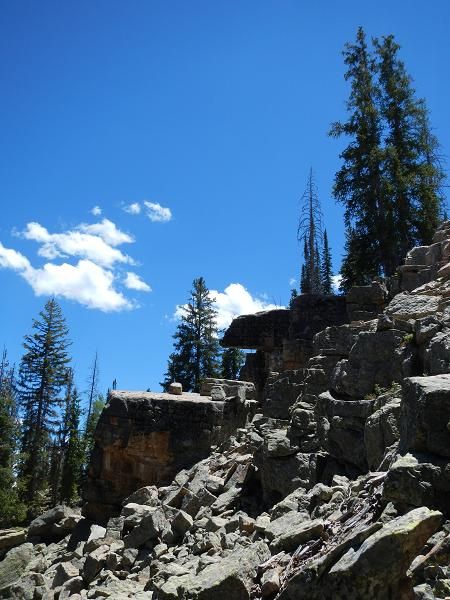 No fish! Another stop was needed at a confirmed winner.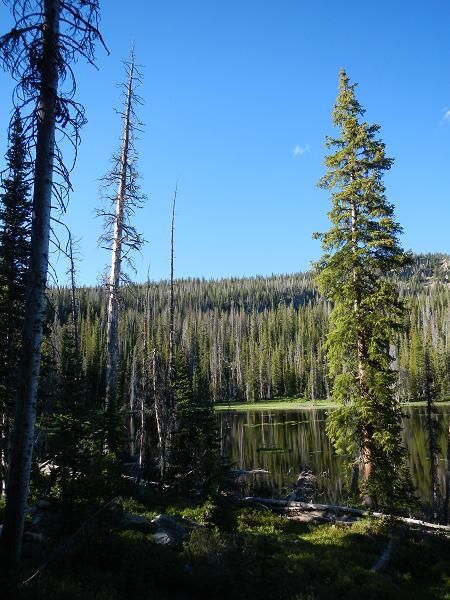 Fishing the north slope in the Bear River drainage. Whitney Reservoir:
Provo River Falls: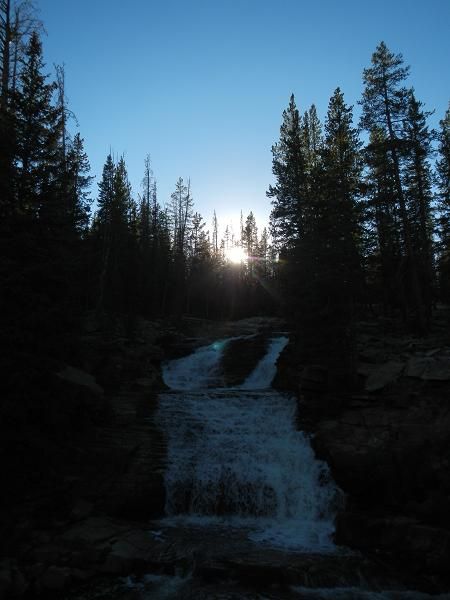 And then it was time for more big brookies from my happy place. I dragged my buddy along, who had fished that same lake with me, our first time out there. A big fan of brookies, he was pleased to nab a 4lber.
I did pretty well too.
How about this bulging brookie?
And some beautifully painted cutthroat as well:
It was another one of those days that will forever stand out to me.
A hidden stream running right through the valley provided some mid-week entertainment while I waited to start working at a great new job.
Working in Provo, my lunch break fishing obsession can still be nurtured on the river or at another spot I've discovered since starting.
More brookie action at a pond I found in 2012, revisited with a friend on a camp out.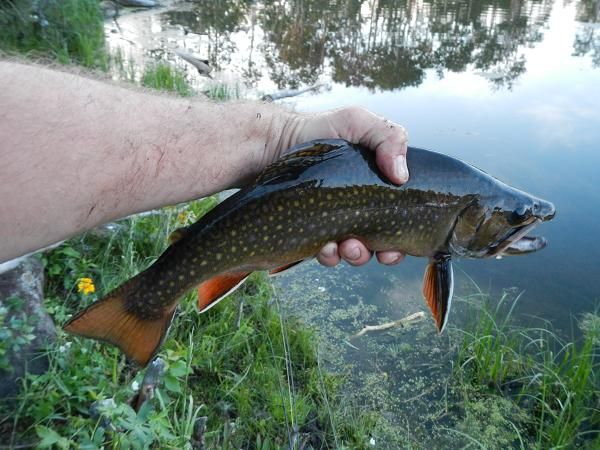 We also visited a nearby stream for pretty cutts.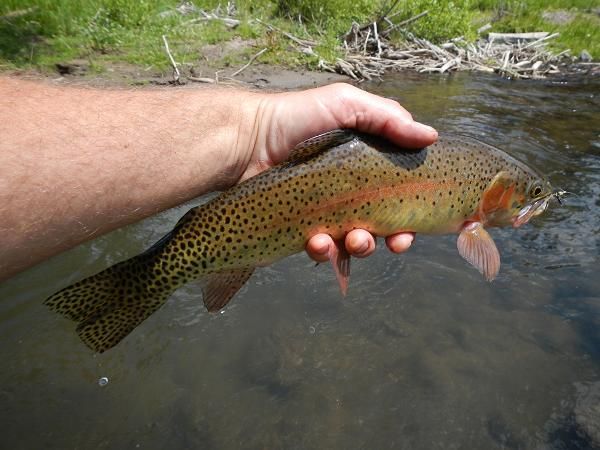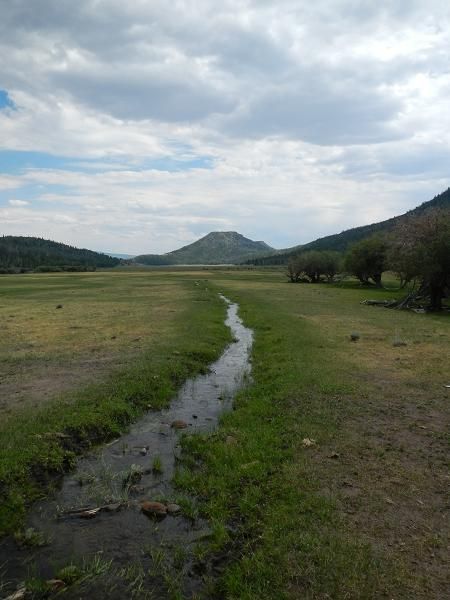 Currant Creek Reservoir: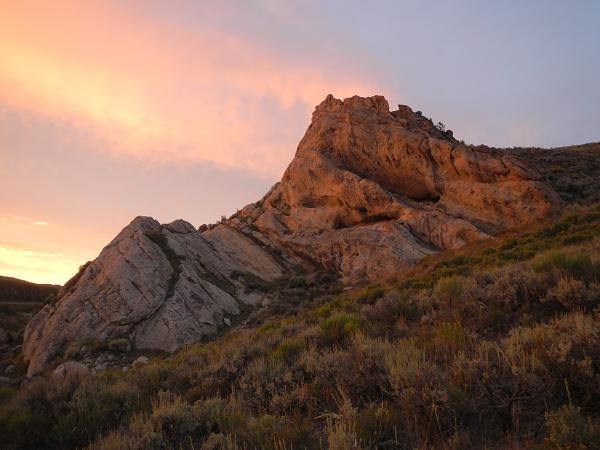 Strawberry River with my friend Holdsworth (visiting from CA):
On the 'toon at a good cutt/tiger hole.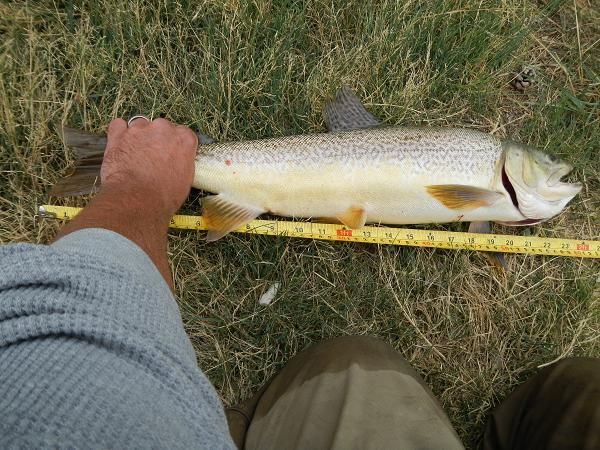 Belly:
More exploring: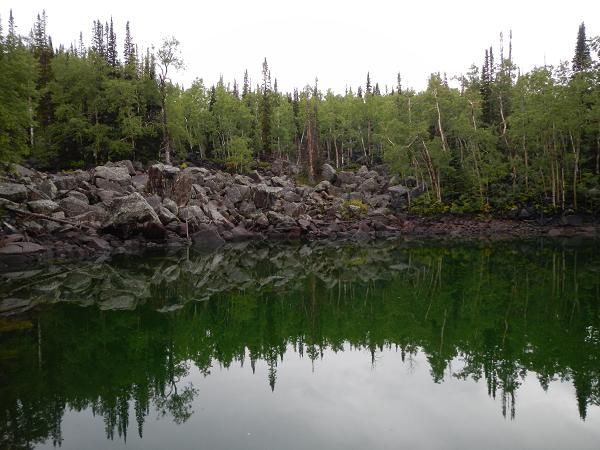 Another local creek that I really enjoy: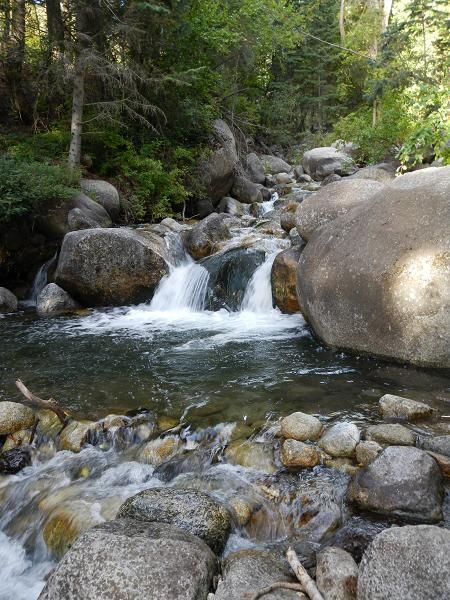 Rex Reservoir from the tube:
Lunch break visitor:
On the way back from Currant Creek Reservoir (Co-Op Road):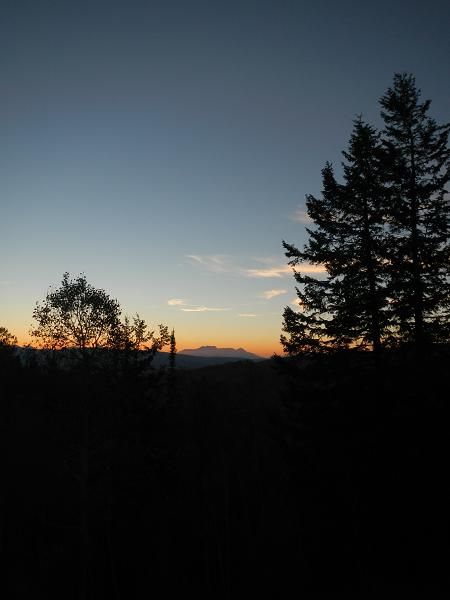 Another local stream got a visit in the fall and a lot of browns were met. Some were pretty nice.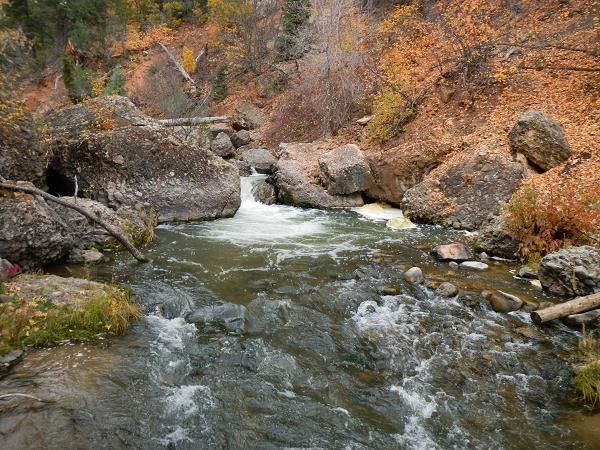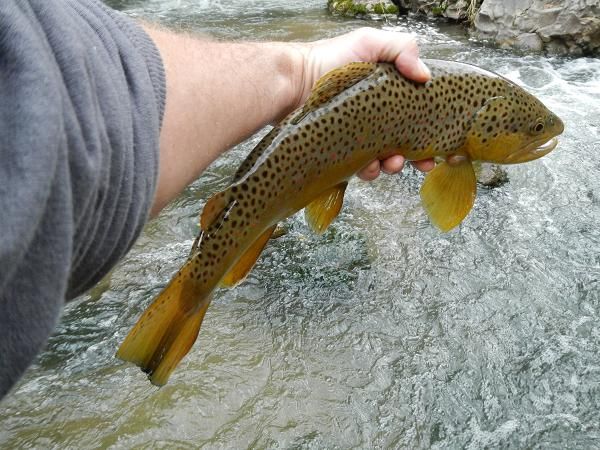 Mas de La Agua Encantada:
A tiny frozen creek with wild cuttroat:
Lost Creek:
Cowboy Country:
Joe's Valley Reservoir glassy water:
Bluegill and Largemouth from the new lunch spot:
Strawberry Reservoir: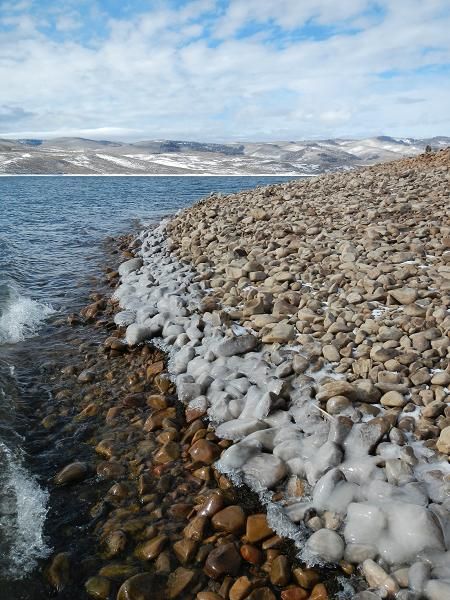 My 3rd 24" tiger trout of the year - all from different lakes.
Another nice one, over 20", but soooooo colorful.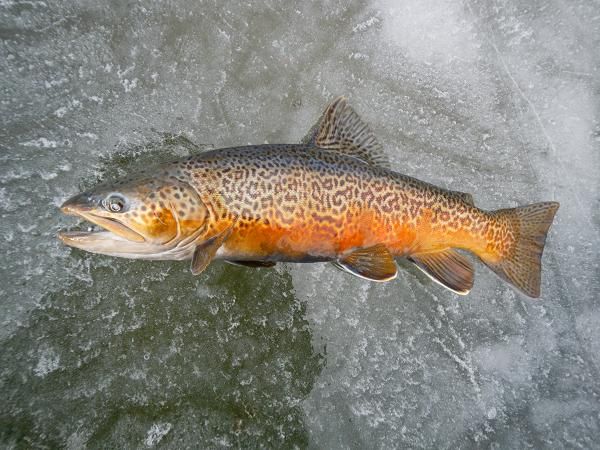 Early ice:
Red Ledge, from Currant Creek Dam:
Lunch carp - surprisingly took a crayfish plastic on a jig head.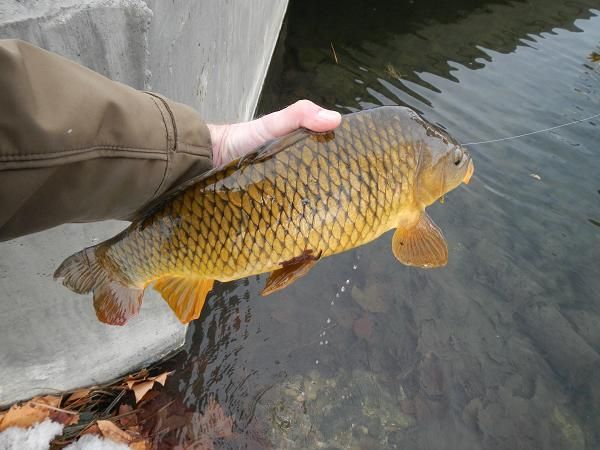 The Provo River in the canyon treated me well throughout the transition from fall to winter. Nothing too special, but it's nice to have such a place so close to home.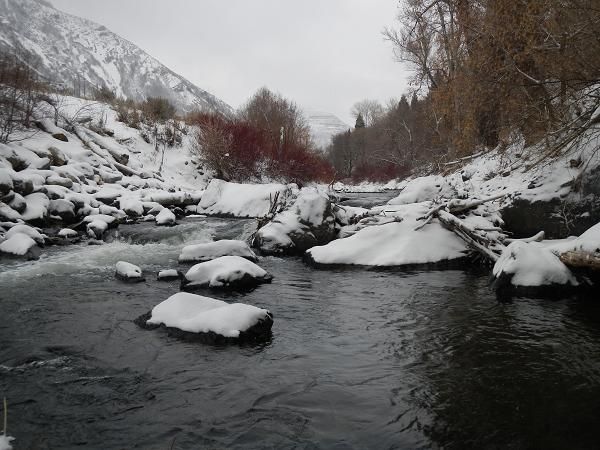 Deer Creek Reservoir started getting some ice over this past weekend.
And for the last trip of 2013, as I've done before, ice fishing at Strawberry Reservoir on New Year's Eve.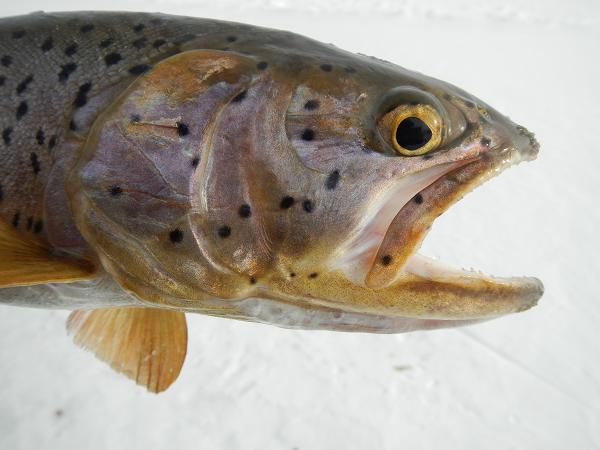 It was a good trip and I was really glad to bid farewell to 2013 with some nice fish.
This one was over the slot and came home with me for New Year's dinner.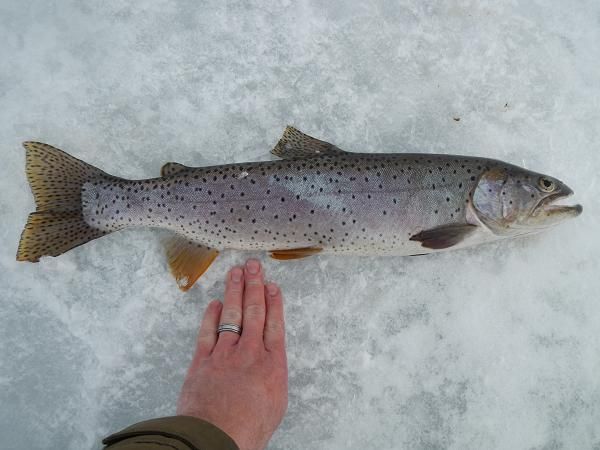 Seven fish were caught over 4 hours on the ice, 3 of which were over 20".
A 20" cutthroat from Strawberry Reservoir had the honor of being my last catch of 2013.
The slot buster was filleted, rinsed in egg wash, and rolled in Parmesan. Fresh cutts from Strawberry are incredibly delicious. It's always a treat when I can take one home.
Whew! What a year! Thank you all for following the posts I made throughout. Several landmarks were reached with the blog including reaching 100 followers, over 75,000 pageviews (almost 80k now), and enough of you visited to compel Google to send me a check!
Thanks for that! Here's to a very productive and successful 2014 to all of you. Thanks for reading and...
Happy Fishing, Humans.